Buying a new mattress is not always an easy task. There are so many options out there that can easily make you feel lost. In this Una mattress review, I will talk about this organic option which is a league of its own. It's the first organic mattress I review so I was really excited to see what it's worth.
Besides being organic, the Una mattress is also a modular one which means that you can customise it according to your needs and taste. This makes it even more unique and the people at Una wanted to separate it from the rest of the competition. Of course, all these come with a price and the Una mattress is not the cheapest in the market. It will be delivered inside multiple boxes but more on that later. I think it's time now to move to the full review below.
FREE DELIVERY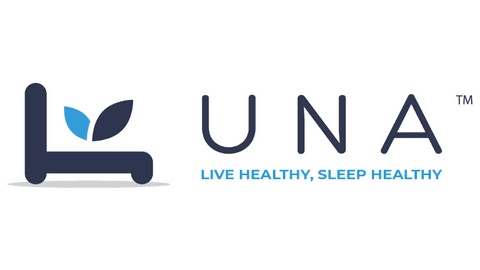 Una Mattress
Free delivery for all mattresses at Una
Free delivery for all mattresses at Una
Show Less
What is a Una mattress made of?
I have already mentioned above that this is a modular mattress so you can customise it accordingly. It features a system that is easy to use and is based on foam inserts. The Una mattress comes with 4 different foam inserts so you can customise it accordingly. All inserts are made of all-natural organic certified latex foam. The mattress is divided into two parts so each partner can have their own medium, firmer and softer layers which allow them to individually customise their side. All the materials used to make this mattress follow strict standards like GOLS and GOTS. This of course is necessary as this mattress is marketed as 'organic'. Overall, the materials used here are of great quality and Una did a great job here.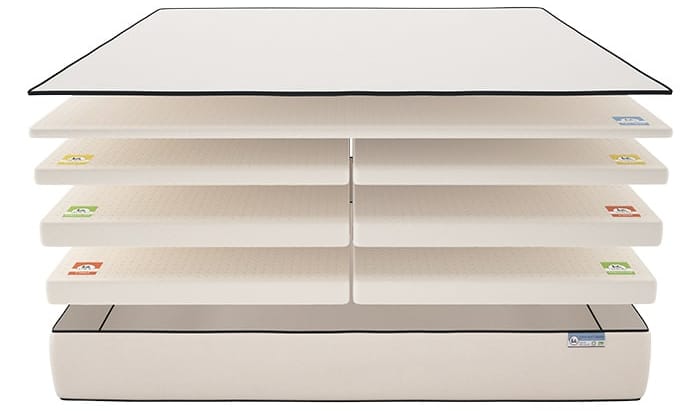 What is the cover made of?
The cover of the Una mattress is made of super soft organic wool and cotton. They went with this blend for 3 main reasons. Firstly, this cover is very breathable and allows airflow. It can also manage temperature and wick away excess moisture. This means that you won't sleep hot even during the summer days. Secondly, wool feels very soft and it's great to sleep on. Lastly, this is a natural fire retardant blend and it doesn't need the addition of any chemical treatment. The cover has a plain design and it's not the best I have seen. This is not a big problem though as we all use sheets. If you want to clean it, the maker suggests you spot-clean it and you should never use your washing machine. Overall, this is a good cover and I like what they did here.
How firm is the Una mattress?
I have already mentioned above that this mattress is a modular one. That means that you can adjust the firmness of it according to your needs. You can choose to have a soft, medium or firm mattress. I advise you to experiment with the foam inserts until you find the combination that makes you feel good. I usually like mattresses on the firmer side so I went with the firm combination.
Starting from the back position, the latex foam did a good job and I felt well-supported. Pressure relief was adequate and I wasn't sinking too much. My spine was aligned properly and I felt that the mattress did a good job in this position.
Turning to the side position, the mattress reacted quickly and sinkage increased. The mattress provided my body with great support and my spine alignment was good. However, I think that the medium setup would be better for this position.
Finally, moving to the stomach position, the mattress did a good job and my hips and shoulders were well supported. I didn't find the sleeping surface too firm and it was comfortable in this position. Overall, the mattress did well in all sleeping positions but I mostly enjoyed sleeping on my back and stomach.
If you have a partner, this mattress can be a good option as the lack of springs means minimal motion transfer. The edge support is average which is expected from a mattress of this kind. Having said that, it's not bad and it's not something that will bother you too much.
What type of bed to use with this mattress?
The Una mattress is a versatile one. You can use it with any type of set up including your floor. The maker suggests you use it with a slatted frame, a solid box spring or an adjustable base. If you use a slatted frame, make sure the distance between every slat is not longer than 7cm.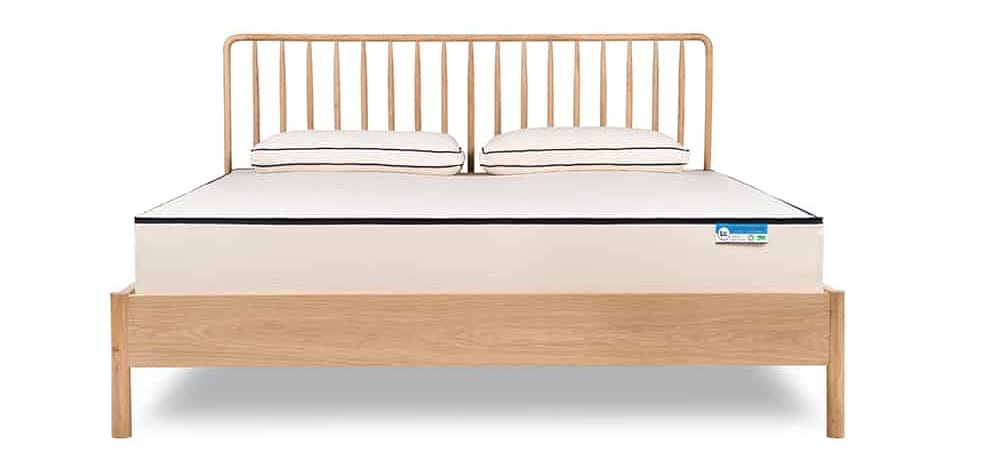 How will it be delivered?
The Una mattress will be delivered in 2 or 3 boxes depending on the size you are getting. The reason they do so it's that the organic latex foam inserts need a bit more space to breathe so they cannot come vacuum-packed in one heavy box. When you buy a Una mattress, you will get free standard delivery for all sizes which is great. They deliver with DPD and you will get your mattress within 5-7 working days. The process was straightforward and Una provided me with all the necessary information. The courier was polite and overall I was happy with the service they offered me.
Does the Una mattress come with a trial period?
When you buy a Una mattress, you will get a 100-night trial period which gives you more than 3 months to decide whether you want to keep it or not. If for any reason, you are not happy with your purchase you can return it for free and get a full refund. The process is not complicated and all you have to do is speak to them and they will arrange everything. In addition, you will also get a 10-year guarantee which is what most makers offer these days. Having said that, this is not something we should take for granted and it's great to have. Overall, they offer a complete package here so no complaints at all.
How much does it cost?
This mattress is available in 8 sizes so you will definitely find the one that suits your needs. They have some EU sizes too which is fantastic news for all IKEA bed frame owners. Being organic and modular comes with a price and the Una mattress is not cheap. The smaller single size goes for £995 with the bigger Emperor one selling for £2,195. The table below has pricing information for all available sizes.
| | | |
| --- | --- | --- |
| SIZE | DIMENSIONS | PRICE |
| Single | 90 x 190 x 24cm | £995 |
| EU Single | 90 x 200 x 24cm | £1,040 |
| Small Double | 120 x 190 x 24cm | £1,350 |
| Double | 135 x 190 x 24cm | £1,520 |
| EU Double | 140 x 200 x 24cm | £1,520 |
| King | 150 x 200 x 24cm | £1,650 |
| EU King | 160 x 200 x 24cm | £1,675 |
| Super King | 180 x 200 x 24cm | £1,950 |
| Emperor | 200 x 200 x 24cm | £2,195 |
Is the Una mattress any good?
This is always the question I have to answer now that I complete this Una mattress review. I think that this would be a good option for everyone looking for:
An organic mattress that is good for all sleeping positions.
A latex mattress that can be customised.
A mattress with a 100-night trial period that comes with great service and support.
If you look for all these, the Una mattress can be a great option for you. This is not a cheap mattress but it's a unique proposition and it's designed for demanding sleepers. If you are a fan of the 'organic' culture, the Una mattress should be very high on your list.
FREE DELIVERY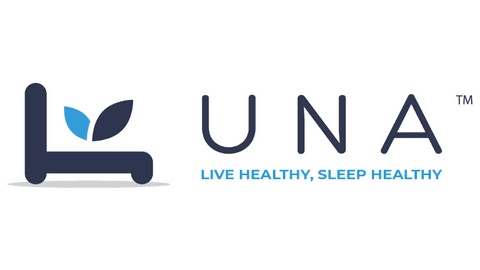 Una Mattress
Free delivery for all mattresses at Una
Free delivery for all mattresses at Una
Show Less
PROS
Clever modular system
Organic latex foam
100-night trial period
CONS
Not the cheapest in the market