Many people look for cheap mattresses and the designers at Simba are aware of that. In this Simba Simbatex Essential mattress review, I talk about this new affordable option that is ideal for those with a tight budget.
After releasing the Simbatex mattress, Simba decided to develop a more affordable version that still features Simbatex technology. If you have never heard of this term, Simbatex is a new foam that is 30 times more breathable than regular memory foam. I decided to get an Essential mattress almost three weeks ago so let's move now to the full review below.
What is the Simbatex Essential mattress made of?
This mattress has a simple design that features two layers plus the cover. These are:
A Simbatex cooling layer that is infused with graphite and has the ability to regulate heat very efficiently. This type of foam can provide your body with comfort and pressure relief.
A high-density foam layer that is the base of this mattress. It features 3 zones that are designed to take the pressure off sensitive areas like your hips and shoulders.
This mattress comes with a low profile (19cm) and the image below shows the position of every layer. The people at Simba only use CertiPUR-certified foams so you can rest assured that this mattress contains no harmful substances.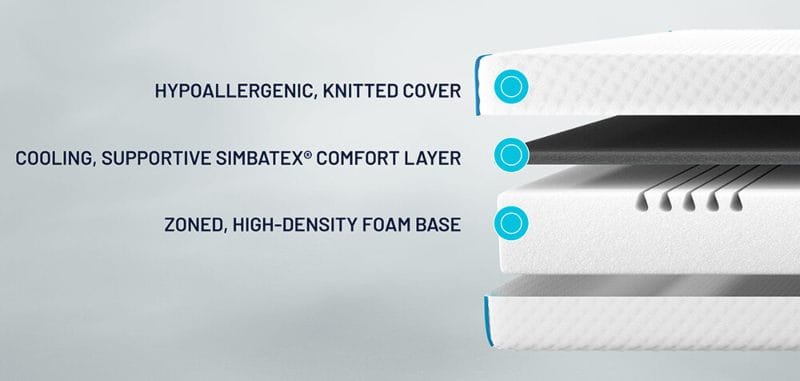 How good is this cover?
The Simbatex Essential mattress comes with a knitted cover that feels soft and adds a nice touch to the overall offering. This type of fabric is very breathable so don't expect to feel hot during the night. The design is a plain one and I personally didn't like it. They decided to go for a white cover with Simba branding details. Unfortunately, this is not a removable cover and if it gets stained, you should clean it with a damp cloth. Moreover, there are no side handles. That is not a big problem though as this is not a particularly heavy mattress. However, it shows that the people at Simba are trying to cut costs here. Overall, this is a decent cover that does the job.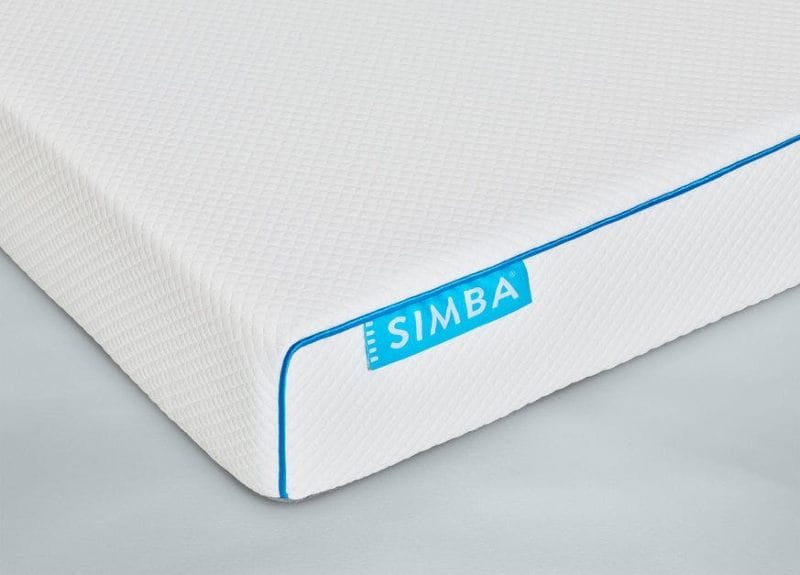 Is this a firm mattress?
I now want to continue writing this Simba Simbatex Essential mattress review and talk about its feel. This mattress comes with a medium-firm feel and if I use my virtual scale here, I would say it's a 6.5 with 10 being really firm. Do you wonder how this mattress performed in the past 3 weeks? Let's find out below.

Starting from the back position, the mattress hugged my shoulders and the high-density foam did a good job supporting my body. Pressure relief was decent and I was comfortable in this position.
Turning to the side position, sinkage increased and that helped my spine to align correctly. There was no discomfort on my hips and shoulders and support was good. The zoned system distributed my weight evenly and the mattress did well in this position.
Finally, turning to the front position, the Simbatex Essential mattress didn't feel firm enough and I felt that it was not built for this type of sleep. Having said that, if you don't weigh a lot, this can still be good for you. Overall, this is a good mattress but it's mostly designed for back and side sleepers.
If you have a partner, this is an option that you can consider. The foam-only design means minimal motion transfer so you won't disturb each other during the night. On the contrary, edge support is not great but this is something expected from such a mattress.
Do I have to pay for delivery?
Despite the fact that this is a cheap mattress, it still comes with free delivery. According to their site, they offer a fast service so you should expect your mattress within 1-3 days. My experience can confirm that and I got mine within 2 days. The whole process was smooth and I was well-informed about the different stages of the delivery. An important thing here is the fact that Simba offers a carbon-neutral service which is a great initiative. As I have mentioned before, I hope that more makers will follow this lead.
Is there a trial period?
If you don't feel comfortable buying a mattress online, I have great news for you. The Simbatex Essential mattress comes with a 200-night trial period that gives you more than 6 months to try it. If for any reason, you are not happy with your purchase, you can return it and ask for your money back. Returns are free and all you have to do is contact them and they will arrange everything for you. Additionally, this mattress comes with a 10-year guarantee that will cover you for a long time. Of course, before you buy this mattress, you should read the detailed Simba guarantee policy. Overall, this is a very good support package, especially for a mattress in this price range.
Is this an affordable mattress?
This is a very affordable mattress and it's available in 4 sizes. The smaller one (Single) sells for £399 while the bigger one (Super King) goes for £599. Having said that, you will pay less than that as Simba is a brand that runs a number of promotions. For example, I got a King one for only £330! For more information about the available sizes, look at the below table.
| | | |
| --- | --- | --- |
| SIZE | DIMENSIONS | PRICE |
| Single | 90 x 190 x 19cm | £399 |
| Double | 135 x 190 x 19cm | £499 |
| King | 150 x 200 x 19cm | £549 |
| Super King | 180 x 200 x 19cm | £599 |
Is this a good option?
This is always a tricky question to answer but I will do my best now that I am about to complete this Simba Simbatex Essential mattress review. In my view, this is a good option for anyone looking for:
A cheap mattress that is great for back and side sleepers.
A foam-only mattress that is good for couples.
A mattress that has an excellent support package.
The Simbatex Essential mattress is definitely not the best mattress I have tried but for the price it sells, it can be a great option for budget hunters. Moreover, it makes a great guest bed and it's suitable for students and young people. If all that sounds good to you, you should give it a try.
Simba Simbatex Essential Mattress Review
PROS
Good for couples
Nice cooling system
200-night trial period
CONS
Not great edge support