If you are environmentally conscious, you should definitely read this REM-Fit Eco Hybrid mattress review. After seeing great success in the UK, they decided to work with the Seaqual Initiative to create a mattress that is made with upcycled marine plastic. This is a great initiative and I will talk about it in detail later.
🏆 Awarded "Best Eco-Friendly Mattress" for 2023
This is another boxed mattress from REM-Fit that combines foam with springs and the result is a well-balanced mattress. It's manufactured here in the UK and it's paired with an excellent service. Mine arrived almost two weeks ago so it's a good time now to move to the full review below.
60% OFF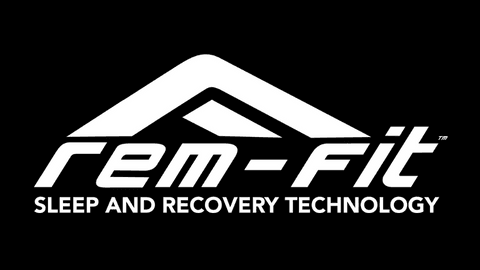 REM-Fit Mattress
Up to 60% off mattresses at REM-Fit
Up to 60% off mattresses at REM-Fit
Show Less
What is this mattress made of?
The REM-Fit Eco Hybrid mattress features 5 layers plus the cover. In detail, these are:
An EcoFoam layer that can provide your body with comfort and support. This layer measures 2cm.
An EcoAdvance foam layer that has the ability to cradle the form of your body. This type of foam has the ability to stay cool during the night so you will sleep comfortably. This layer measures 6cm.
A double spring layer that is made of 1,000 tall springs and 2,000 mini-pocket springs. This combination works well and this mattress can provide your body with customised support.
An EcoFoam encapsulated side wall system that helps with edge support. That means that this mattress is great for couples.
A high-density EcoFoam layer that is the base of this mattress. According to the maker, this helps the mattress to comfortably withstand up to 40 stones for a minimum of 15 years.
The Eco Hybrid mattress measures 25cm in height and the image below shows us how it looks from the inside.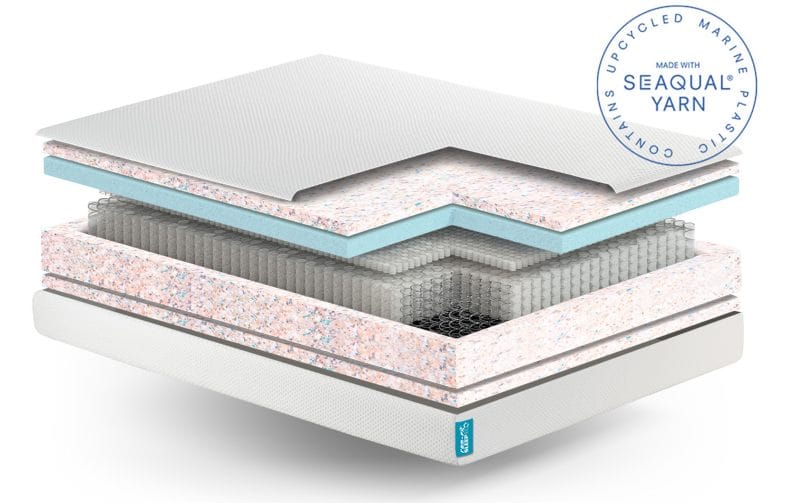 How good is this cover?
The cover of this mattress is made of 100% upcycled ocean plastic and it comes with a woven knitted finish. That makes it look quite premium and this is great for a mattress of this kind. The cover feels soft and it comes with a plain design. However, this is an intentional choice and the people at REM-Fit didn't want to use any colouring that could affect the eco status of this mattress.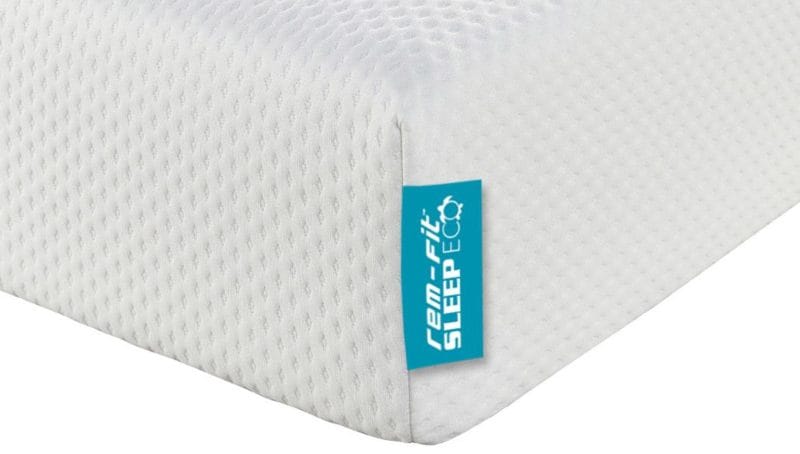 The good news is that this is a removable cover that it's easy to clean and maintain. All you have to do is remove it and pop it inside your washing machine. Make sure you use a gentle cycle at a maximum temperature of 40 degrees. Overall, this is a high-quality cover that is made entirely of recycled materials and this is quite impressive.
Is this a firm mattress?
I would like now to continue with this REM-Fit Eco Hybrid mattress review and discuss its feel. This is a medium-firm mattress that will suit most sleepers. If I use my virtual scale here, I would say this is a 6.5 with 10 being really firm. Let's talk now about the different sleeping positions and how this mattress performed.

Starting from the back position, the mattress immediately hugged my shoulders and the upper layers did a great job supporting my body. Pressure relief was great and I was comfortable sleeping this way.
Turning to the side position, the mattress reacted quickly and the springs adjusted to the new position. My spine was aligned properly and I was impressed with the performance of this mattress.
Finally, moving to the front position, the mattress felt slightly softer than I would have liked but it still did a good job. I was comfortable in this position and my spine was aligned correctly. Overall, this is a well-balanced mattress that will suit most sleepers.
Another strength of this mattress is its edge support. The spring system combined with the encapsulated sidewalls ensures that you will get the same performance across the 4 corners of the sleeping surface. Moreover, the mattress is designed with couples in mind so you should expect minimal motion transfer.
What is the Seaqual Initiative?
This mattress is made with Upcycled Marine Plastic and REM-Fit worked with the Seaqual Initiative for this project. This is a collaboration between NGOs, fishermen, authorities and local communities that are dedicated to cleaning our oceans. They gather marine litter, clean it and transform it into upcycled plastic. Manufacturers that are environmentally conscious use this plastic to create products including mattresses and pillows. For more information on their work, you can visit the Seaqual Initiative's official website.
Will I get a free delivery?
If you decide to get an Eco Hybrid mattress, you will get a free Next-Day delivery service provided you place your order before 1 pm. Additionally, they offer a free day-of-choice delivery so you have plenty of options to choose from. If you want to have your old mattress removed, there is an option you can choose during checkout and for a small fee, REM-Fit will take care of it.
This mattress is a rolled one so it will be delivered inside a carton box. When I ordered mine, the whole process was straightforward and the courier was on time. Communication was great and overall, I felt that REM-Fit offered me a great service.
Can I try it first?
All REM-Fit mattresses come with a 100-night trial period that gives you more than 3 months to try this mattress and decide later whether you want to keep it or not. In case you are not happy with it, you can return it and get a full refund. The process is straightforward and all you have to do is contact their customer service department.
Besides that, you will also get a 15-year guarantee that is one of the longest in the market. That shows how confident they are in their manufacturing process. If you want to learn more about the terms and conditions, you should visit their guarantee page. Overall, this is a great package and the people at REM-Fit did a great job here.
How much will it cost me?
The REM-Fit Eco Hybrid mattress is available in 4 sizes. The smaller (Single) will cost you £699 with the bigger (Super King) going for £1,099. However, you won't have to pay the full price as REM-Fit is known for running frequent promotions. For example, at the moment of writing, there was a 45% off promotion. The table below has pricing information for all available sizes.
| | | |
| --- | --- | --- |
| SIZE | DIMENSIONS | PRICE |
| Single | 25 x 90 x 190cm | £699 |
| Double | 25 x 135 x 190cm | £899 |
| King | 25 x 150 x 200cm | £949 |
| Super King | 25 x 180 x 200cm | £1,099 |
Should I buy this mattress?
This is the difficult question that I have to answer now that I am about to complete this REM-Fit Eco Hybrid mattress review. In my opinion, this would be a great choice for those looking for:
An eco-friendly mattress that is made with high-quality materials.
A hybrid mattress that is great for back and side sleepers.
A mattress that comes with a 15-year guarantee.
If you look for all of these, this mattress can be a great choice. REM-Fit managed to build a great all-rounder using recycled materials and that is very impressive. If you are an environmentally conscious shopper, this should be very high on your list.
60% OFF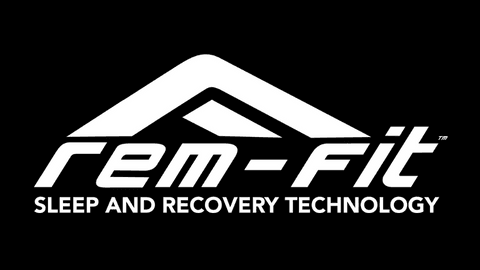 REM-Fit Mattress
Up to 60% off mattresses at REM-Fit
Up to 60% off mattresses at REM-Fit
Show Less
REM-Fit Eco Hybrid Mattress Review
PROS
Well-balanced mattress
Recycled materials
15-year guarantee
CONS
Cover design is very plain