In this REM-Fit Remy mattress review, I talk about this carbon-neutral option from this popular maker. REM-Fit recently released two eco-friendly options and the Remy mattress is the cheapest of the two. It's made from upcycled ocean materials but I will talk about this later.
Unlike the REM-Fit Eco Hybrid mattress, this is a foam-only option so you should expect no springs. All REM-Fit mattresses are made here in the UK and they are shipped inside carton boxes. Mine arrived almost two weeks ago so let's move now to the full review below.
What is this mattress made of?
The Remy mattress has a straightforward design and it features 3 layers plus the cover. In detail, these are:
A memory foam layer that is designed to sleep cool. It comes with pressure relieving properties that can help your bad back.
A reflex foam layer that adds comfort but also provides additional bounce to this mattress.
An EcoFoam layer that is the base of this mattress. This type of foam is very supportive but it's also very durable. That means this mattress will keep its shape for years.
The REM-Fit Remy mattress measures 20cm in height and the image below shows us the position of each layer.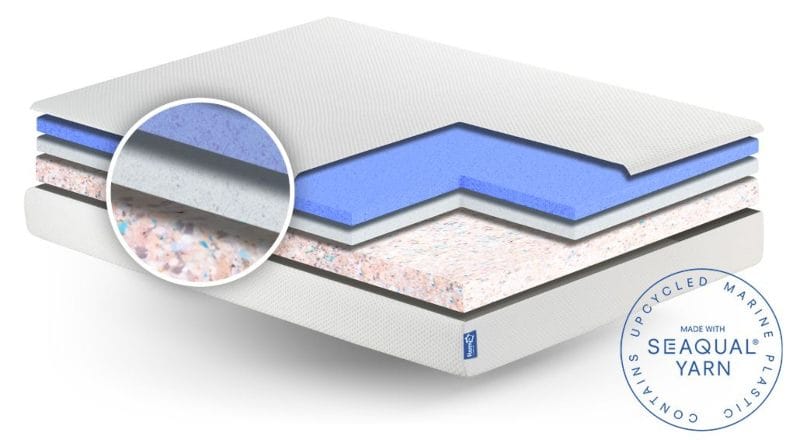 How good is this cover?
The cover of the Remy mattress is made of 100% upcycled ocean plastic. It features a white colour that contains no extra colouring. This is a choice that the people at REM-Fit made in order to have a pure eco-friendly cover. To make it feel more premium, this cover comes with a woven knitted finish that feels nice and adds some texture. As expected, this is a removable cover and if you want to clean it, you can use your washing machine. Make sure you pop it inside it and use a gentle cycle at no more than 40 degrees. Overall, this is a great cover and I was impressed by the job that REM-Fit did here.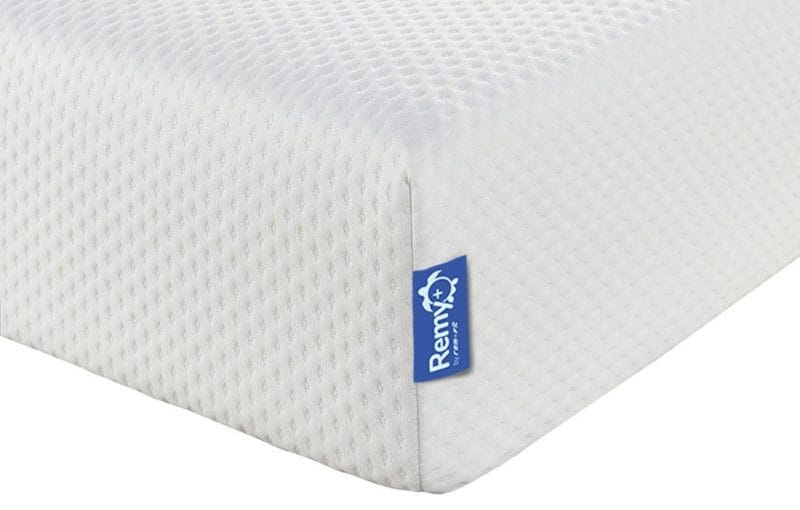 Is this a firm mattress?
It's time now to continue with this REM-Fit Remy mattress review and talk about its feel. If I use my virtual scale here, I would say this is a 6.6 with 10 being really firm. That makes it slightly firmer when compared to the REM-Fit Eco Hybrid. I want to talk now about my experience with this mattress and how it performed so far.

Starting from the back position, the mattress adjusted well to my weight and I felt well-supported. The foam layers did a great job with my spine alignment and I was comfortable in this position. Pressure relief was great and the mattress was firm enough for my taste.
Turning to the side position, the mattress adjusted to my body's weight and the support was great. Usually, foam-only mattresses tend to struggle with this position but the Remy mattress did a good job here. My spine alignment was correct and I felt comfortable sleeping this way.
Finally, turning to the stomach position, the sleeping surface felt firm enough to support my hips and shoulders. The mattress distributed my weight evenly and overall, it's a great all-rounder. In my opinion, this is quite difficult to achieve at this price.
If you share your bed with a partner, you should expect minimal motion transfer. The foam-only construction is responsible for that. On the other hand, edge support is average but this is expected from a mattress of this kind.
The Seaqual Initiative
I have already mentioned above that this mattress is made with upcycled ocean plastic. REM-Fit has joined forces with other environmentally conscious brands using this type of plastic and turning it into consumer products. The Seaqual Initiative provides brands with recycled plastic. Working with NGOs, fishermen, authorities and local communities, they gather litter from beaches, rivers and the ocean floor and transform it into upcycled marine plastic. This is how the cycle is complete and hopefully, more brands will follow this initiative. To find out more about their work, please visit the official Sequal Initiative website.
Is this another boxed mattress?
I have already mentioned above that this mattress is a rolled one. That means it will come packed inside a carton box and it will be delivered directly to your door. The good news is that they offer a Free Next-Day delivery service that is one of the fastest in the UK. All you have to do is order before 1 pm and your mattress will be delivered the following day. Moreover, you can have your old mattress removed for a small fee but you should make sure you choose this option during checkout.
My mattress was delivered without any problem and the box came in excellent condition. Communication was great and the courier was very friendly. Overall, I was happy with their service and I would definitely shop with them again.
Does it come with a trial period?
If you decide to buy a REM-Fit mattress, you will get a 100-night trial period that gives you plenty of time to try this before you commit to keeping it. In case you are not happy with it, you have the option to return it and ask for a full refund. The process is straightforward and they will take care of everything. All returned mattresses are donated to the British Heart Foundation. This is a great gesture by REM-Fit and hopefully, more makers will do the same.
Besides that, you will also get a 15-year guarantee that will cover you for a really long time. Most makers offer 10 years but REM-Fit added an extra 5 years and that is great. Overall, this is a fantastic package so no complaints at all.
How expensive is this mattress?
The Remy mattress is available in 3 sizes so you have limited options here. The smaller size (Single) will cost you £359 with the bigger (King) going for £569. As you see, this is a very affordable mattress but the good news is that they run frequent promotions so you will probably pay even less than that. The table below has pricing information for all available sizes.
| | | |
| --- | --- | --- |
| SIZE | DIMENSIONS | PRICE |
| Single | 20 x 90 x 190cm | £359 |
| Double | 20 x 135 x 190cm | £489 |
| King | 20 x 150 x 200cm | £569 |
Who should buy this mattress?
After talking in detail about it, I think the time has come now to complete this REM-Fit Remy mattress review. In my opinion, this mattress would be a good option for those looking for:
An eco-friendly mattress that is good for all sleeping positions.
A foam-only mattress that is great for couples.
A mattress that is fairly priced and comes from a brand you can trust.
If you look for all these features, this is an option you should consider. REM-Fit managed to build a mattress that is well-balanced and built with recycled materials. And all that comes at a fair price! For all these reasons, this is a mattress that I can recommend.
REM-Fit Remy Mattress Review
PROS
Great for all sleeping positions
Made with upcycled ocean plastic
Free next-day delivery