Simba is a very popular British brand and they have seen great success since it launched back in 2015. Their Simba Hybrid mattress is a true best-seller but recently, they decided to create a budget-friendly option. In this Simba Comfort mattress review, I will talk about this foam-only option which is a choice for those with a tight budget.
All Simba mattresses are made in the UK with materials that are sourced from Europe. Unlike the other Simba mattresses, this one doesn't feature any pocket springs and it's the first mattress of this kind that they made. It's sold exclusively via eBay and Amazon and you cannot purchase it on the Simba website. Mine arrived a few weeks ago so it's a good time now to move to the full review below.
What is a Simba Comfort mattress made of?
The Simba Comfort mattress has a simple design featuring 2 layers. These are:
Top Layer: A Simbatex foam layer which is there to provide your body with the needed pressure relief. It's designed to stay cool during the night and to minimize motion transfer.
Bottom Layer: An HD base foam layer which is the foundation of this mattress. The zone cuts help your body get more balanced support but also demanding areas like your hips and shoulders.
All foams used to make this mattress have received the CertiPUR label. That means that they are free of unwanted chemicals and they are safe for your body. The mattress measures 19cm in height and the picture below shows how the 2 layers are positioned.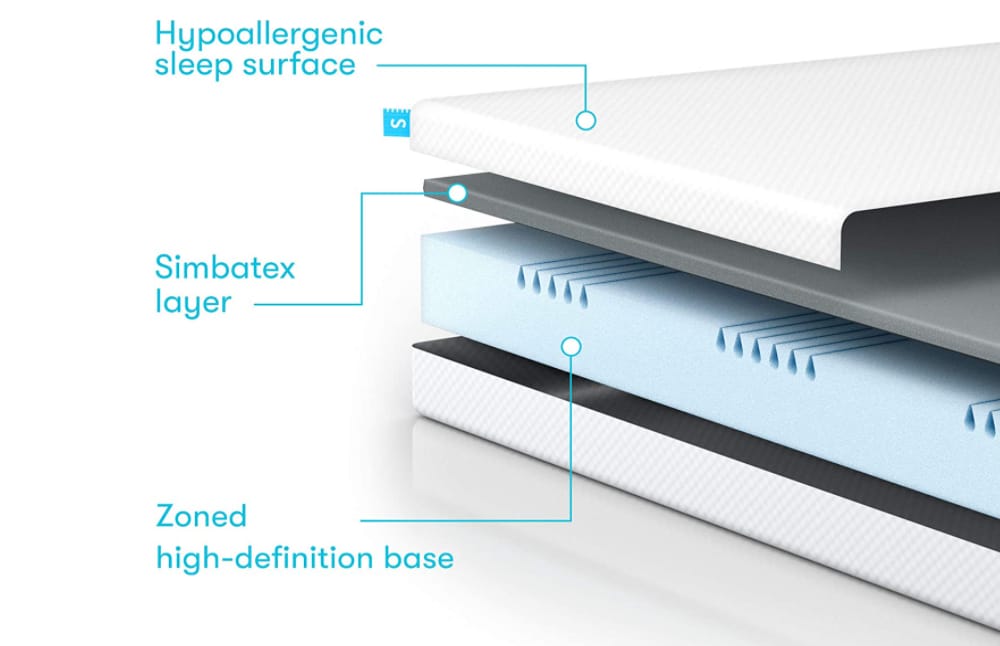 What is the cover made of?
The cover of this mattress is made of a knitted fabric that is designed to stay cool during sleep. The cover feels soft and if you sleep on it, you will get a plush feeling. It features a simple white design which is modern and I personally liked it. Unfortunately, this is not a removable cover so if you want to clean it, you should use a mild detergent and spot-clean it where needed. For this reason, I think that you should consider getting a mattress protector which will prolong the life of this mattress. Finally, the cover is hypoallergenic so if you are an allergy sufferer, this can be a good choice. Overall, this is a simple cover that does the job.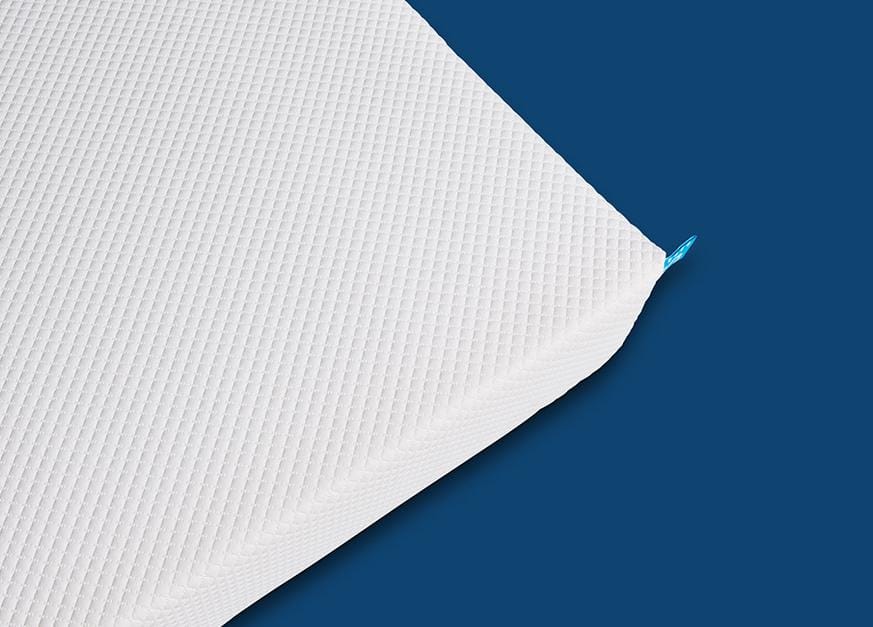 How firm is the Simba Comfort mattress?
When designing the Simba Comfort mattress, they wanted to make one that will suit the average sleeper. For this reason, this mattress comes with a medium-firm feel and if I use my virtual scale here, I would say this is a 6.5 with 10 being really firm. Let's see now how this mattress performed in the different sleeping positions.

Starting from the back position, the mattress felt comfortable and support was good. Pressure relief was average which is something I expected from a budget mattress like that. However, I felt that it did a good job in this position.
Turning to the side position, the foam layers reacted quickly and sinkage increased. My spine was aligned properly and I was impressed by Simba's performance in this position. Support was good and overall I felt comfortable sleeping this way.
Finally, moving to the stomach position, the mattress felt slightly softer than I would prefer. It was fairly comfortable but I felt that I needed more support in the hips area. Overall, this is a mattress that would suit mostly back and side sleepers.
If you are a couple, the foam-only construction means that this mattress has minimal motion transfer so it can be a good choice for you and your partner. On the other hand, the edge support is average but not bad for a mattress of this kind.
What type of bed should I use with this mattress?
This mattress doesn't need a special setup and you can place it on any flat surface including your floor. I personally like to use a slatted bed frame which helps with airflow and it's quite hygienic. I also like box springs as they offer plenty of support. The choice is yours but make sure the mattress gets enough support to work properly.
How will it be delivered?
I have already mentioned above that the Simba Comfort mattress is exclusively sold on eBay and Amazon. Both marketplaces offer free delivery and if you are an Amazon Prime member this mattress will be delivered the next day. If you buy from eBay, this will be shipped via UPS or AO. The mattress will be delivered to you within 1-3 working days with a tracked service. I got mine from eBay and it took 3 days. The service was a good one and the courier delivered this at my building's door. However, this is a light mattress so you won't have a problem moving it. For the price you pay, it's great they offer this type of service so no complaints at all.

Does the Simba Comfort come with a trial period?
When you buy the Simba Comfort mattress, you will get a 30-night trial period which gives you a full month to decide whether you want to keep it or not. If you are not happy with it, they will come to pick it up and give you a full refund. This is great to see especially for a mattress of this price. Besides that, you will also get a 3-year guarantee which will cover you for some time. Personally, I would like at least a 5-year one which is what the Emma Essential offers. Having said that, this is a decent package and at this price, you can't ask for much more.
How much will it cost me?
If you look for a budget mattress, this one can be a great option. It's available in 4 sizes with the smaller (Single) selling for £250 and the bigger (Super King) going for £420. The table below has pricing information for all available sizes.
| | | |
| --- | --- | --- |
| SIZE | DIMENSIONS | PRICE |
| Single | 90 x 190 x 19cm | £250 |
| Double | 135 x 190 x 19cm | £330 |
| King | 150 x 200 x 19cm | £370 |
| Super King | 180 x 200 x 19cm | £420 |
Is the Simba Comfort mattress any good?
It's time now to complete this Simba Comfort mattress review and share my final thoughts about it. I think that this one would be a good option for those who look for:
A budget mattress from a high-quality British maker.
A foam-only mattress that is good for couples.
A mattress that comes with a 30-night trial period.
If you are after a mattress of this kind, the Simba Comfort can be a great choice for you. It's not the best option that I have reviewed but it's a good value-for-money mattress for those who don't want to break the bank.
Simba Comfort Mattress Review
PROS
Good value for money
Minimal motion transfer
30-night trial period
CONS
Mediocre edge support