Having the right mattress is not always enough for good sleep. We also need the right temperature, the absence of noise but most important we need a good pillow too! For this reason, I have created a pillow review section here to help you choose the best one for your needs. I received an Eve pillow a few weeks ago and I was really excited to try it out! So let's move below to the full review of the memory foam eve pillow.
Construction
The Eve pillow, just like the mattress is designed to cover everyone's needs. The core of the pillow is made of Memory Foam (Viscoelastic) which adapts to the head and neck regardless of the position we sleep in. Eve decided to drill some tiny holes through the core of the pillow with the aim to keep it cool even during the hottest days of the summer. With the heat rising recently, I felt that the pillow did a pretty good job on that. Make sure you use some quality pillowcases that breathe to maximise the chances of your pillow staying cool. Finally, Eve also treated the pillow with Ultrafresh (antimicrobial shield), which is great for keeping your pillow clean and odourless. Overall, this is a pillow made with a lot of thought behind it which was quite visible when I used it, making it probably the most sophisticated pillow I have reviewed!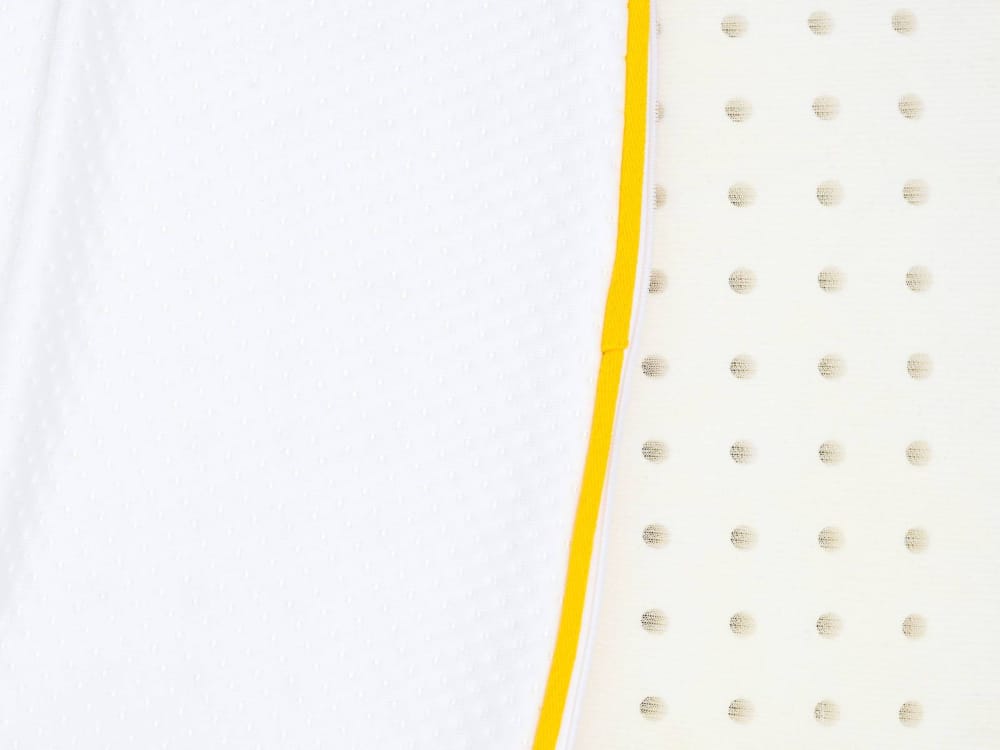 Cover
The cover of this pillow is made of 100% polyester and it's a washable cover which is great as you can clean it very easily! The surface of the eve pillow is hypoallergenic so it's good for all of us that suffer from some allergies. The size of the pillow is 50cm x 70cm which means that it will fit your existing pillowcases so no need to go shopping here! It's a beautifully designed cover with some yellow details that feels great and I genuinely loved the build of it. The only negative thing is that the odour of a new eve pillow is very strong and not pleasant at all! So give the pillow a week to get it to a level that is not a problem no more.
Support
The Eve pillow is probably the best pillow I have tried so far. This is a strong statement, I know, but it is a fair one. First of all, the pillow has the right dimensions and its thickness is ideal for any type of sleeping pattern. I am a stomach sleeper and pillows which are too thick are not good for me but the eve pillow is just right! This happens in all sleeping positions so no matter how you like sleeping the eve pillow will fit you perfectly. Additionally, I found the memory foam to be working really well adapting to my head and neck and providing me with great support during my sleep. The pillow gives the feeling that is designed specifically for your needs and I was very impressed by the feeling and support.

Are Eve pillows any good?
This is the question that I need to answer every time I write a review. I believe that the eve pillow is ideal for those who look for:
A pillow that is built with great materials and designed with the latest memory foam technology
A pillow that provides you with excellent head and neck support regardless of your sleeping position
Great service including free delivery and a 3-year guarantee!
If you look for all these then Eve has just made the perfect pillow for your needs. As I mentioned earlier, this is the best pillow I have tried and I would highly recommend it to everyone. If you have any questions, feel free to drop me a line.
POSITIVES
Ideal for every sleeping position
Excellent head and neck support
Guarantee, trial period and delivery
NEGATIVES
Slight smell out of the box