Autumn is coming and most people are looking to buy a new duvet. If you are one of them, this OTTY Deluxe duvet review might be all you need to read. As I have mentioned in the past, getting high-quality bedding is my guilty pleasure, especially as I get older. That led me to create a bedding reviews section on this site that will help you choose what best suits you.
OTTY is a well-known British maker that recently decided to release an extensive bedding range. My Deluxe duvet arrived almost ten days ago so it's a good time now to move to the full review below.
Construction
The OTTY Deluxe duvet is filled with microfibers that have a number of interesting properties. For starters, this type of fill is very breathable which is important for a good night's sleep. Secondly, microfibers are very light, especially when compared to other materials like down etc. Additionally, they are eco-friendly and vegan as no animal is involved in their making. And finally, they are hypoallergenic so this duvet is suitable for asthma sufferers.
Another great thing about this duvet is the fact it's crinkle-free so you won't be disturbed during the night. If you want to clean it, you can cool wash it with similar colours using your washing machine. This is great as it makes it super easy to keep it clean. This is a 13.5 tog duvet so it will be suitable for any season and even if you live up north, you will still feel warm during the winter. Overall, this is very well-made and its quality is one of the best I have seen so far.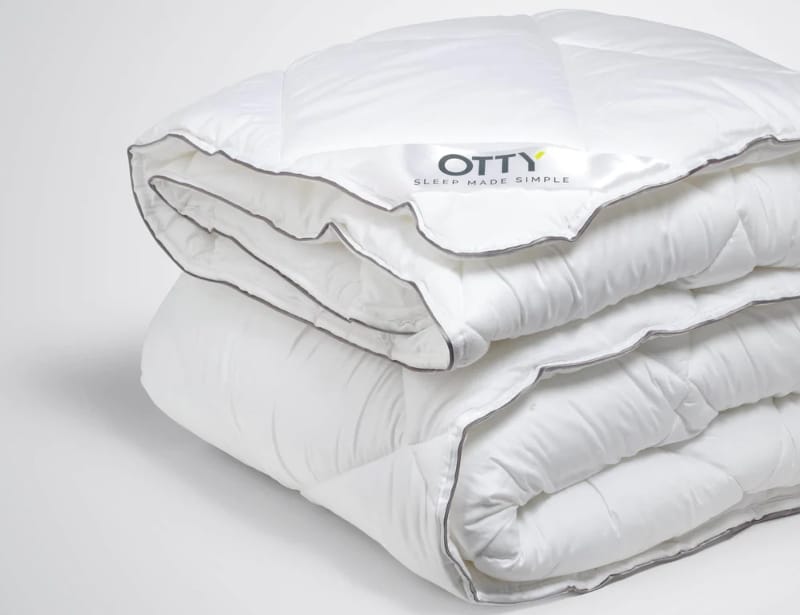 Design & Fit
During the design process, the people at OTTY wanted to create a premium piece of bedding and in my opinion, they have achieved that. The Deluxe duvet has a classy design that features a grey lining and the OTTY branding in one corner. In real life, it looks more expensive than it actually is and that is impressive. Moreover, the dimensions are accurate, which means it will fit well into your cover. For me, this is very important as I hate it when the duvet cover is bigger than the actual duvet.
Pricing
The OTTY duvet is available in 4 sizes which means that you have a number of options to choose from. The smaller size (Single) costs £119 with the bigger one (Super King) going for £169. I have to mention here that OTTY is a brand that runs frequent promotions so if you are lucky, you might pay less than that. In the table below, you can find all the available sizes and their prices.
| | | |
| --- | --- | --- |
| SIZE | DIMENSIONS | PRICE |
| Single | 135 x 200cm | £119 |
| Double | 200 x 200cm | £149 |
| King | 230 x 220cm | £159 |
| Super King | 260 x 220cm | £169 |
Delivery & Service
If you decide to buy one, you will get a 14-night trial period that gives you two weeks to try this at home. This is great and it's impressive they offer this type of service with a bedding product. However, they say you need to return it in excellent condition and with the original packaging so make sure you are careful with it. Moreover, the Deluxe duvet comes with free delivery that usually takes 2-5 working days. Overall this is a comprehensive package so no complaints at all.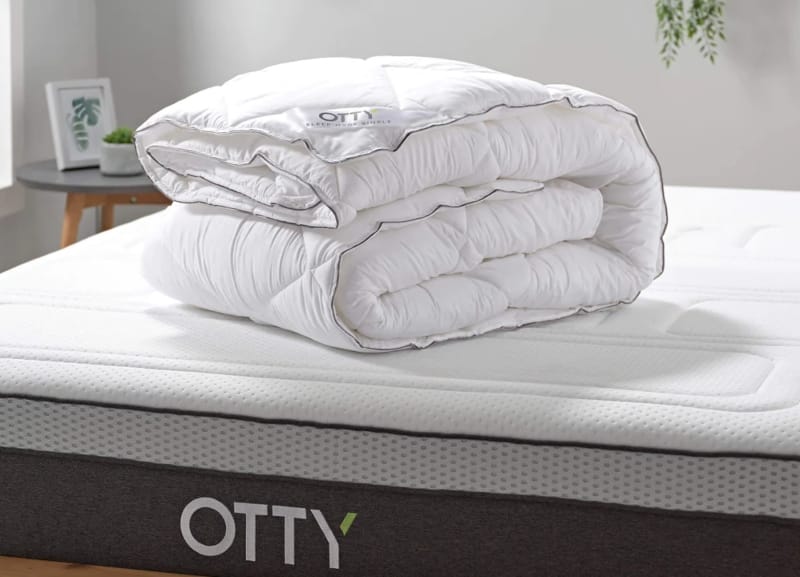 Verdict
I am ready now to complete this OTTY Deluxe duvet review and hopefully, you have found this piece of content helpful. OTTY did a great job here and I think that it would suit anyone looking for an all-season duvet. It's reasonably priced and it comes with excellent service and support. As a result, this is a duvet I can recommend.
PROS
Good for all seasons
Very light
14-night trial period
CONS
Guarantee could be longer