I have stated many times here that pillows are very important for a good night's sleep. In this Eve microfibre pillow review, I will talk about this new product and whether it's worth your attention. Having already reviewed their memory foam pillow, I was really keen to see if they can make a better one.
Eve decided to take a very different approach and create a more affordable pillow. After all, memory foam is not cheap. Of course, this was not only about cost-cutting. Many people don't like memory foam pillows so Eve tried to create one for those who don't. The pillow comes with a 3-year guarantee and a 30-night trial period, which you expect from a maker like Eve. My pillow arrived almost 2 weeks ago and it's a good time now to share my thoughts with you.
Construction
The Eve microfibre pillow has an interesting design. There is a chamber filled with hollow fibres in the middle and the rest of the pillow is filled with microfibres. The central chamber has a firm feeling with the outer chambers having a more airily soft feeling. The pillow also features an uneven 'wedge' shape so you can flip it according to your needs. According to Eve, they went with this approach to cover side and back sleepers mostly which is a strange thing to do considering how many stomach sleepers exist out there, including me.
The use of microfibre makes the pillow ideal for those who suffer from allergies because you can easily wash it and keep it super clean with minimal effort. The pillow can go to the washing machine and even in the tumble dryer. This is something that I have never seen with any other pillow and it's definitely its biggest strength.
Cover
The cover of the Eve microfibre pillow is made of 100% high thread count cotton (230). On the two sides of the pillow, Eve cleverly placed two mesh panels. These increase significantly the breathability of the pillow which is a great thing! The panels are made of polyester. The pillow measures 46×67 cm and is designed to work with the standard 50×75 cm pillowcases. So no need to worry here, you can use your old ones. As I have mentioned already, you can wash the whole pillow so the cover is not removable. But of course, it doesn't need to be as cleaning it's so easy to do. Overall, the cover is of high quality and I really liked the mesh panels which reminded me of the Simba Hybrid pillow.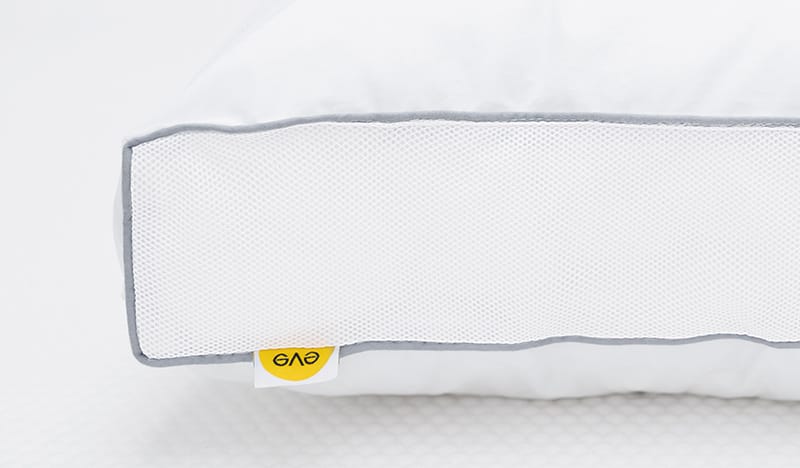 Support
The Eve microfibre pillow is designed for back and side sleepers. It's relatively thick so it's definitely not great for stomach sleepers. This straight away makes it not ideal for me as I am an avid stomach sleeper. However, if you never switch to the stomach position then this is a good pillow. The height is different if you switch sides so you will definitely find the right setup to get good neck support. I personally used one side for both positions and I must say it felt good. My neck felt supported but it was comfortable at the same time. Moreover, the height was good for proper spine alignment, especially in the side position. Overall, I think this pillow is aimed first at side sleepers, back sleepers, and not at stomach sleepers. So if you like the first two positions then you can consider this.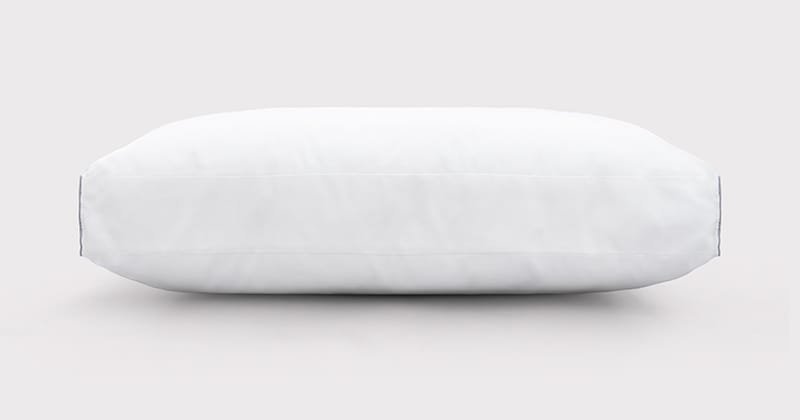 Is the Eve Microfibre Pillow for me?
Completing this Eve microfibre pillow review, I would like to share my last thoughts with you. Eve designed a non-memory foam pillow that is very affordable and is made of quality materials. It comes with an innovative design that allows airflow and it's great for allergy sufferers. The pillow is designed mainly for back or side sleepers which I personally didn't like. But if you belong in one of these two categories and you look for a value for money quality pillow then the Eve microfibre pillow should be high on your list.
Eve Microfibre Pillow Review
POSITIVES
Great cooling system
Awesome guarantee and support
Easy to wash
NEGATIVES
Not good for stomach sleepers