If you look for absolute comfort, you should definitely read my Emma Luxe mattress review. After having great success with their Original and Premium mattress, the people at Emma decided it was the right time to release a mattress that will compete in the high-end space. After months of development, the Emma Luxe mattress is finally here.
This is the second hybrid option they release but this one is more geared towards comfort so it comes with a medium feel. As you expect, this is another boxed mattress from the German maker and this was no surprise to me. I was really curious to try this so it's a good time now to move to the full review below.
What is an Emma Luxe mattress made of?
The Emma Luxe mattress features 6 layers plus the cover. In detail, these are:
A Titanium Cool foam layer that has the ability to remoce excess heat so you have more comfortable sleeping conditions.
A Halo foam layer that has excellent pressure relieving properties and has the ability to adopt to your body shape for optimal spinal alignment.
A double layer made of HRX Supreme™ Foam that can provide your body with the needed pressure relief.
Two micro-spring layers that are designed to allow airflow so the sleeping surface stays cool during the night.
A 5 Zone CarbonFlex Spring layer that can provide your body with personalised support and can improve your spinal alignment.
A HRX layer that frames the internal structure and massively improves edge support.
The mattress has a high loft and measures 31cm in height. The image below gives us a better idea of how it looks from the inside. I have to mention here that the Emma Luxe mattress is UKFR certified.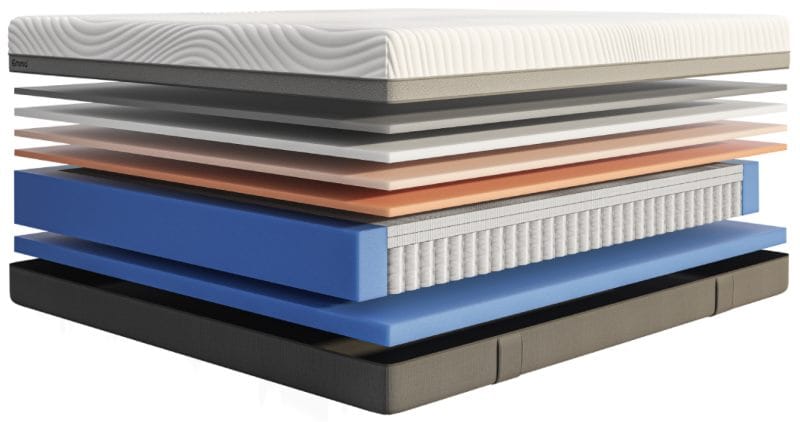 Is the cover any good?
The cover of this mattress is made of 99% polyester and 1% elastane. They decided to use this material because it's durable but also has the ability to allow airflow. Additionally, it can regulate your body's heat so you can sleep more comfortably. On the sides, they have added mesh panels that further increase airflow which ensures that the sleeping surface will stay cool during the night. The cover is removable and if you want to clean it, you can pop it inside your washing machine at 40 degrees. This is great and makes it very easy to maintain. On the sides, they have added 4 handles that can help you every time you want to move it. Finally, at the bottom, there is an anti-slip surface that will keep your mattress in place. Overall, this is a well-made cover that features a very clever design.
How firm is the Emma Luxe mattress?
Let's continue now with this Emma Luxe mattress review and talk about its firmness profile. When designing this mattress they wanted to focus on comfort. For this reason, the Emma Luxe mattress comes with a medium feel and if I use my virtual scale here, I would say it's a 6 with 10 being really firm. That makes it softer when compared to the Emma Premium mattress.

I will update this section when I manage to get my hands on it. At the moment, this mattress is available only as a pre-sale so, within 4-6 weeks, I will update this part to give you a better idea of how it performs.
What type of bed frame should I use with this mattress?
The Luxe mattress is a versatile one so you can use any type of bed frame with it. I personally prefer slatted frames and box springs because they are very supportive and can help the mattress perform at its best. Remember that if you use a slatted frame, you should make sure that the distance between each slat is no longer than 7cm.

Does it come with free delivery?
If you decide to buy this mattress, you will get free delivery providing you live in a UK postcode. Delivery is fast so you should expect your mattress within 2-5 working days. Emma works with DPD, UPS and Rhenus so you should expect a quality service. As I have already mentioned, the Emma Luxe is a rolled mattress so you should expect it packed in a box. Overall, they offer one of the best delivery services in the UK so no complaints at all.
Can I try it before I buy it?
All Emma mattresses come with a 200-night trial period so you practically have more than 6 months to try this mattress before you decide whether you want to keep it or not. If for any reason, you are not happy with it, you can return it and get a full refund. Their customer service is great and the process is not a complicated one. Moreover, the Emma Luxe mattress comes with a 10-year guarantee that will cover you for a long time. Overall, this is a competitive package and the people at Emma do a great job here.
How much does it cost?
The Emma Luxe mattress is available in only 3 sizes but that is expected for a mattress of this kind. The smaller size (Double) will cost you £1,728 with the bigger (Super King) going for £2,128. Having said that, they run frequent promotions so you don't have to pay the full price. For instance, at the moment of writing there was a 35% of promotion. The table below has pricing information for all available sizes.
| | | |
| --- | --- | --- |
| SIZE | DIMENSIONS | PRICE |
| Double | 135 x 190 x 31cm | £1,728 |
| King | 150 x 200 x 31cm | £1,928 |
| Super King | 180 x 200 x 31cm | £2,128 |
Is this a mattress I should consider?
It's time now to complete this Emma Luxe mattress review and share my final thoughts with you. I believe that this would be a great choice for anyone looking for:
A hybrid mattress that has an excellent cooling system.
A comfortable mattress that is great for all sleeping positions
A mattress that comes with a 200-night trial period.
If you look for all these, the Emma Luxe should be high on your list. It's one of the most comfortable mattresses in the UK and it will suit most sleepers. Emma managed to build a proper high-end mattress so if you have the budget for it, I highly recommend it.
Emma Luxe Mattress Review
PROS
Very comfortable
Excellent cooling system
200-night trial period
CONS
Not the cheapest mattress