In this Emma Motion mattress review, we will explore this exciting new option! Emma is the maker of some really innovative sleeping products like the Emma Original mattress but recently they presented a game-changing prototype that will soon hit the European and UK market. The Emma Motion mattress is their smart bed that promises a new personalised sleeping experience that will be delivered with the use of AI. According to them, this will be "The world's most advanced smart mattress".
In the video above, you can watch the full presentation of this new mattress and listen to Dr Dennis Schmoltzi (CEO & Founder of Emma Sleep) talking about it. The Emma Motion mattress will be launched next month in France and the Netherlands and will hopefully hit the UK market by the end of this year.
What is an Emma Motion mattress made of?
The Emma Sleep team has been developing this mattress for more than 2 years in their headquarters in Frankfurt. The mattress features a total of 4 layers plus the cover. In detail, these are:
A diamond degree foam layer. This type of foam contains millions of heat-conducting graphite particles that allow it to efficiently regulate the body's heat.
A memory foam layer that adds pressure relieving properties.
An Infinite AI Sensor Mat that is the 'brain' of this smart mattress.
An HRX foam layer which works as the base of this mattress. Inside it, there is an embedded Silent Move IQ mechanism. It works in conjunction with the AI Sensor mat to create a personalised sleeping experience.
The image below showcases the position of each layer. The mattress is designed and manufactured in Germany.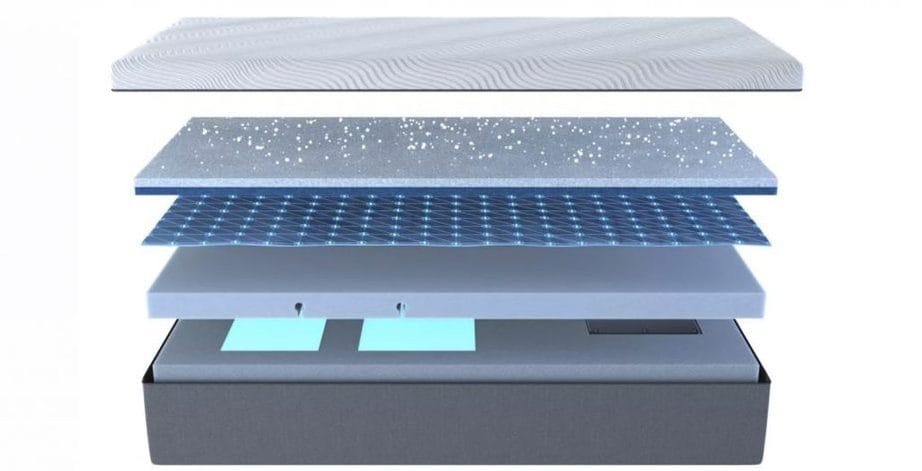 How does it work?
The Emma Motion features an Infinite AI Sensor which is the brain of this mattress. It's a dense grid of 360 motion sensors that can detect even the slightest change in pressure. As you move during sleep, the sensors analyse and process the data in real-time. With the help of AI, these moves are translated into your current sleeping positions. Once this is done, the Silent Move IQ comes in place and adjusts to your moves. It gets all the information from the Infinite AI Sensor Mat and silently compresses and decompresses the foam layers in order to provide support and relief for your body. This process repeats itself throughout the night and the Emma Motion mattress promises to deliver the best sleeping experience of your life.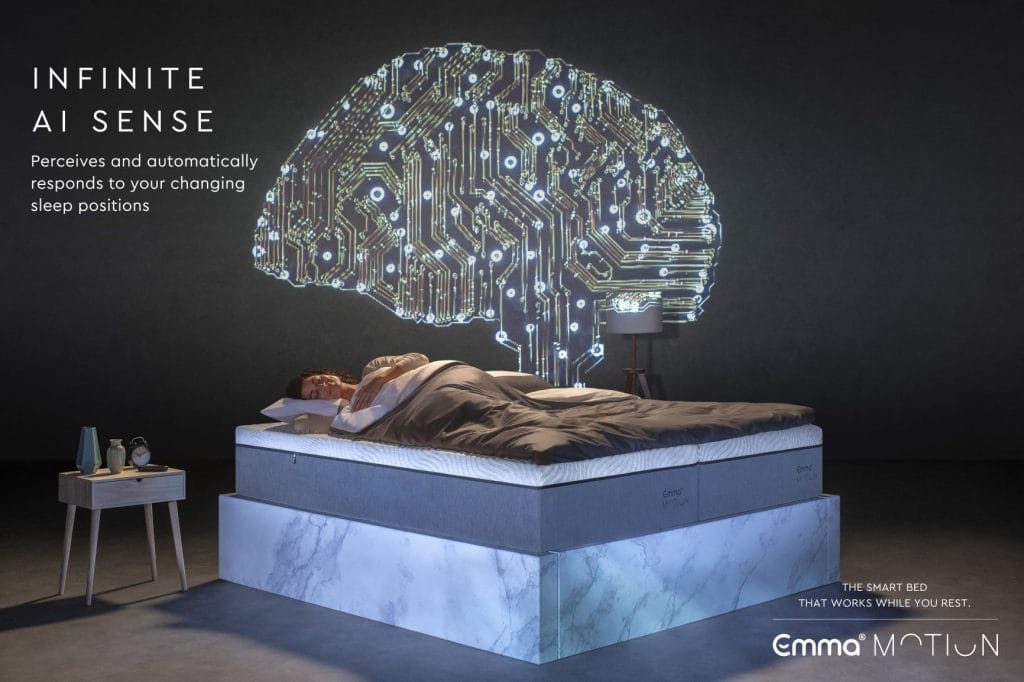 The Emma Motion App
Emma is expected to launch an App that will help you customise the mattress according to your needs. It will allow you to change the settings in the Motion Fields so you get the right support and pressure relief. Once you choose your settings, these will be saved so you don't need to repeat this process every night. This is clever thinking and Emma did a great job here. According to sources, the app will be available for both iOS and Android devices.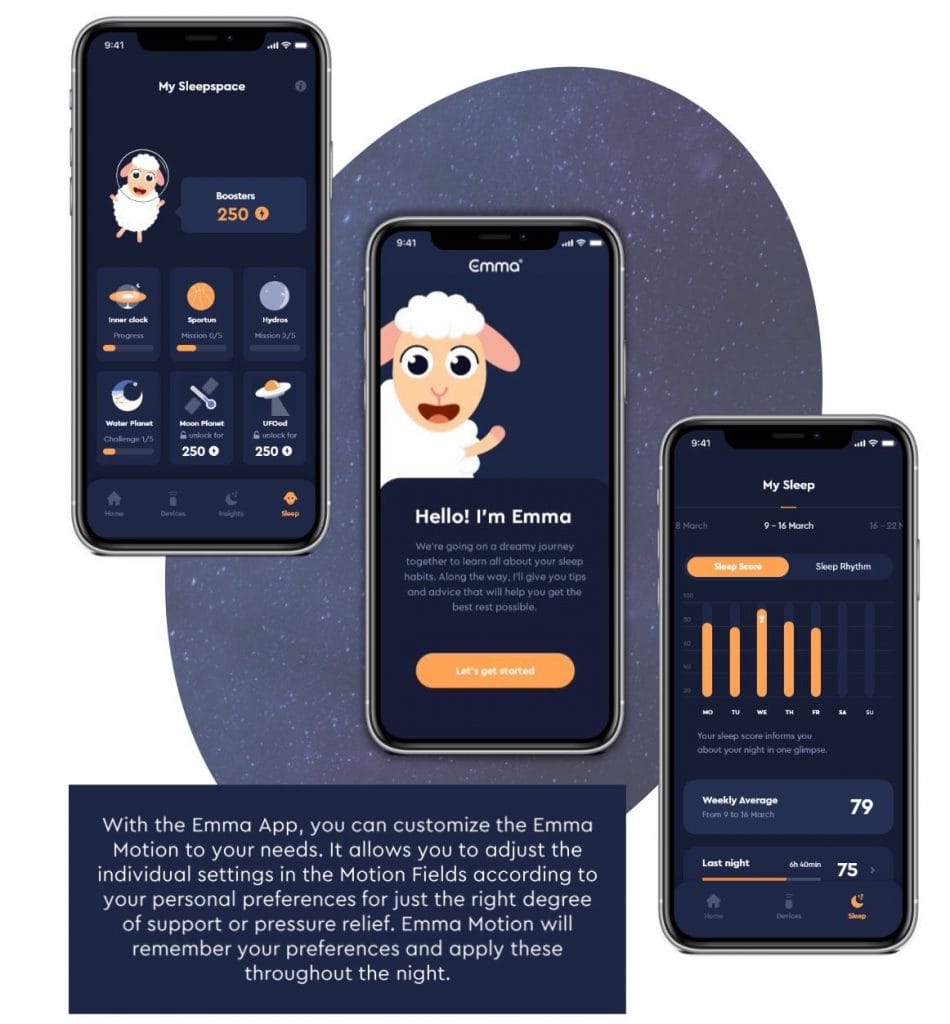 How does it compare to the competition?
When designing this mattress, they wanted to separate it completely from the competition. And they did exactly that! The table below features the specs of the Emma Motion mattress and how this compares to other smart mattresses. As you see, we have a clear winner here.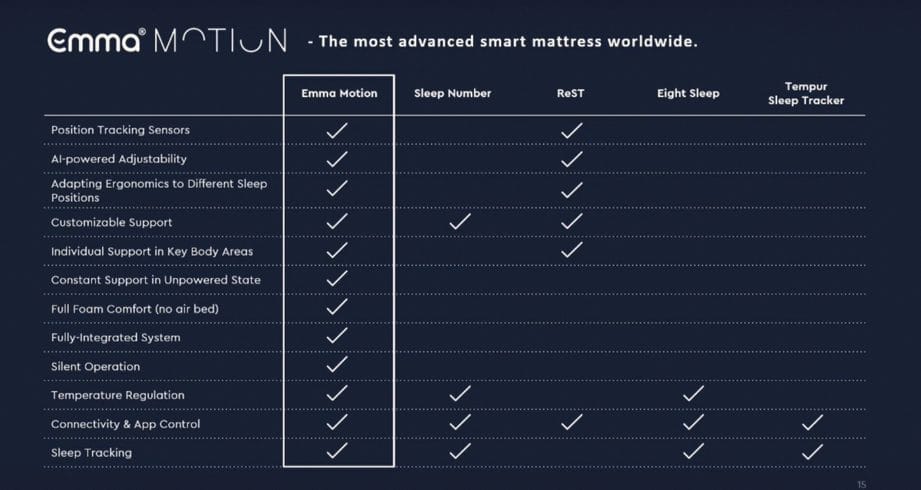 Does the Emma Motion come with a trial period?
Although this is not confirmed yet, I expect this mattress to come with a 100-night trial period. However, it will be hard to see this coming with a 10-year guarantee but maybe Emma will surprise us. Personally, I expect a great support package for this mattress as Emma has shown that they value their customers. Once we have more information on this one, we will update this page.
How much does it cost?
As expected, all this technology comes at a cost. Although we have no words about prices in the UK, we managed to find the ones for the Dutch market. Bear in mind that these can change at any time. All prices below are in Euros.
| | |
| --- | --- |
| SIZE | PRICE |
| Small Single | € 2,499 |
| Single | € 2,499 |
| King | € 3,799 |
| Super King | € 3,899 |
Verdict
This is very early to draw a conclusion here but the Emma Motion mattress looks very impressive, at least on paper. It's a mattress loaded with smart specs but we will have to try this in real life before we see if all the promises they made in their presentation are real. We will update this Emma Motion mattress review frequently with any new information that comes up so stay tuned for more updates. In the meantime, if you are looking to buy a new mattress soon, you can have a look at our Best Mattress Picks here.