With so many mattress options in the UK market, it can be difficult to choose the right one. In this Eve Lighter Hybrid mattress review, I talk about this affordable option from a well-known maker.
If you live in the UK, the chances are that you have seen an Eve ad. This brand has developed six adult mattresses so there is definitely one that will suit your needs. The Lighter Hybrid is one of the most affordable Eve mattresses and it's designed for those with a tight budget. Mine was delivered almost 3 weeks ago so it's time now to move to the full review below.
What is this mattress made of?
The Eve Lighter Hybrid features 4 layers plus the cover. In detail, these are:
An evecomfort foam layer that has great cooling properties. It can support your bony parts and help your spine to align correctly. Unlike other foams, this one has a more 'springy' feel.
A foam casing layer that protects the pocket springs. Besides that, this layer improves edge support.
A pocket springs layer that can provide your body with the needed pressure relief. Each mattress comes with over 650 full-sized springs.
A bottom foam casing layer that protects the pocket springs. However, this layer also works as the base of this mattress.
The Lighter Hybrid measures 20cm in height and the image below gives us a better look at how it looks from the inside. All Eve mattresses are designed and manufactured here in the UK.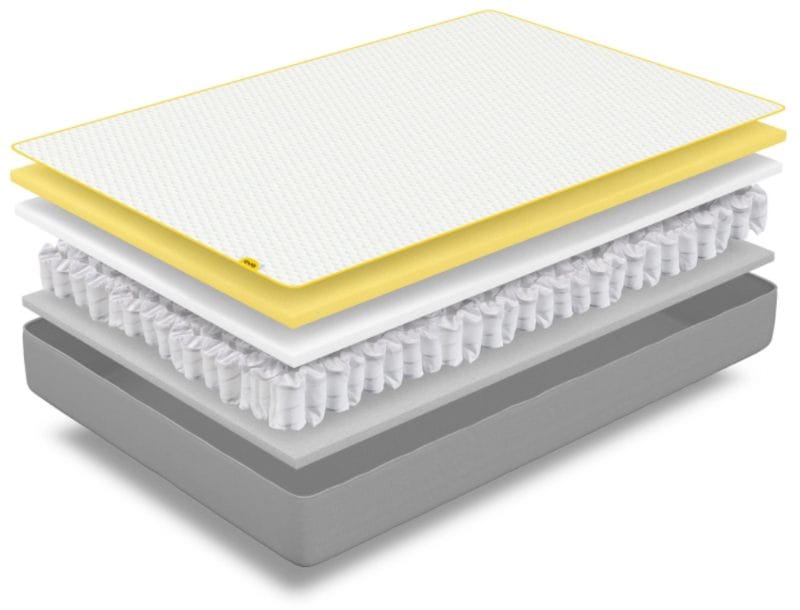 Is this a good cover?
The cover of this mattress is made of 98% polyester and 2% elastane. Polyester is a durable material that is very breathable. Elastane ensures that the fit is great and the cover stays tight around the mattress. The combination works well and the cover feels soft but quite strong at the same time. The design is a modern one, featuring a light grey side part with a white top part. The latter one is removable and machine-washable. This is practical thinking and I love when makers think this way. Unfortunately, there are no side handles here but this is a relatively light mattress so you won't have a problem moving it. Overall, this is a good cover and this is something I expected from a maker like Eve.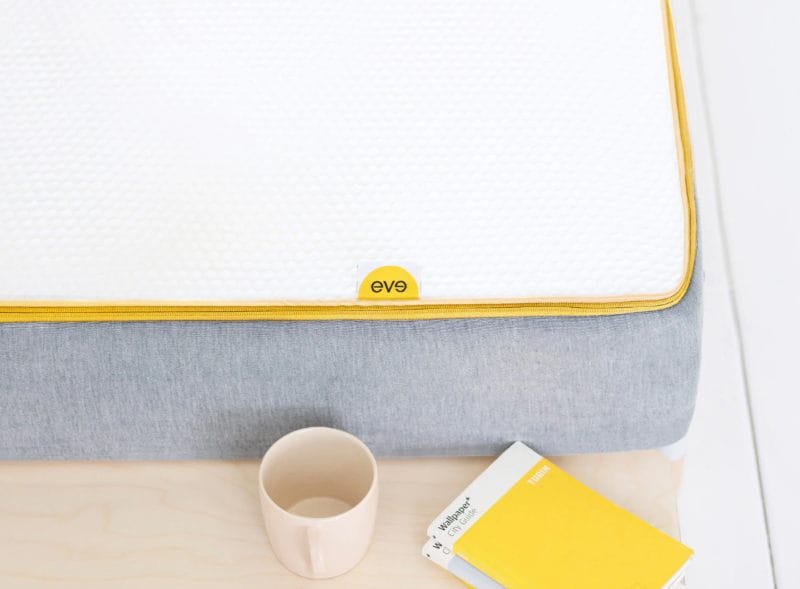 How firm is the Eve Lighter Hybrid?
It's time now to continue with this Eve Lighter Hybrid mattress review and talk about its firmness. The people at Eve wanted to create a mattress that can suit the average sleeper so this mattress comes with a medium-firm feel. If I use my virtual scale here, I would say this is a 6.5 with 10 being really firm. I would like now to talk about my experience with it in the last 3 weeks.

Starting from the back position, the springs did a good job with the weight distribution and I felt well-supported. The sleeping surface was comfortable and pressure relief was decent.
Turning to the side position, the mattress reacted quickly and that helped me have better spine alignment. There was no discomfort on my hips and I felt comfortable sleeping this way.
Finally, moving to the front position, the Lighter Hybrid did a good job with my hips and shoulders and I felt well-supported. Again, pressure relief was not great but that's my only complaint. Having said that, this is a great all-rounder and it can be a great choice for young adults.
This mattress is well-built and it has good edge support. That means that you will get in and out of bed with ease. If you are a couple, there is some motion transfer but nothing too bad so this can be a good choice for you.
What type of bed can I use with this mattress?
This is a versatile mattress and you can use any bed type. However, due to the existence of pocket springs, Eve advises that you don't use this mattress with an adjustable frame. According to the maker, the best options are slatted frames and divan beds. Make sure your mattress breathes well as ventilation is the key to a clean and healthy mattress.
Will I get free delivery?
If you decide to buy an Eve Lighter Hybrid mattress, you will get free delivery, provided you live in a UK postcode. Delivery usually takes 5 working days so it's one of the fastest in the UK. During checkout, you have the option to arrange a mattress recycling service that can be very useful. This will cost you an extra £50 and it will be completed by a 2-man courier. I live in London and my mattress arrived within 4 working days. The whole experience was great and the box came in great condition. Overall, the people at Eve offer excellent service here so no complaints at all.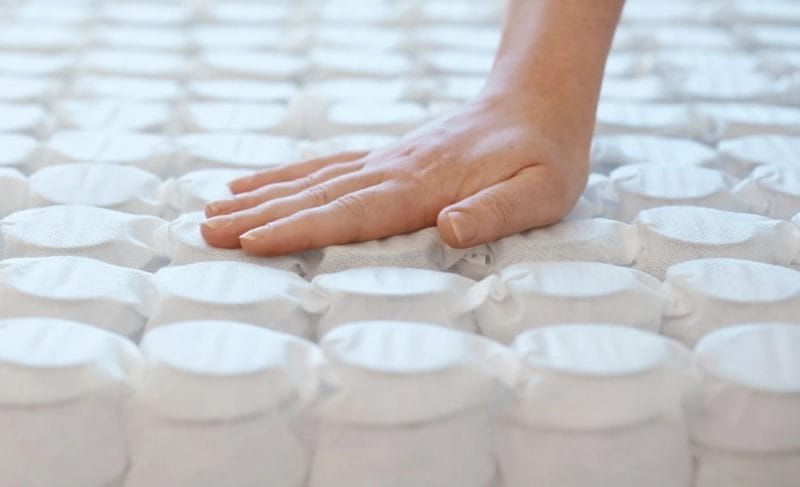 Can I try it first?
One of the best things about this mattress is the fact it comes with a 1-year trial period that gives you plenty of time to try it. If you decide that you are not happy with it, you can return it and get a full refund. The process is not a complicated one and you don't have to keep the box to be able to return it. Besides that, all Eve mattresses come with a 10-year warranty which is standard with most boxed mattresses. However, don't take this for granted as it shows how they respect their customers. The full terms can be found on their warranty page so make sure you have a look before you buy your Eve mattress. Overall, this is a great package as only a handful of makers offer such a long trial period.
Is this an affordable mattress?
The Eve Lighter Hybrid mattress is available in 3 sizes and it's a very affordable option. The smaller size (Single) will cost you £399 while the bigger (King) goes for £599. Of course, Eve is a brand that runs frequent promotions so you will probably pay less than that. The table below has pricing information for all available sizes.
| | | |
| --- | --- | --- |
| SIZE | DIMENSIONS | PRICE |
| Single | 90 x 190 x 20cm | £399 |
| Double | 135 x 190 x 20cm | £499 |
| King | 150 x 200 x 20cm | £599 |
Is this a good buy?
This is always a tough question to answer but I will do my best now that I am ready to complete this Eve Lighter Hybrid mattress review. In my opinion, this would be a good choice for those looking for:
A hybrid mattress that is designed for all sleeping positions.
An affordable mattress that is built with excellent materials.
A mattress that comes with a 1-year trial period.
If you look for a mattress with all these features, then the Lighter Hybrid should be high on your list. It's a great all-rounder that comes with an affordable price tag and this is hard to find. Eve managed to build a winner here and this is a good option to upgrade from your old mattress.
Eve Lighter Hybrid Mattress Review
PROS
Good for all sleeping positions
High-quality materials
1-year night trial period
CONS
Pressure relief is average