The "mattress in a box" concept was created mainly to cut costs. But lately, there are more premium options that come packed in a box. In my herdysleep mattress review, I will talk about this very interesting option that is geared towards people who like the premium feel.
This mattress got my attention because they use Herdwick wool which is a fantastic material. I will talk in detail about it later. The mattresses are a collaboration between the master bed makers, Harrison Spinks and the famous Lake District brand, herdy, who teamed up to create a luxury mattress that combined great comfort and social responsibility. Mine arrived a month ago so it's a good time now to write this review.
Materials
The herdysleep mattress is made of a total of 7 layers and the cover. These are:
Top Layer: A Herdwick fleece layer which is a blend of Herdwick wool, cotton and cashmere. It's completely natural and it's there to allow airflow. It helps the mattress stay cool during sleep.
Middle Layer: A tiny pocket spring layer that is there to provide your body with the needed pressure relief.
Middle Layer: Support foam is placed between the springs (look image below). It's a dense foam and it's there to provide your body with support. It also helps the mattress stay together.
Bottom Layer:  There are 2 pocket spring layers as pictured below. They provide the body with the needed support. A king size mattress has around 6,000 pocket springs.
The herdysleep mattress is 26cm deep which is slightly more than the average rolled mattress.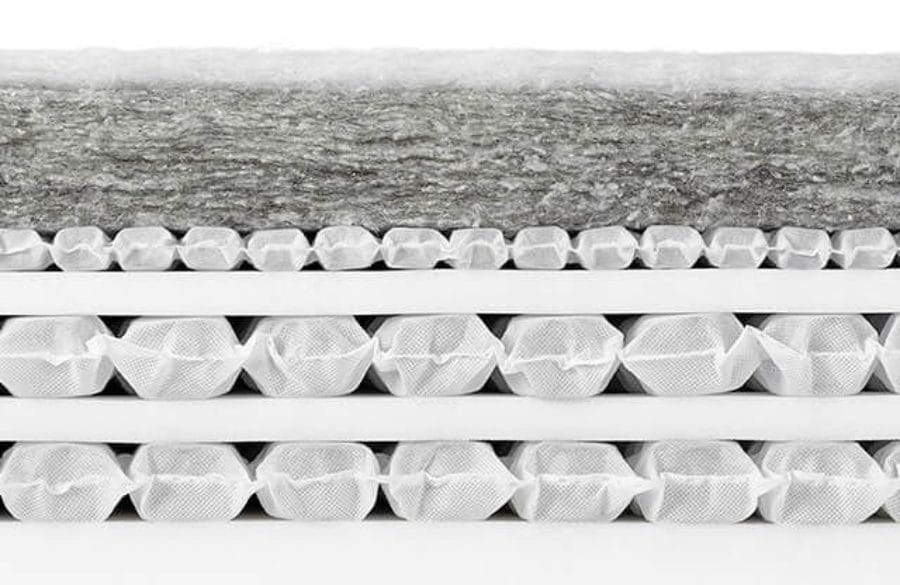 Cover
The cover of the mattress is made of a chemical-free fabric which is great for anyone that suffers from allergies. It's a woven fabric that allows airflow and it's made from plants. The cover feels soft and it has a traditional British look. It definitely looks premium and it's well designed. In addition, they have cleverly added some handles on the sides which makes it easier to move. The cover is not removable so you cannot machine wash it. This is the only thing I didn't like about it. If you want to clean it, you should use a mild detergent and spot clean it. Overall, I liked this premium touch and this cover definitely separates itself from all the other rolled mattresses.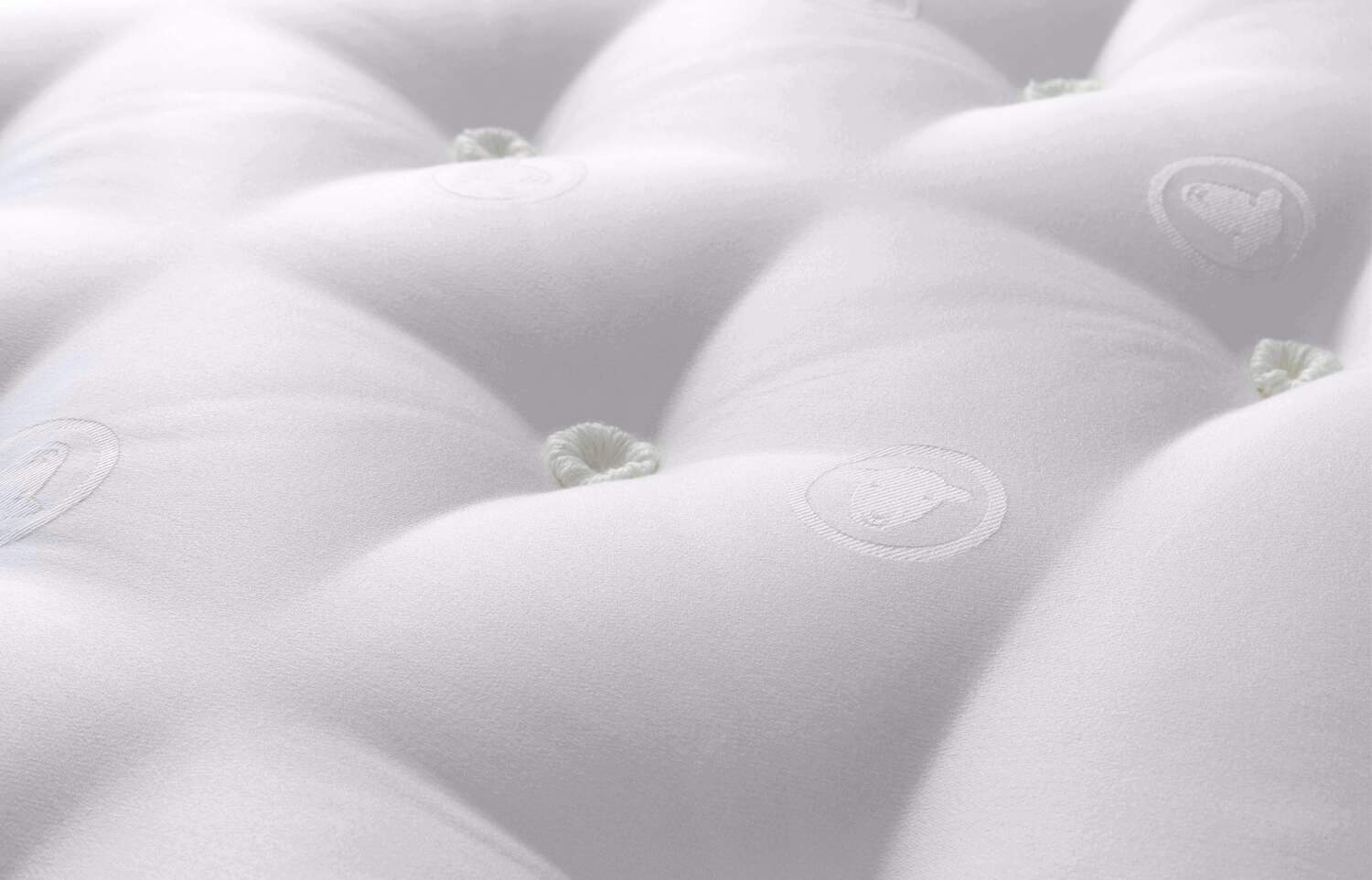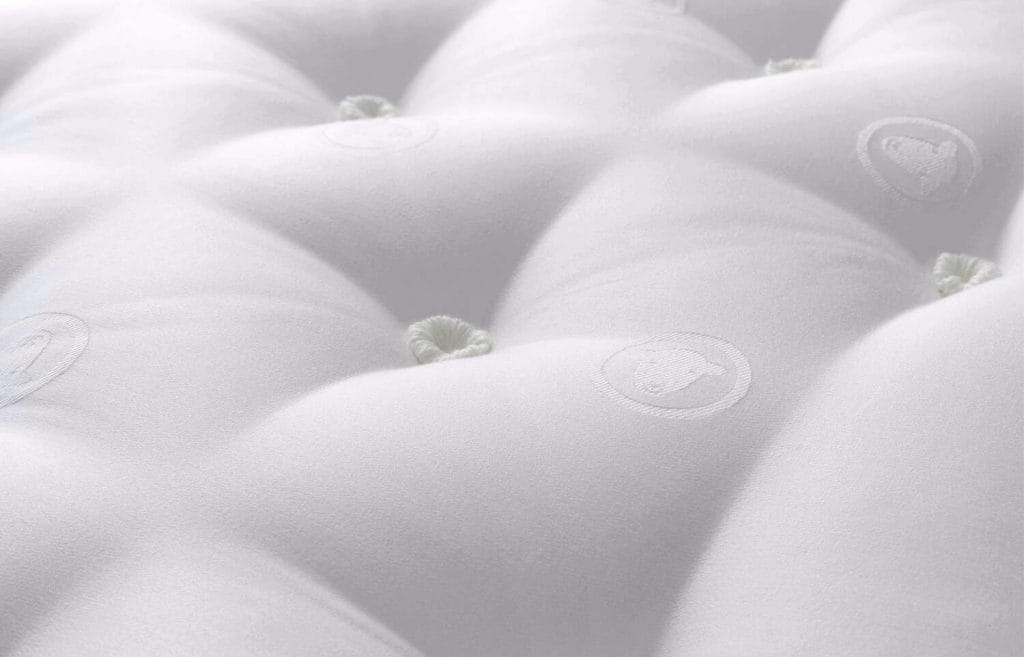 Firmness & Comfort
The herdysleep mattress has a medium-firm feel. If I use my virtual scale, I would say it's a 6.6 with 10 being really firm. The mattress was designed this way to suit the vast majority of sleepers and it does a good job in my opinion. It's time now to talk about the different sleeping positions and how this mattress performed.

Starting from the back position, the mattress reacted very quickly which is something I expected. The wool and the mini-pocket spring layer added comfort but I felt that the lack of memory foam was noticeable. It's another type of pressure relief that I wasn't used to. My spine was aligned properly and overall I felt good in this position.
Moving to the side position, the springs adjusted very quickly to my body weight. Sinkage increased and my hips felt really comfortable in this position. The mattress did a really good job with my spine alignment and overall Herdysleep impressed me in the side position.
Finally moving to the stomach position, I felt that the mattress is slightly softer than I would prefer considering my weight. It was still quite comfortable and I got adequate support. My chest and hips were well positioned and my spine was aligned properly. In terms of pressure relief, the mattress did ok.
As for the edge support, herdysleep is a very well made mattress. The spring construction ensures you will get the same performance from every corner of the bed. The mattress also has a good bounce for those who prefer this feeling. Overall, it performed well, especially in the side position.
Bed type compatibility
You can place your mattress on any flat surface providing it can support it. You can use a slatted base, a box frame or your floor. However, a base or a frame are better as they allow the mattress to breathe better. If you use a slatted base, you should make sure the distance between the slats is no longer than 7.5cm.
Delivery & Packaging
The herdysleep mattress comes packed in a carton box and it's delivered directly to your door. They offer free 2-man delivery and they will place the box in the room of your choice. This is fantastic and only a few companies offer it! But there is more to that. They also offer a free mattress removal service which is very useful. After all, it's very difficult sometimes to get rid of our old mattress.
Trial Period & Guarantee
The mattress comes with a 100-night trial period which essentially gives you 3 months to decide whether you are happy with your purchase. If you are not, you can return it for free and get a full refund. You don't have to keep the original packaging to be able to return it so you can get rid of it. Of course, make sure you recycle the carton box. The mattress also comes with a 10-year guarantee which is great! Of course, many mattresses in a box come with that but not all so we should give credit to herdysleep.
Mattress Pricing
The herdysleep mattress is available in 5 sizes. However, they can also build custom dimensions which is a fantastic feature to have and it's something I actually used because I wanted an EU size. The smaller mattress (Single) goes for £649 and the bigger size sells for £1,149. In the table below you can find information about the prices of all the pre-made sizes.
| | | |
| --- | --- | --- |
| SIZE | DIMENSIONS | PRICE |
| Single | 90 x 190 x 30cm | £649 |
| Double | 135 x 190 x 30cm | £849 |
| King | 150 x 200 x 30cm | £999 |
| Super King | 180 x 200 x 30cm | £1,149 |
Is the Herdysleep mattress for me?
Finishing this herdysleep mattress review, it's time I share my final thoughts with you. This mattress is ideal for anyone looking for:
A mattress made with natural materials by a traditional British maker.
A hybrid mattress that has good bounce and is excellent for side sleepers.
A mattress that comes with amazing service and support.
Herdysleep is not a cheap mattress but the use of high-quality materials and the excellent service justify its price tag. You will get good value for what you pay. It's an alternative 'mattress in a box' that reminded me of the good old spring mattresses that had bounce and responded quicker than memory foam. If you look for that feeling then this might be a good option for you.
Herdysleep Mattress Review
PROS
Amazing service and support
Good bounce
CONS
A bit pricey
Cover is not removable