Unfortunately, the Leesa mattress is no longer available in the UK. Visit

our awarded mattresses page

to find an alternative.
Leesa is one of the most popular mattress brands in the US and they entered the British market back in 2015. Since then they had great success and their mattresses became very popular. In this Leesa mattress review, I will talk about this interesting option and whether it should be one to consider.
Their mattresses are designed in the US but they are built here in the UK. As you expect these days, they come packed in a carton box. My Leesa mattress arrived about a month ago so it's a good time now to move to the full review below.
What is a Leesa mattress made of?
The Leesa mattress is made of a total of 3 layers plus the cover. These are the following:
Top Layer:

A 5cm Cooling Avena foam layer which is designed to keep the mattress in the right temperature during sleep.

Middle Layer:

A 5cm memory foam layer which is there to provide your body with the needed pressure relief.

Bottom Layer:

A 15cm dense core foam layer which provides your body with the needed support. It also works as the base of the Leesa mattress.
The mattress measures 25cm in height. In the image below you can see how the different layers are positioned.


What is the cover made of?
The cover of the Leesa mattress is made of polyester which helps the mattress breath during the night and allows airflow. Polyester is a strong material but the downside is that it's not as soft as cotton. However, the one found here feels relatively soft so you won't feel the difference.
The cover is removable and it's relatively easy to clean (spot cleaning) but it's not machine washable. This is not very practical but it's not a huge problem. The Leesa cover comes in a light grey colour. The design features four white stripes (Leesa branding) that are positioned at the bottom part of the cover. I really like the design as it feels very contemporary and quite unique. Overall, I think that the cover is very good. It's made of high-quality materials, it's very breathable and looks beautiful. If you could machine wash, it would be perfect but I still think it's a good cover.

How firm is the Leesa mattress?
The Leesa mattress has a medium-firm feel which is the norm with most rolled mattresses. If I put this on my firmness scale, I would say it's a 7 with 10 being really firm. That means that Leesa is a bit firmer compared to the average boxed mattress. This is something I liked as I felt that it's more suited to my body type. I am going to talk now about the different sleeping positions and how this mattress performed.

Starting from the back position, the foam layers 'hugged' my shoulders but I didn't feel stuck. Support was great and my spine was aligned properly. It was comfortable in this position and I felt well-rested.
Turning to the side position, the mattress maintained its shape and sinkage increased. I felt that my spine was aligned properly which can be a tough task for a foam-only mattress. Support remained good and pressure relief was adequate.
Finally, turning to the stomach position, I felt that Leesa was designed with this position in mind. The mattress supported me where it's most needed (shoulders and hips) and my spine was aligned correctly. Pressure relief was good in this position and overall it felt great. Leesa is a proper all-rounder and that is why is so highly rated.
This mattress was designed with couples in mind. There is minimal motion transfer so if you share your bed with a restless partner then this mattress might be the answer for you. Regarding the edge support, I would say that it's not bad for a foam mattress. Overall, Leesa impressed me and it's definitely one of the best mattresses I have reviewed.
What type of bed to use with this mattress?
Like most mattresses these days, you can place Leesa on any surface as long as it's flat. That means that you can use your current bed base or just place it on your floor. If you use a slatted base, make sure there are enough slats so your mattress performs at its best. The general rule is that the distance between every slat should be no longer than 7cm. The mattress is available in a number of sizes, including EU ones, so if you have an IKEA bed frame like myself, you will be able to use it with your new mattress.
How will it be delivered?
I have already mentioned that the Leesa mattress will be delivered in a carton box which measures 40cm x 40cm x 114cm. They offer free delivery for all sizes which will take between 4-7 days. This is not the quickest shipping but all Leesa mattresses are made to order. Unfortunately, there is no Saturday delivery and you are not given the option during checkout. This is not great and I hope they change it in the near future. They work with UPS to ship all their mattresses which guarantees good service. The courier was polite and very helpful. Overall, I think that Leesa could do a better job here. I honestly didn't mind the wait but the lack of Saturday delivery was a problem for me.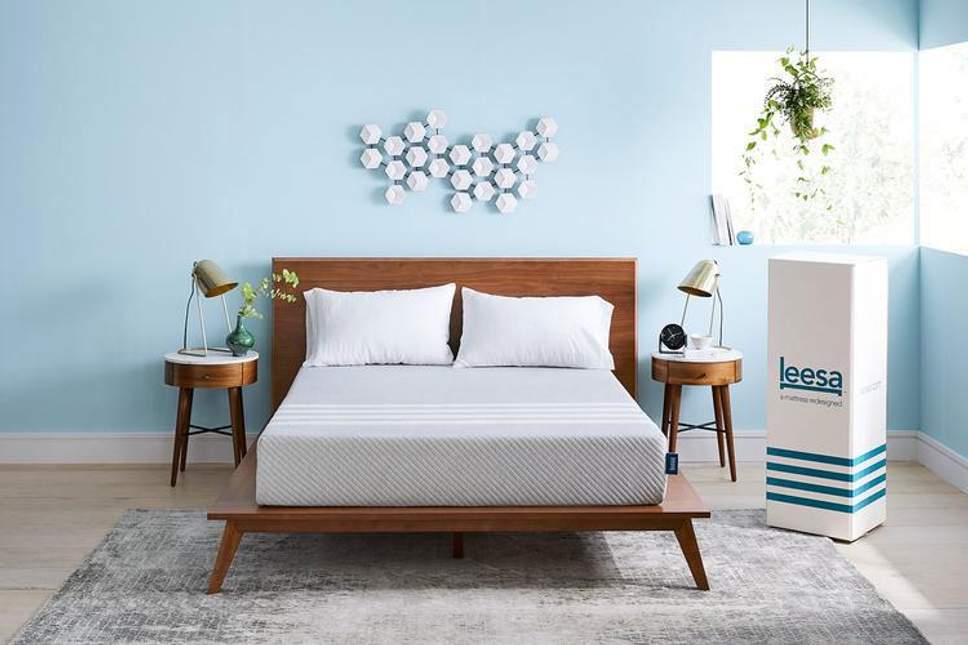 Does it come with a trial period?
The Leesa mattress comes with a 10-year guarantee which is expected these days. That means you don't need to worry at all about the quality of this mattress. On top, you will get a 100-night trial period which gives you plenty of time to decide whether you want to keep this mattress or not. If you are not happy with your purchase, they will come to collect it and refund you with the full amount. The process is quite simple and all you have to do is contact their customer support department. They will arrange the collection and process the full refund. Overall, Leesa does really well on this end.
I also want to mention here that for every 10 mattresses they sell, they donate one to a local charity. You can read more here. This is fantastic and hopefully, more makers will follow.
How much a Leesa mattress cost?
The Leesa mattress is available in 8 sizes, including some EU ones. That means that if you own an IKEA bed frame, you will be able to still use it. The smaller (UK Single) costs £400 with the biggest (UK Super King) selling for £800. Before you buy, always check my voucher code page to take advantage of the current offers.
Are Leesa mattresses any good?
Finishing this Leesa mattress review I would like to share my final thoughts with you. There are many choices out there so I will give you the main reasons you should buy this one. In summary, the Leesa mattress is a great choice for everyone who is looking for:
A foam mattress which performs really well in all sleeping positions and is ideal for couples (minimal motion transfer).

A mattress with a medium-firm feel that doesn't sleep hot.

A mattress designed in the US but manufactured in the UK that comes with great service and support.
If you are looking for a slightly firmer mattress that combines different foam technologies, then the Leesa mattress should be definitely high on your list. It's a proper all-rounder and it's fairly priced. I highly recommend it.
PROS
Great for all positions
Ideal for couples
Excellent cooling technology
CONS
Delivery can take up to a week