Choosing the right mattress is an important decision for every home. After all, it's where we spend almost one-third of our lives. The good news is that the options are countless but this might make you feel that choosing the right mattress is impossible. For this reason, the team here at BMUK decided to create this mattress buying guide to help you find the mattress of your dreams.
The process to find the best mattress is an ongoing one and we constantly review the latest releases. After doing this for a number of years, we have understood how to shop for a mattress and we want to share this knowledge with you. Having said that, you must understand that there is no universal best solution and you should always consider your personal needs before you choose your next mattress.
What to consider before choosing your next mattress
There are many things to consider but the most important is spinal alignment. That means that when you lie down your spine stays in a neutral position which is considered the guideline these days. Additionally, you should think of your preferred sleeping position, your body type and your personal preferences. Other considerations include the cost, the service and the durability of your future mattress. Finally, some sleepers have specific circumstances that include sleeping with a partner or suffering from a bad back. All these need to be considered before you make your purchase and in this mattress buying guide, we aim to cover them all.
Types of Mattresses
There are many types of mattresses out there and you might feel a little intimidated by all these options. However, if you shop online you will most probably find 4 mattress types so it would be helpful to talk about these. Of course, each type comes with a wide range of price points and firmness levels so you still have the option to choose the one according to your needs.
Memory Foam
Memory Foam mattresses are ideal for those looking for pressure-relieving properties. Mattresses that feature memory foam can take the pressure off your joints and help you rest better. This type of mattress will cradle your body which can provide relief for your back pain. Back and side sleepers usually prefer memory foam mattresses as they perform well in these sleeping positions.
Memory foam doesn't transfer motion so it's suitable for couples that don't want to disturb each other. This material is usually combined with other types of foams so there is a plethora of options to choose from. In terms of downsides, the main common problem of memory foam is that it traps heat. However, most makers have now found solutions to this problem by using cooling gels or other materials that allow the memory foam to stay cool during the night.
| PROS | CONS |
| --- | --- |
| Great pressure-relieving properties | Some sleepers feel they limit their movement |
| Not very expensive | Certain memory foams trap heat |
| Minimise motion transfer | Most memory foam mattresses won't suit front sleepers |
| Can reduce back pain | |
Latex
Latex mattresses are very similar to memory foam but they have more bounce and they are firmer. Rubber trees produce sap which is then turned to natural latex. That makes this material the main component of organic mattresses so people who look for eco-friendly products have latex as their first choice. As expected, latex is more expensive than memory foam but it's also more durable so this is something to keep in mind.
Latex can be a good choice for every sleeping position including the stomach one. Just like memory foam, this is another material that doesn't transfer motion so if you sleep with your partner, a latex mattress can be a good option for you.
| PROS | CONS |
| --- | --- |
| Pressure-relieving properties | High-quality latex is expensive |
| Natural latex is very durable | Synthetic latex might contain chemicals |
| Doesn't transfer motion | Latex is quite heavy |
| Unlike memory foam, latex sleeps cool | |
Pocket Sprung
Pocket Sprung mattresses feature individual pocket springs that are enclosed within their own fabric pockets. By working individually they provide more personalised support for sleepers. That makes this type of mattress ideal for partners with different weights. Moreover, pocket springs don't transfer motion so you can rest assured that you won't disturb your partner.
Pocket springs come in different shapes, heights and most importantly tensions so you can find a mattress that is good for your needs. Due to their shape, they allow airflow which is another benefit of their use. Side sleepers are big fans of pocket-sprung mattresses as they have the ability to adjust and help the spine to align correctly.
| PROS | CONS |
| --- | --- |
| Very supportive | Not the cheapest option |
| Allow airflow | Pocket-sprung mattresses can be heavy |
| Absolute freedom of movement | Not great for pressure relief |
| Great edge support | |
Hybrid
Hybrid mattresses are very popular these days and most makers follow this philosophy. The typical hybrid mattress combines memory foam or latex with pocket springs and the result is a versatile mattress that features the best of both worlds. Pocket springs go at the bottom of the mattress for support while memory foam or latex sits at the top to add pressure-relieving properties. Most beds in a box these days feature a hybrid design and that includes brands like Emma, Simba and Nectar.
Depending on the feel and architecture, hybrid mattresses can be good for every sleeping position so you should shop accordingly. They come in many forms and some even have two layers of springs or come with a pillowtop. They usually breathe well so they will stay cool during the night. For all the above reasons, hybrid mattresses have conquered the sleeping world.
| PROS | CONS |
| --- | --- |
| Combine support with pressure relief | Hybrids tend to be more expensive |
| Springs help with airflow | Can be difficult to maneuvre |
| Better bounce than foam mattresses | Springs tend to transfer motion |
| Good edge support | |
What size?
One of the main considerations, before you buy your next mattress, is its size. Some makers prefer to have a limited number of sizes but others want to give their customers more choices. For this reason, they release their mattresses in a bigger variety of sizes. King is the most commonly sold size in the UK followed by Double and Single. In the image below, you will find all the UK sizes available so you can have a more informed decision.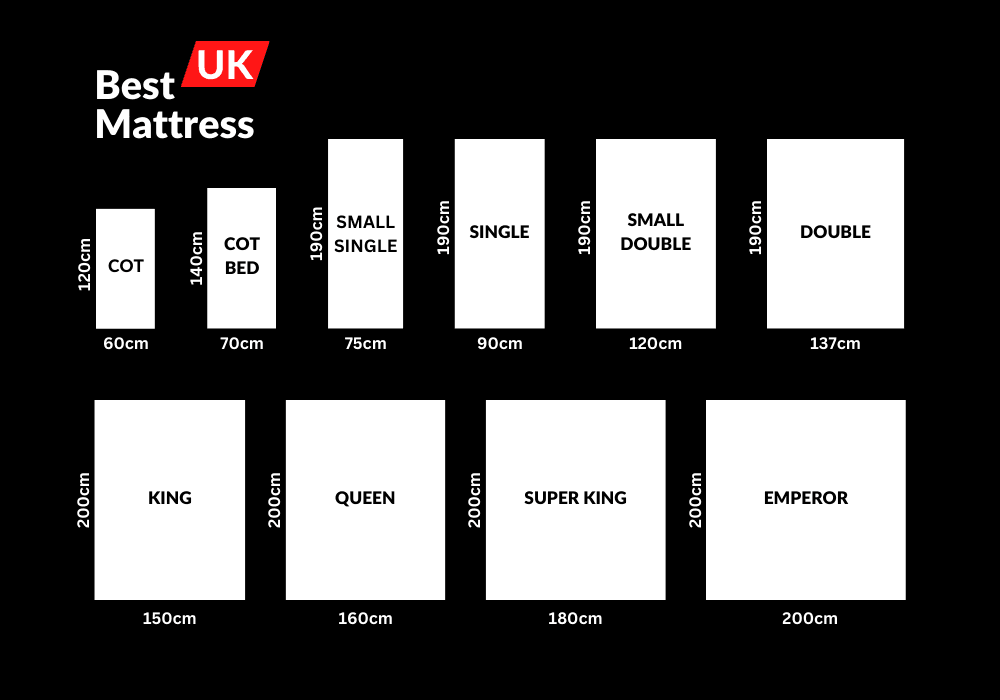 How big should my mattress be?
There are many factors that you should consider before you choose the size you are going to get. If you have space and the budget, try to go one size bigger than the mattress you thought would suit you. The more space you have, the more comfortable your sleep will be. This of course is even more important when you share your bed with a partner. It's natural that the less space is, the more disturbance will exist so a big mattress can be a lifesaver.
Another factor you should consider is your body type. Some people are heavier or taller so they need to have a mattress that can accommodate them. Finally, you should make sure that your bed can easily fit inside your bedroom. It's important to have enough space to get in and out of bed so choose wisely.
What feel?
Another important consideration is the feel of the mattress. In reality, this is a spectrum so it's not accurate to use the terms soft, medium and firm. However, for the sake of being practical, we will attempt to put all mattresses in these 3 categories.
Soft
Soft mattresses allow your body to sink into them. They contour your shoulders and hips during the night and they are ideal for people who prefer to sleep on their side or back. Additionally, soft mattresses are good for sleepers with a small build so if you are a big guy, you better get a firmer option. Soft mattresses can be very comfortable and it's not a coincidence that a high number of elderly people choose them. Having said that, if you decide to buy a soft mattress make sure that is a supportive one that promotes a neutral spinal alignment.
Medium
Medium mattresses are the most commonly sold ones as they combine comfort with support. They are suitable for most body types but also couples. Depending on their exact feel, they can be good for all types of sleepers, including stomach ones. Most boxed mattresses fall into this category as they usually come with a medium-firm feel. These mattresses are the most versatile ones as they satisfy the average sleeper.
Firm
Firm mattresses are ideal for heavier people or those who prefer to sleep on their front. They can provide excellent support which can help people with a bad back. It's not a coincidence after all that most orthopaedic mattresses come with a firm feel. Firm mattresses are suitable for stomach and back sleepers but not side sleepers. That of course is not set in stone but the majority of firm mattresses don't allow hips to sink enough in order for the spine to align correctly.
The table below will give you broad guidelines that can help you choose the right feel for your needs. However, these apply only to regular weight sleepers. If you sit on the heavier side, you should go up two units in the firmness scale. If you need more help, you should read our guide which features the best mattresses for heavy people.
| Firmness Scale | Firmness Level | Suitable For |
| --- | --- | --- |
| 2 | Extra Soft | Side Sleepers |
| 3 | Soft | Side Sleepers |
| 4 | Medium Soft | Side Sleepers |
| 5 | Medium | Side & Back Sleepers |
| 6 | Medium Firm | All types of sleepers |
| 7 | Firm | Back & Front Sleepers |
| 8-9 | Extra Firm | Back & Front Sleepers |
Sleep Concerns
Not all sleepers are the same so you might need to find a mattress that will help you solve a problem you face. There are many things that can affect your sleep and below we have gathered some common ones and we will try to help you deal with each one of them.
Back Pain
If you suffer from a bad back, you need to make sure that your mattress is supportive and promotes a neutral spinal alignment. Additionally, you should make sure that it features a layer that has pressure-relieving properties so your joints can get some proper rest. Look for a mattress that has a layer made of memory foam or latex. In terms of firmness, we advise you to get a medium-firm or firm mattress as they tend to be more supportive. If you look for suggestions, this separate guide with the best mattresses for back pain will have you covered.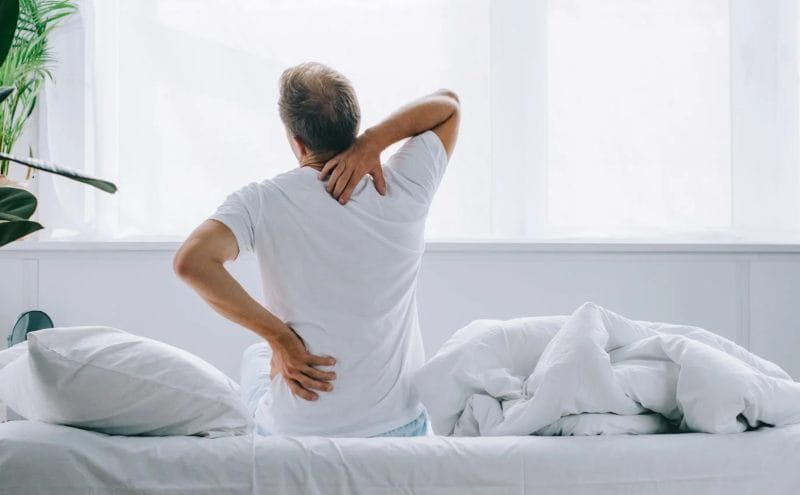 Getting hot during the night
Many people face this problem during sleep but unfortunately, there is no easy solution. After all, this can be caused by a number of factors and you need to make sure that you identify the core root. Having said that, the first step should be to get a mattress that is suitable for hot sleepers. These mattresses have the ability to regulate heat so the sleeping surface stays cool during the night. This is achieved by having cooling features and the right design. For example, cooling gel or particles are added to memory foam which helps to draw heat away from the body. Moreover, tall pocket springs allow airflow which is a great ally against overheating. Nowadays, engineers even use phase-change technology to create cooling mattresses that work very efficiently.
Sleeping with your partner
A high percentage of adults share their bed with a partner. In many cases, people complain about partner disturbance so you need to make sure you have a mattress for couples. This type of bed is designed to minimise motion transfer so you and your partner can sleep in peace. Moreover, you should choose a mattress with great edge support which is important when you sleep with another person. Of course, you should make sure you have the right size too as this is another common factor that causes problems.
Suffering from allergies
More and more people these days suffer from allergies so if you fall into this category you should make sure to get a mattress that is hypoallergenic. When you shop, you should also look for labels like OEKO-TEX 100 or CertiPUR. These standards ensure that the textiles and foams used are free from harmful chemicals. Furthermore, you should look for mattresses that repel dust mites, a major allergy trigger. This guide with the best mattresses for allergies includes 5 options that can cover everyone's needs.
Sleeping during pregnancy
When you are expecting, everything gets more complicated. Sleep can be massively affected so you should make sure that you have the best mattress for pregnancy. It's not a coincidence after all that almost 45% of pregnant women suffer from insomnia in the first and second trimesters. This increases to 64% in the third trimester! During pregnancy, you can either sleep on your back or your side. That means you need a mattress that is suitable for these positions so you should probably get a medium or medium-firm mattress. Additionally, make sure you sleep on a mattress that can support the extra weight and has pressure-relieving properties for your joints.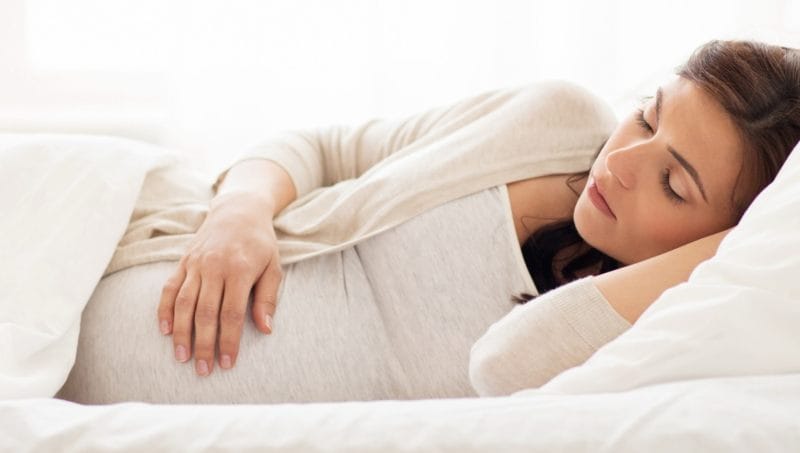 Menopause
During menopause, women are very likely to experience night sweats. These most probably will affect their sleep. In order to deal with such issues, you need to make sure that your sleeping setup is appropriate. Firstly, you need to find a mattress that sleeps cool. This will help you make your night sweats less severe. Secondly, you need to sleep on a mattress that is kind to your joints. Age and bad habits can cause problems to our spine or other sensitive areas so you need to make sure that you sleep on an appropriate mattress. These are the two common problems that menopausal women face but if you experience other symptoms, you should definitely talk to your GP.
How much should I spend on my new mattress?
This is another common question that we are asked by our readers but it's one that is hard to answer. Before you start your research, you need to set a budget and decide what are your needs. From there, you can start looking with the aim to create a shortlist of mattresses that have all the characteristics you look for. The final decision can then be made based on other details that include service, current discount, guarantee etc.
Of course, spending a lot on a mattress doesn't necessarily mean that you will get a good one so make sure you research well before you buy. Having said that, certain materials have a higher cost so for example, if you want a latex mattress, you should be prepared to pay more. In general, a good double mattress should cost you between £400-£700. Below that you will most probably make some sacrifices and above that you are entering the premium space. In any case, make a thorough research and make sure you buy a mattress with a trial period so you are not stuck with a bad option.
Should I try before I buy?
Back in the day, before buying online was the norm, people used to try mattresses out in the shops. Although this might sound like a good idea, the reality is that you have to spend a number of nights sleeping on a mattress before you understand whether this is the right choice for you. As a result, the only solution is to go for mattresses that come with trial periods so you have plenty of time to try them out. Most boxed mattresses come with a 100-night trial period these days and this is an important reason why they are so popular in the UK. However, more traditional makers like Tempur have started offering the same so just make sure that you look for that type of service.
How important is the guarantee?
When you buy a mattress you don't only pay for the actual product, but also for the support and service that every maker offers. This is what separates good brands from the rest of the field. We have been reviewing mattresses for almost a decade now and we have seen so many makers come and go. Those who have survived are those who treat customers as friends and they sell high-quality mattresses. Our advice is to look for a mattress that comes with at least 10 years of guarantee so you can sleep without any stress. Of course, make sure you read the fine print and you follow the maker's instructions so your mattress will last for longer.
When to replace your mattress?
There is no golden rule here but on average is advisable to replace your mattress every 7-8 years. Of course, every mattress is built differently and some are built to last for more than a decade. However, there are some clear signs that your mattress might need replacement very soon. These are:
It's saggy in the middle and the sleeping surface is not flat anymore.
It's more noisy than it used to be. This is a sign that the inner springs or pocket springs are getting old.
Your sleep quality has dropped.
You wake up frequently during the night.
You notice that when you sleep elsewhere, you sleep better.
In general, if you feel that a new mattress would improve the quantity and quality of your sleep, the time has come to get rid of your old mattress.
Should you use a mattress topper?
This is one of the most common questions we've been asked by our readers. The truth is that toppers are very useful but they should be used only in specific cases. For example, if you have a supportive mattress and you want to make it more comfortable, a mattress topper is ideal for solving this problem. Equally, if your old mattress starts to sag and you want to keep using it for a bit more time, a topper can help you achieve that. Of course, this is not a permanent solution and as we have mentioned above you should probably look for a new mattress.
Toppers come in many variations and combinations and there are options for every budget. Finding the best mattress topper can be a hard task but with a bit of research, you should be able to find the one for your needs.
Always use a mattress protector
This is our first piece of advice to all new mattress owners. Think about it, you have just spent a significant amount of money on your new mattress. Isn't it worth buying insurance? A mattress protector is an effective and affordable way to protect your mattress but also to prolong its life. Of course, there are many options out there, some have fancy features but we advise you to take one that is breathable and waterproof. This is all you really need so you are better off spending more on your mattress than your protector.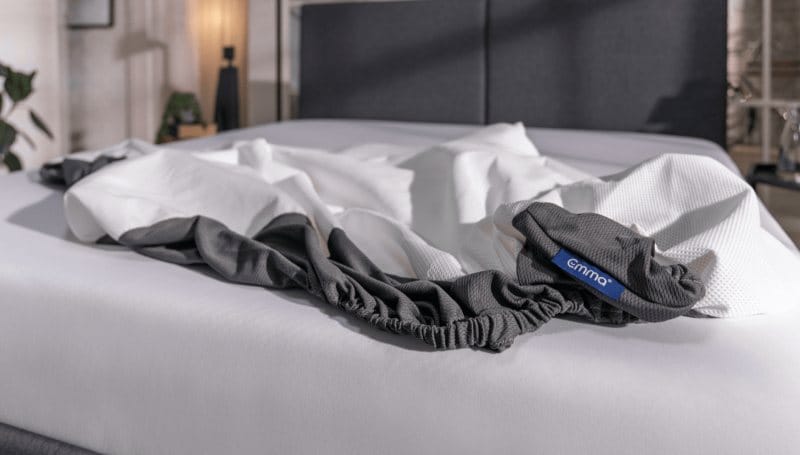 How to take care of your mattress?
Buying a mattress is a small investment so you need to make sure that you protect it. Every mattress is different and it comes with a set of instructions that you should follow. This is important so you should pay attention to them. Below, you will find some general recommendations that apply to most mattresses.
Rotate your mattress every 3-9 months. Depending on the type of mattress you have you should rotate it from head to foot. This will prevent sagging but it will also make it better balanced.
Change bedding frequently. The main reason you should do this is good hygiene. But that's not all. Sheets accumulate dirt and sweat which can gradually seep into your mattress. This can make it smell bad or attract dust mites that are responsible for allergies.
Use a high-quality frame. A good foundation is needed for a mattress to perform at its best. For this reason, you should make sure that you use a frame that can properly support your mattress.
It's time now to complete this mattress buying guide and hopefully, you have found this piece of advice helpful. Of course, if you feel that you still need help, don't hesitate to contact us and we will try to come back to you the soonest as possible.