Most pillows are designed to suit every type of sleeper and sometimes this can be problematic. In this Mono pillow review, I will talk about this truly unique option that is designed exclusively for side sleepers.
Mono is a relatively new brand that wanted to help people who like to listen to music or an audiobook before they fall asleep. If you have ever tried this, then you will know that headphones can feel very uncomfortable. After many focus groups and months of testing, the Mono pillow was created. One of my friends recently bought this and he was really happy with it. I naturally got curious so I decided to order one for myself too. It was delivered almost ten days ago so let's move now to the full review below.
Construction
Although this pillow looks like a square shape, it's actually rectangular. It measures 31 x 27 x 8 cm with the inside hole having a diameter of 9cm. As you understand, this is a small pillow and that means you can take it with you anywhere. The internal pillow features a shell that is made of 100% cotton. Inside it, there is a virgin polyester filling that is breathable and supportive. The pillow is hand-stitched and it looks of great quality. Finally the packaging is great and overall, this is a well-made pillow.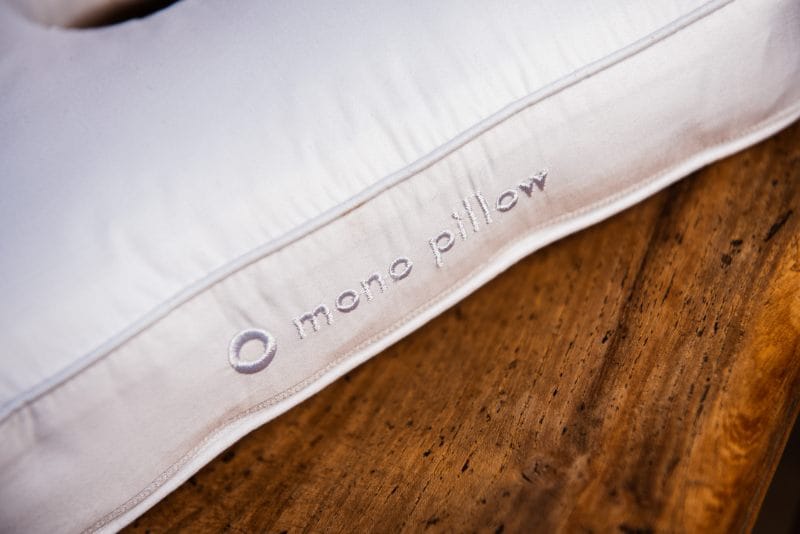 Cover
The cover of the Mono pillow is made of 100% cotton and they decided to use this material for a number of reasons. Firstly, cotton is very breathable and that is very important, especially during the summer months. Secondly, cotton rarely causes problems to the skin so it's safe for everyday use. Finally cotton is easy to clean and this cover is machine washable. The design is a modern one and the cover is very well-made. I was actually surprised by the quality here and I feel that the Mono pillow looks more expensive than it actually is. Overall, this is a great cover so complaints at all.
Support
As I have already mentioned above, this pillow is designed exclusively for side sleepers. The hole at its centre is designed to allow sleepers to use earphones or just relieve ear pain. Additionally, if you have piercings, this pillow can help you sleep more comfortable. Since it's designed for side sleepers, it comes with a relatively low profile (8cm) which is ideal for this position. It comes with a firm feel but if you want to make it softer, all you have to do is remove some of the polyester filling.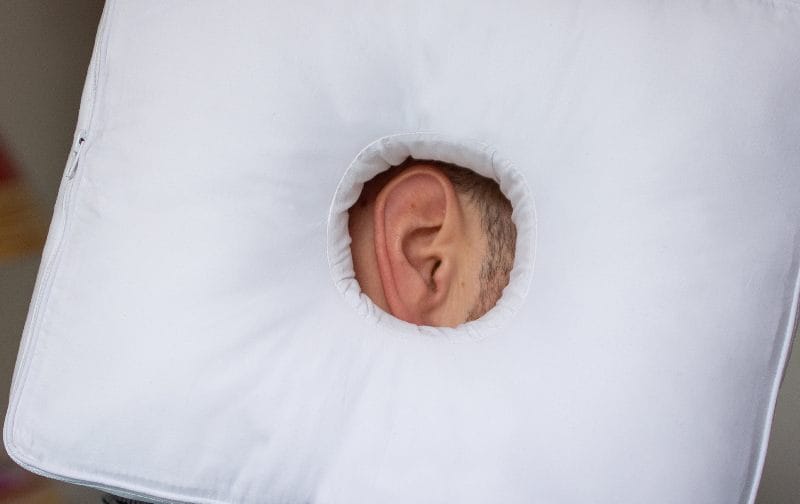 I tried sleeping on my side and the pillow was both comfortable and supportive. I also tried to sleep with my earphones on and the pillow worked great again. Having said that, I felt that the Mono pillow is great for a short nap or to sleep on my couch. I am a combo sleeper so I won't stay on my side for the whole night so I think this cannot replace my standard pillow. However, if you are solely a side sleeper, this can be a great choice for you.
Is this worth my attention?
I would like now to complete this Mono pillow review and share my final thoughts with you. I think that this pillow would be great for those looking for:
A side-sleeper pillow that is made with high-quality materials.
A pillow that allows you to use earphones before sleep.
If you look for all these, the Mono pillow can be a great option. Although this one is not great for combo sleepers, I was still impressed by its performance when sleeping on my side. If you love listening to audiobooks or music before bed, this is a good investment.
PROS
Innovative design
Washable cover
Allows the use of earphones
CONS
Only good for side sleepers