The Memory One mattress is the latest release by the popular furniture retailer MADE. It's a memory foam mattress constructed here in the UK with high-quality materials. It follows the latest mattress trend so you should expect it to come packed in a box! I got mine last month and it took about three nights for the bad odour to wear off. You should always remember to be a little more patient with all boxed mattresses. My first impressions of the mattress are generally positive this whole month but let's move to the full Memory One mattress review below so you can get a better idea of what this is about.
What is the One mattress made of?
This mattress has a three-layer construction plus the sleeping surface. These are:
Top Layer:

A cooling memory foam layer developed by MADE which is there to keep you cool during the night. It also provides your body with the needed pressure relief.

Middle Layer:

A MADEFlex foam layer which provides you with the needed support. It also adds bounce to the mattress.

Bottom Layer:

A supportive foam base layer which is the foundation of this mattress. It provides your body with the needed support.
The image below shows how each layer is positioned.

What is the cover made of?
The cover of this mattress is a great one. It's a soft-quilted fabric that feels soft and looks really premium. It's made of polyester which is a very breathable material but at the same time, it's quite strong. Unfortunately, it's not removable so if you want to clean it you have to get professional help. This is something I didn't like as it makes it hard to maintain. Overall, I liked what they did with the sleeping surface as it feels very premium.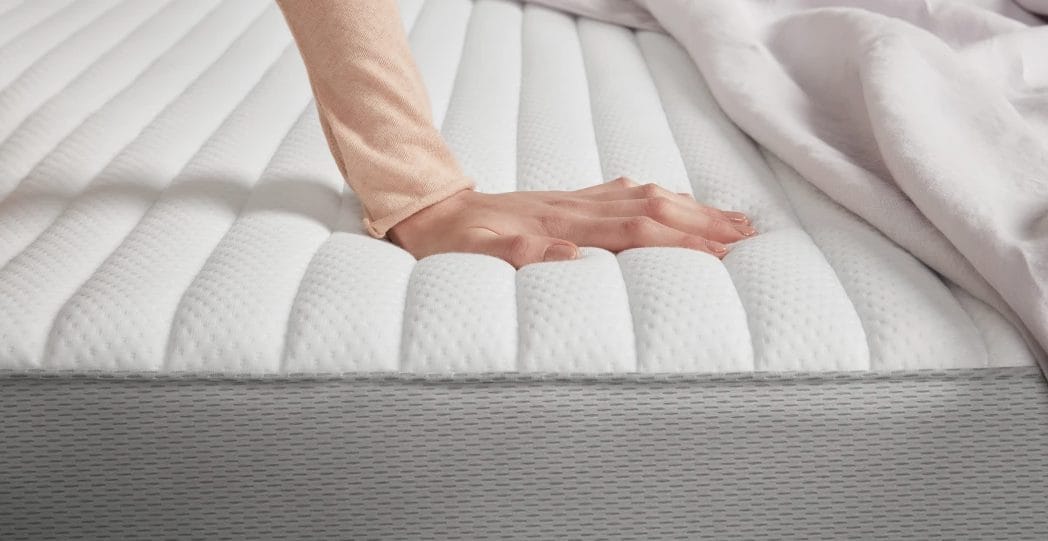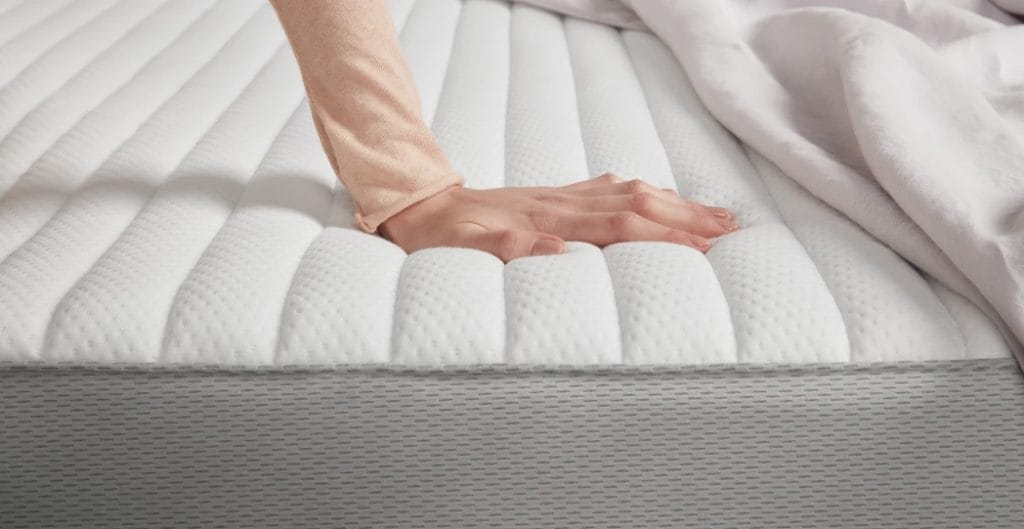 How firm is the Memory One mattress?
The Memory One mattress has a medium-firm feel and is designed to suit most people. If I use my virtual scale, I would say it's a 6.5 with 10 being really firm. I would like now to talk about the different sleeping positions and how this mattress performed.

Starting from the back position, the mattress didn't 'hug' my hips and shoulders as I expected. However, it was comfortable and I felt I was properly supported. This mattress has bounce despite the fact that it's a memory foam one.
Moving to the side position, the foam layers reacted slower than I expected and I felt that sinkage was not enough for good spine alignment. This was not great as I felt that I couldn't sleep for much time in this position.
Finally, moving to the stomach position, the mattress did a really good job. My shoulders and hips were in the right position and I felt well supported. I definitely think that the Memory One mattress is built for this position.
As for the edge support, I would say it's average despite the fact that this mattress is well-made. The bounce is speedy, but not as speedy as a spring mattress which is the only downside when you go for a memory foam mattress. I think there are way better mattresses of this kind, for example, the Eve mattress.
What setup do I need?
The Memory One mattress is designed to work on any firm, flat surface according to the manufacturer's product guide. So you can put it on your floor or on your existing bed frame. Like every mattress, make sure you use a big number of slats to create a flat surface and allow your mattress to have the balance it needs to perform at its best.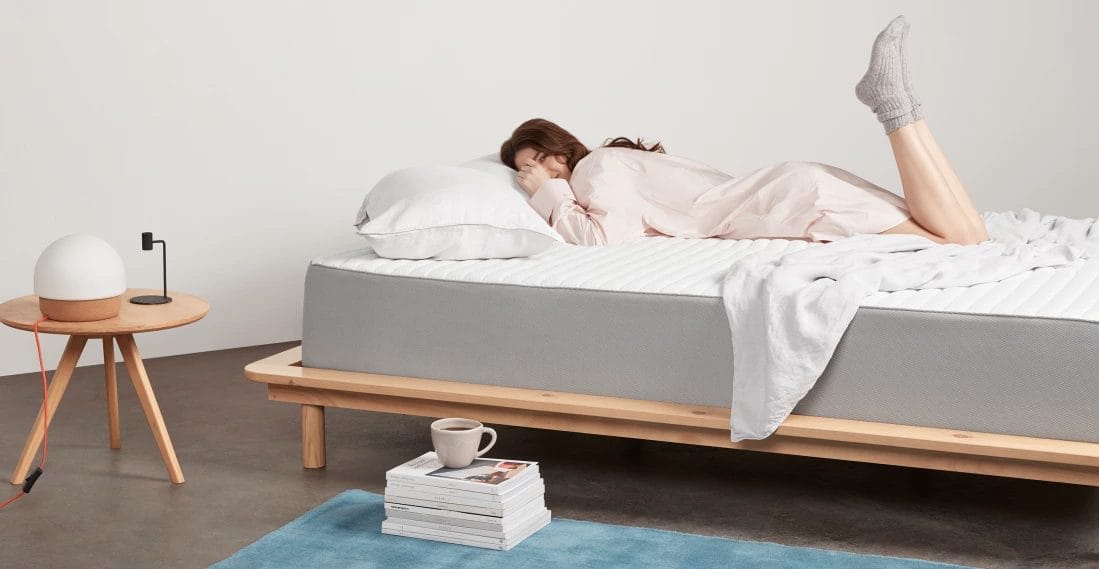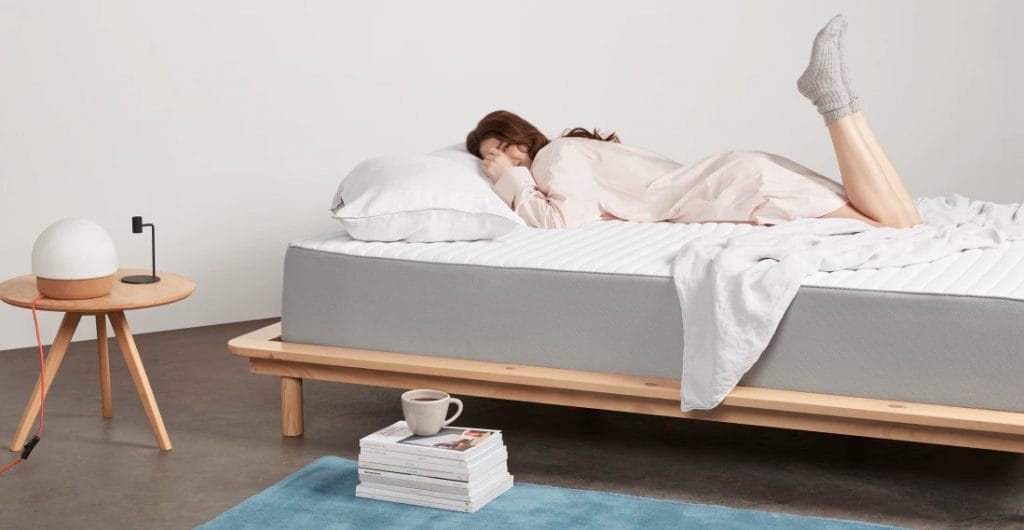 Will it come packed in a box?
The mattress comes with free standard delivery for all sizes. Your mattress will be delivered within 7 days from the moment you place your order. They also offer Saturday delivery that will cost you an extra £10. There is no option for next day delivery so their service is not as fast as the one you will get from Eve or Simba. The mattress will arrive in a carton box that will vary in dimensions depending on the size of your mattress. Unpack as soon as you can and give the mattress 24h before you sleep on it so it can fully decompress.
Does this mattress come with a trial period?
As you would expect from a retailer like MADE, the Memory One comes with a 10-year guarantee so you can stay assured that your mattress will last for long. Moreover, it comes with a 101-nights trial period, so you can decide later whether you want to keep it or not. You have one more day than Eve and Simba (both offer a 100-day trial) to make up your mind! It's funny how competition works but all I know is that it works on our favour! In the case you decide not to keep the mattress, MADE will remove it from your property and will refund you the full amount. Always make sure to read the T&C's so you know what you are getting. Overall, they offer a complete package here so no complaints at all.
How much does it cost?
The Memory One mattress is available in 4 sizes. They only sell UK sizes so unfortunately there are no EU sizes available. This is not great and I hope they change it in the near future. The Single size sells for £349 with the Super King going for £699. The table below has pricing information for all available sizes.
| | | |
| --- | --- | --- |
| SIZE | DIMENSIONS | PRICE |
| Single | 90 x 190 x 25cm | £349 |
| Small Double | 120 x 190 x 25cm | £549 |
| Double | 135 x 190 x 25cm | £549 |
| King | 150 x 200 x 25cm | £649 |
| Super King | 180 x 200 x 25cm | £749 |
Is the Memory One mattress for me?
It's time now to complete this Memory One mattress review. It's always hard to make an absolute conclusion, however, this can be good for anyone looking for:
A medium-firm mattress that has a very good sleeping surface, made of soft-knit Polyester.

A mattress that unlike other memory foam mattresses has a quick bounce response that is seen mainly on spring mattresses.

A mattress that comes with a 10-year guarantee and a trial period.
If you look for all these features, then the Memory One mattress should definitely be in your shortlist. However, at this cost, there are plenty of better options. You can find our suggestions here.
Memory One Mattress Review
PROS
Good sleeping surface
Good support
CONS
Edge support is not great
No EU sizes available