For the past year, I have been travelling quite a lot both for business and leisure. During my travels, one of the main things that was bothering me was the fact that I couldn't sleep during my flights. In this Ostrichpillow Go Neck review, I will talk about my experience with this travel pillow and whether it's one you should consider.
For those that you have never heard of this brand, Otrichpillow was founded back in 2012 and since then, they have seen great success with their innovative products. I first tried their Ostrichpillow memory foam pillow and then I decided to get my hands on their bestseller, the Go Neck. I have to mention here that all their travel pillows come with a 100-night trial period so if you are not happy with your purchase, you can return it and get a full refund. Additionally, the people at Ostrichpillow offer a 2-year guarantee which is great. Mine was delivered almost a week ago, right on time before my trip to Italy.
Construction
One of the main things that impressed me about this travel pillow was the attention to detail but also the whole experience that this brand offers. The packaging is one of the best I have seen and once I got the Go Neck pillow out of the box, I instantly felt that this was a premium product. It definitely had nothing to do with anything else that I have seen so far. This pillow features a removable sleeve that is made of 95% Viscose and 5% Elastomer. This is a washable cover so it's easy to keep it clean and fresh. It comes with an adjustable Velcro closure system that allows you to find the perfect fit.
The core is made of memory foam that is made by BASF, a leader in such materials. The Go Neck pillow features an ergonomic design that promises support and comfort. It's also OEKO-TEX certified so it's free from any harmful chemicals. Overall, this is an extremely well-made travel pillow that impressed me.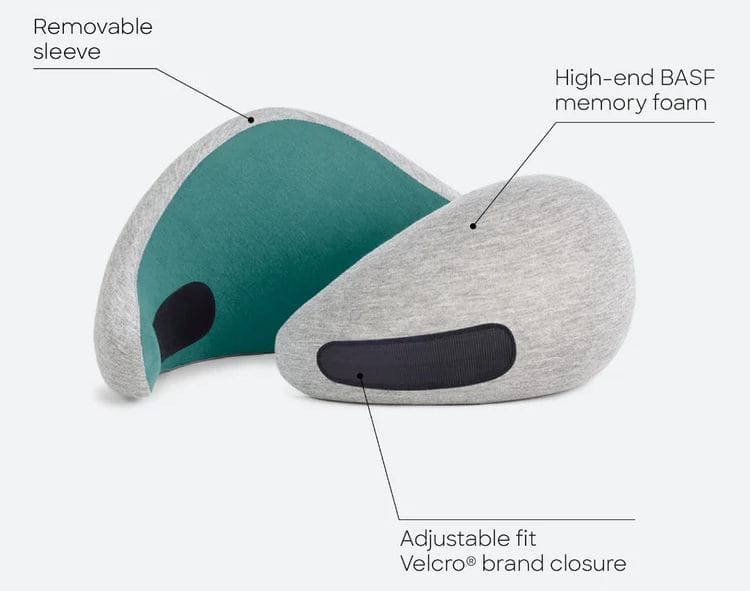 Support
As I have mentioned earlier, I did get my chance to try the Go Neck pillow on my last trip to Italy which is a 3-hour flight. Both legs were early in the morning so I was desperate to get some extra sleep. I flew with Ryanair so the setup wasn't ideal, however, the Go Neck pillow did wonders for me. What impressed me is how well my neck was supported and that allowed me to sleep. I remind you that I am 6'3 so I easily get uncomfortable during flights. The Velcro closure is another big part of it. It makes it really easy to find the right fit which is super important. My neck didn't feel sore after a 2-hour sleep and I must say, this pillow was one of the best investments that I have done and it's a must-have for all frequent travellers.
Portability
One important thing you should consider before you buy your next travel pillow is its portability. The people at Ostrichpillow fully understand that so they have included a practical carrier bag that will allow you to carry your Go Neck pillow with ease. As you can see in the image below, it doesn't take up too much space so it can be your perfect travel companion.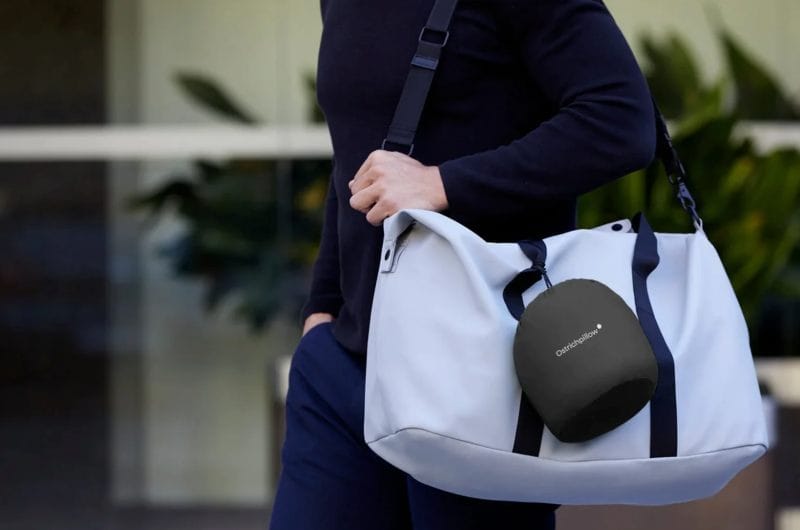 Is this a travel pillow I should consider?
This is a valid question and I will try to answer it before I complete this Ostrichpillow Go Neck review. In my opinion, this would be a good option for anyone looking for:
A premium travel pillow that is very supportive.
A compact travel pillow that is easy to carry around.
If you are a frequent traveller, this is definitely a good investment and you won't regret it. All these extra hours of sleep will be worth it in the end. If on the other hand, you don't travel a lot, you will be better off with a cheaper choice.
Ostrichpillow Go Neck Review
PROS
Very supportive
Great fit
Easy to carry around
CONS
Pricey for a travel pillow