OTTY is an established brand in the UK and they are mostly famous for their hybrid mattress. A few months ago, they decided to develop a foam-only mattress in order to provide more options for their customers. In this OTTY Flex mattress review, I will talk about their latest product and whether it's a choice you should consider.
The OTTY Flex is designed and manufactured in Yorkshire which is great. It's a rolled mattress so it will be delivered in a carton box. Mine arrived a month ago so it's a good time now to write the full review.
What is an OTTY Flex mattress made of?
The OTTY Flex mattress is made of a total of 3 layers plus the cover. These are:
An AirTech Comfort foam layer which increases the cosiness of this mattress. It's there to help you get a more comfortable sleep.
An AirTech Support layer which keeps the mattress cool during sleep. It also provides your body with the needed support.
A dense foam layer which helps with pressure relief. The zone system helps to improve comfortability.
The image below showcases how each layer is positioned.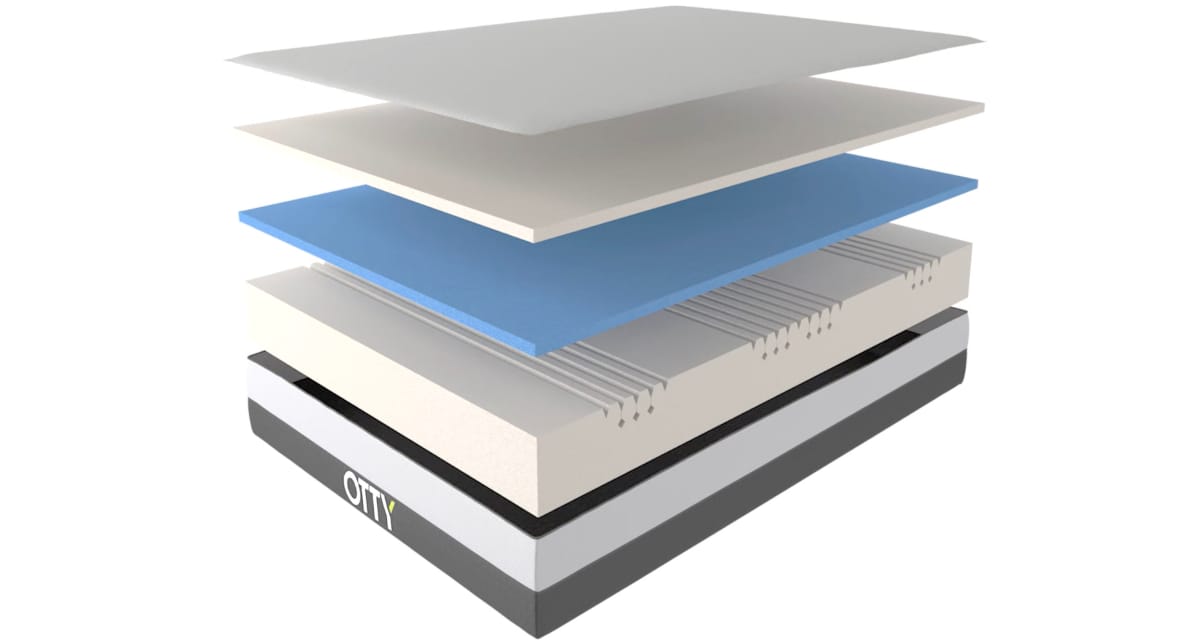 What is the cover made of?
The cover of the OTTY Flex is made of 97% Polyester and 3% Spandex. They chose this blend for three main reasons. Polyester is a strong material that is easy to maintain. It's also a very breathable one. On top, spandex adds elasticity which ensures a great fit.
The cover feels soft and the design is very contemporary. It's quite similar to the one found in their Hybrid mattress and it features a two-tone colourway. The top part is white and the bottom one is dark grey. The cover is removable and you can machine wash it at 40 degrees. At the bottom of the mattress, they have placed 4 handles that will help you when you want to move it. Overall, it's a well-designed cover with many practical features and I think they did a good job here.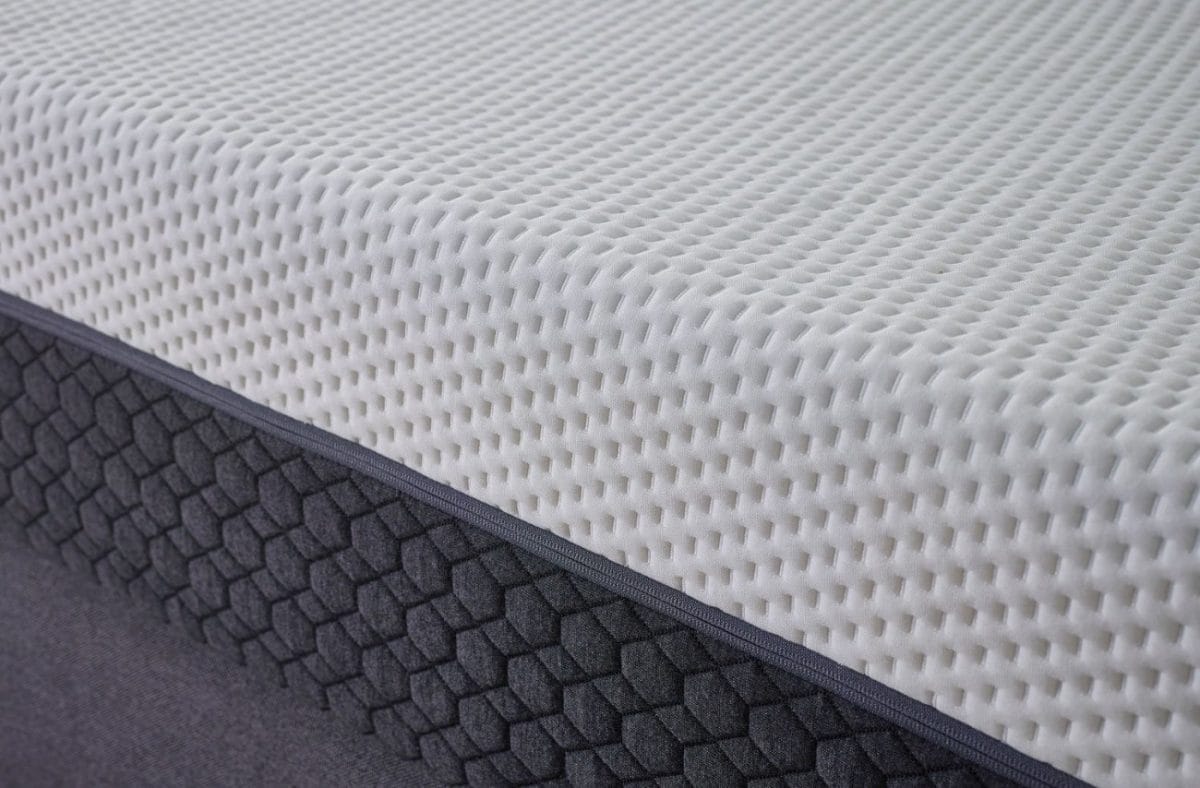 How does the OTTY Flex feel?
The OTTY Flex mattress has a medium-firm feel. However, it feels softer compared to the OTTY Hybrid. If I use my virtual scale here, I would say it's a 6 with 10 being really firm. I would like now to talk about the different sleeping positions and how this mattress performed.

Starting from the back position, the memory foam 'hugged' my hips and shoulders and I felt well supported. Pressure relief was adequate and it was comfortable in this position. I didn't sink too much but the mattress did feel softer than the average boxed mattress.
Turning to the side position, sinkage increased and the mattress helped my spine to align properly. The fact this is not a very firm mattress helps with this position. However, I felt that the support was not ideal but I still think the mattress did a decent job in this position.
Finally, moving to the stomach position, the mattress felt too soft for my body weight. My hips went deep in the mattress and I felt that my spine was not aligned well. Support was average and I thought the mattress could do a better job here.
If you share your bed with a partner, the OTTY flex can be a good choice. The foam-only construction means that the motion transfer is minimal so you won't feel too much the unpleasant partner disturbance. The edge support is average which is expected from this type of mattress.
What type of bed to use with this mattress?
You can use any flat surface that will allow the mattress to perform well. According to the maker, you can use a slatted base, a flat platform or a divan. If you use slats, make sure the distance between them is not higher than 7cm. I would not advise you to use your floor because it's doesn't allow the mattress to breathe properly and it's not very hygienic.
How will it be delivered?
As I have already mentioned, the OTTY Flex is a boxed mattress so it will be delivered packed in a carton box. They offer a number of options that will cover your needs. The table below includes all the available options and the relevant cost.
| | |
| --- | --- |
| Standard Delivery | Mon – Fri | FREE |
| Premium Delivery | Packaging Disposal | Mon – Fri | £10.00 |
| Standard Saturday Delivery | £20.00 |
| Premium Saturday Delivery | Packaging Disposal | £30.00 |
| Premium Delivery With Old Mattress Collection | Mon – Fri | £40.00 |
| Premium Saturday Delivery With Old Mattress Collection | £50.00 |
I chose the 'Premium Delivery' with the packaging disposal service. It only costs £10 and I was really happy with my experience. The courier was polite and did what was expected. Communication was adequate and overall they did a very good job here.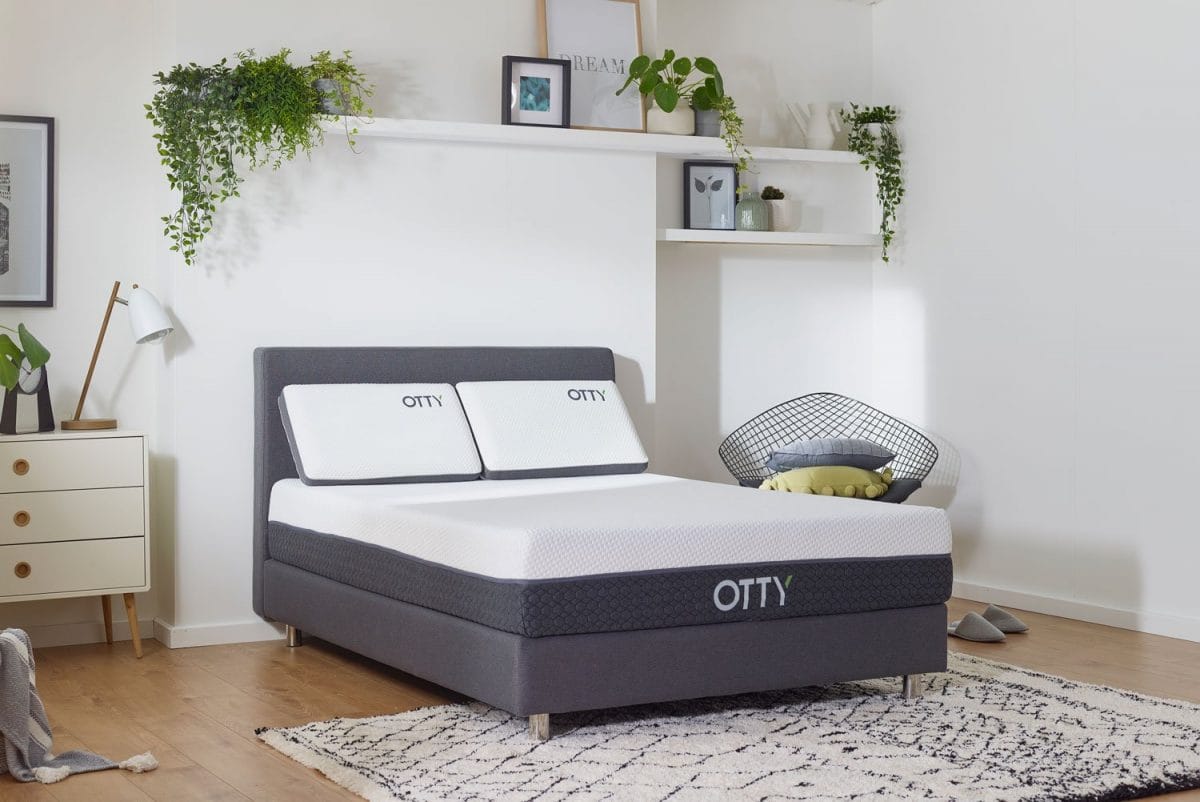 Does the OTTY Flex come with a trial period?
If you buy this mattress, you will get a 100-night trial period which gives you plenty of time to try this and decide whether you want to keep it or not. If you are not happy with your purchase, you can return it and get a full refund. The process is not complicated and you don't have to keep the original packaging to be able to return it. The OTTY flex also comes with a 10-year guarantee which will cover you for a long time. If you want to find out more about it, you can visit their page here. Overall, they offer a complete package so no complaints at all.
How much does it cost?
The OTTY Flex mattress is available in 4 sizes. Unfortunately, there are no EU ones so if you have an IKEA bed frame, you won't be able to use it. The smaller size (UK Single) will set you back £349.99 and the bigger (UK Super King) will cost you £699.99. However, they run frequent promotions so you don't need to pay full price. Make sure to visit my discount code page for big savings.
Is the OTTY Flex mattress any good?
This is the question that I have to answer now that I complete this OTTY Flex mattress review. I think that this mattress would be a good choice for everyone looking for:
A memory foam mattress that doesn't feel firm and is great for back and side sleepers.
An affordable mattress that is built here in the UK.
A mattress that comes with great support from a company you can trust.
If you are looking for all these and comfort is the main thing you seek then the OTTY Flex can be a really good choice. It's affordable and it's couple-friendly which make it great for a first mattress.
OTTY Flex Memory Foam Mattress Review
PROS
Very comfortable
Good value for money
Great service and support
CONS
Not ideal for stomach sleepers