REM-Fit is a brand that designs hi-tech sleeping products and it's one that I personally love. Having reviewed many of their products, I was really curious to try their smart pillow. Yes, you heard correctly so if you want to know more about it, then you should read my REM-Fit ZEEQ pillow review below.
What once started as a Kickstarter project, it's now sold through their site and everyone can buy it! Besides the smart features, this is a memory foam pillow that features a modular design but more on that later. Mine arrived almost a month ago so it's a good time now to write this review.
In the video below you can see the pillow in action.
Construction
The REM-Fit ZEEQ pillow has a complex construction. It features foam elements plus all the smart elements. The inside of the pillow is made of removable memory foam clusters. That means that you can adjust the height and the fill of the pillow according to your needs.
Around the foam clusters, there is a foam outer shell that works as a pocket. Other than the foam materials you will also find 8 wireless speakers which allow you to play your favourite music or listen to your podcasts. Moreover, they have also added a decibel-tuned microphone, two adjustable vibration motors, a gyroscope and a battery. All these give the smart capabilities that I will discuss later. Finally, the pillow features a remote control which also works as the charging point. The use of all these make this pillow a very heavy one and you should be aware of it. Overall, it's a well-made pillow so no complaints at all.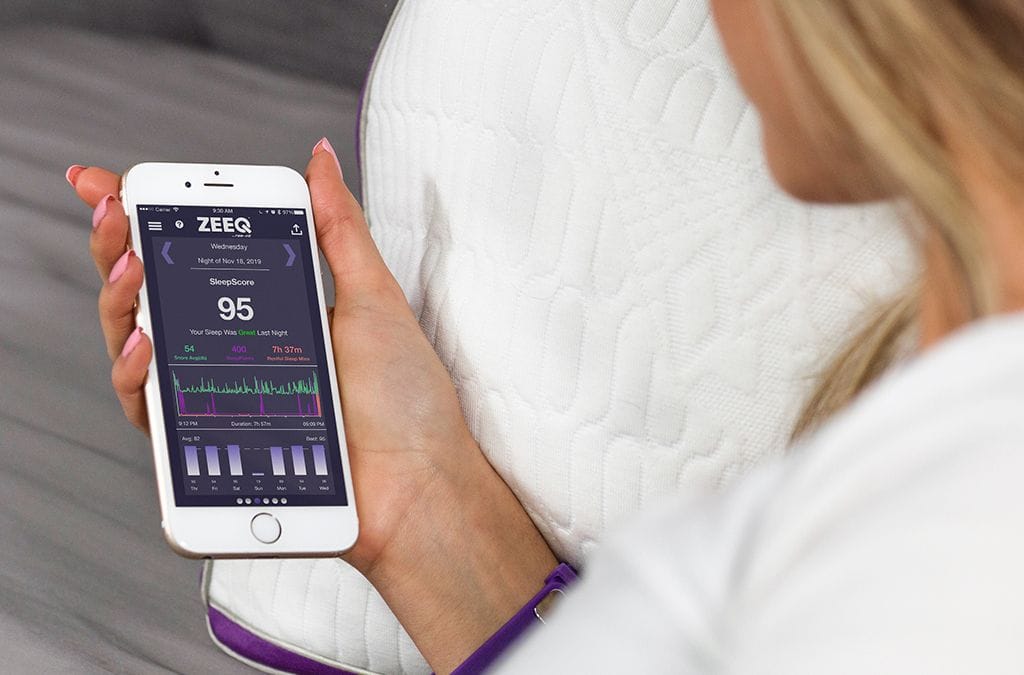 Cover
The cover of this pillow is made of Tencel which is one of my favourite materials. It's naturally hypoallergenic and antibacterial so if you suffer from allergies then this can be a good option. Moreover, it can regulate your body's temperature so you will sleep comfortably throughout the year. Finally, it's an eco-friendly material as it's made of wood pulp. The cover feels soft and of good quality. The design is very similar to the one we find in their other pillows and it features a two-tone colourway. If you want to clean it, you can machine-wash it at 40 degrees so it's not difficult to keep it clean. Overall, it's a high-quality cover which is something I expected here.
Support
The ZEEQ pillow was designed to suit all types of sleepers. However, you will have to remove some foam clusters as this pillow can be too thick for some sleepers. The memory foam does a good job so you will get enough pressure relief for your neck and head. Support was also good and the pillow worked well in all positions. Having said that, I would say that this one is best suited to side and back sleepers. The pillow might feel firm at the beginning but this will change after a few days. Overall, this is a good pillow and I like the approach they took using memory foam clusters.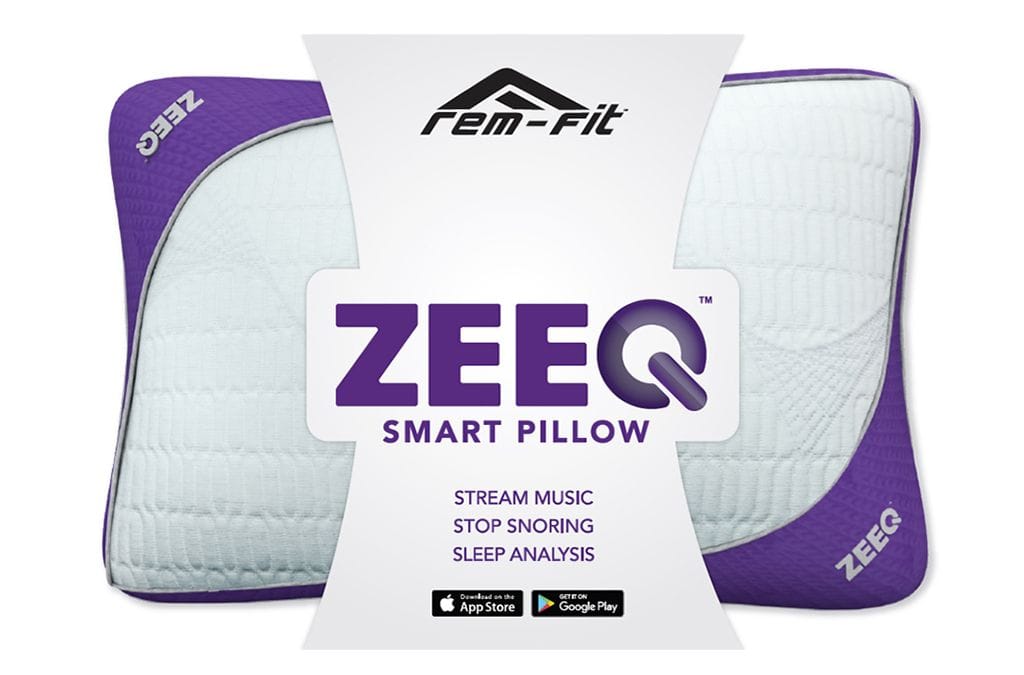 Smart Functions
The ZEEQ pillow comes with a free app that is available for both Android and iOS devices. Make sure you download it before you start using this pillow. One cool feature is that the ZEEQ pillow can work with Alexa so if you use this assistant then you can sync it. The pillow can monitor your sleep and tell you ways to improve. It also understands when you snore and vibrates to prompt you to change position. Finally, you can set up an alarm and the pillow will wake you up with a gentle vibration. There are some other features but the ones I mentioned above are the main ones.
All these are good in theory but if I am honest the sleep tracker did not work all the time for me. The alarm function was useful and I personally enjoyed listening to my podcasts before sleep. Overall, I think that although the idea is good, the execution is not the best one and there is definitely room for improvement.
Is the REM-Fit Zeeq pillow for me?
It's time now to complete the REM-Fit ZEEQ pillow review and summarize everything. I think that this pillow will suit those who look for:
A smart pillow that has some very cool features like sleep tracking and silent alarm.
A memory foam pillow that is designed to suit back and side sleepers.
A pillow that comes with a 5-year guarantee and excellent service and support.
If you look for all these then you should definitely consider this pillow. It will cost you £200 and you should get it knowing that this is more of a gadget rather than an actual pillow. If you are a tech geek then this is the one for you!
REM-Fit ZEEQ Pillow Review
PROS
Pillow can be adjusted
Smart features
5-year guarantee
CONS
Sleep tracker is buggy
Quite expensive