Unfortunately, Leesa no longer operates in the UK. Visit

our

'Best

awarded' page

to find an alternative.
Leesa is one of the most famous brands in the UK and a maker I really respect. They have created a great memory foam mattress but recently they have developed a hybrid one. In this Leesa Luxury Hybrid mattress review, I will talk about this new entry and whether it's worth your attention.
This mattress is a more premium one when compared to the original Leesa mattress and this is reflected in the price. The business model though stays the same so you should expect this to arrive at your door packed in a carton box. The Leesa Luxury Hybrid mattress is much thicker than Leesa measuring 28cm in depth. This is because it features a 5 layer construction which is something we don't see frequently. It's manufactured here in the UK but designed in the US. It's time now, I move to the full review below.
Materials
The Leesa Luxury Hybrid mattress is made of 5 layers in total. These include:
Top Layer: An Avena foam layer that is there to keep the mattress cool during the night. It does that by allowing the air to pass through it. This layer also adds some comfort.
Middle Layer: A contouring memory foam layer that is there to provide your body with the needed pressure relief.
Middle Layer: A core support foam layer that helps with the transition from the foam layers to the spring layers. This layer adds support to the mattress.
Middle Layer: A pocket spring layer that provides your body with the needed support. Springs are also good with airflow so the Sapira mattress sleeps cool.
Bottom Layer: Another core support foam layer that works as the base of this mattress.
In the image below, you can the inside of this mattress.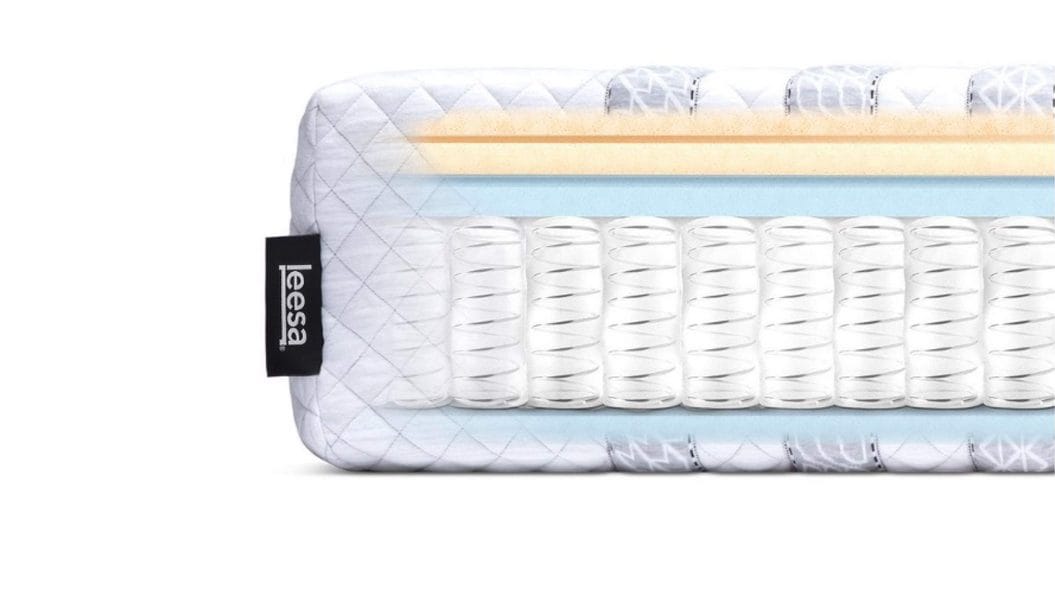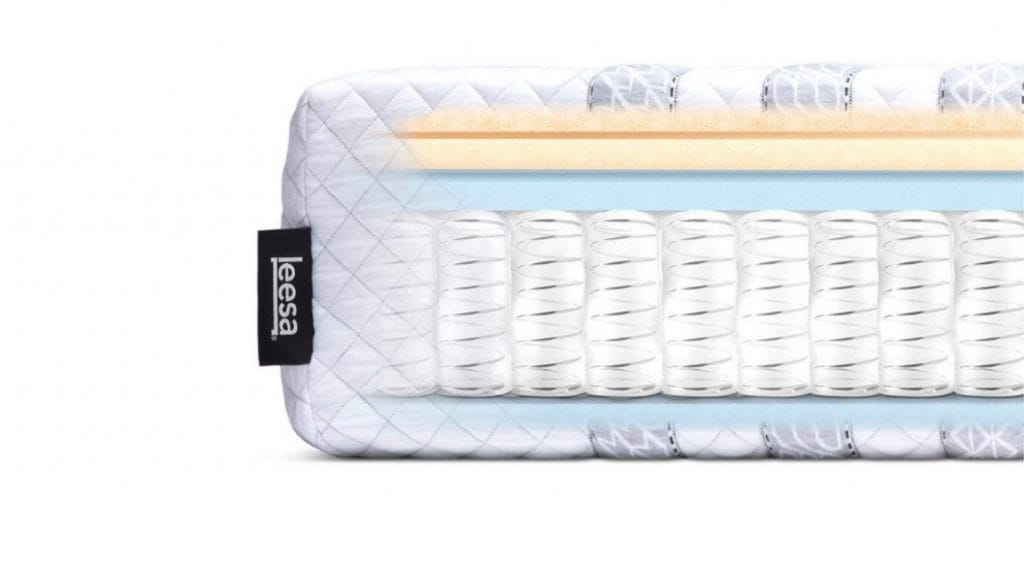 Cover
The cover of the Leesa Luxury Hybrid mattress is made of synthetic fabric. It's a polyester/lycra blend that is very breathable and strong at the same time. They used Lycra because it has the ability to absorb moisture away from the body. This is very important, especially during the summer months. The cover is stretchy and it fits the mattress perfectly. They decided to go with bright colours and the Sapira cover is the exact opposite of the Leesa one. This one is white and has 4 grey lines. The cover feels very nice and it looks luxurious. The cover is not machine washable and spot cleaning is advised where needed. It also lacks handles which is something I like. These two features could make our life easier. Overall, I think that the cover is very well made but I wish more focus was given to practicality.
Firmness & Comfort
I have already mentioned that this mattress has a medium-firm feel. If I use my virtual scale here, I would say it's a 6.7 with 10 being really firm. Personally, I found it slightly softer than the Leesa mattress but the two mattresses are quite similar. It's time now I talk about the different sleeping positions.

Starting from the back position, I immediately felt the memory foam layer hugging my hips and shoulders. The mattress has a relatively good bounce (hybrid) and it was comfortable sleeping this way. I felt that the pressure relief was adequate and overall it felt nice.
Turning to the side position, the springs reacted quickly to my weight. In general, hybrid mattresses are better in this position and Sapira was not an exception. The depth was ideal for my spine to align properly and it was very comfortable in this position. I didn't feel any pain in the hips area which might be a problem with other mattresses and I felt well supported. Overall, I think Sapira did very well in this position.
Finally moving to the stomach position, the mattress adjusted relatively quickly and the memory foam provided my body with pressure relief. The firmness of this mattress is enough to provide good support in this position and I felt that my spine was in a good shape. In general, the mattress worked quite well in this position.


I also need to mention here that the Leesa Luxury Hybrid mattress was designed with couples in mind. For this reason, they placed a frame made of premium tempered steel pocket springs around the edge of the mattress. I felt that this works quite well and you will get excellent edge support. It also has minimal movement transfer at least for a hybrid one. So if you share your bed, this can be a good option for you.
Bed type compatibility
This mattress is a versatile one. That means that you can use it with many setups. The maker suggests using this mattress with wooden or metal bed frames, divan bases or adjustable bases. You could also put this on your floor but it's not ideal because the mattress does not breathe properly. In any case, your old base should be fine with the Leesa Luxury Hybrid.
Delivery & Packaging
I have already mentioned above that this is a rolled mattress. It comes packed in a black carton box that looks really premium. Delivery is free for any size but it's not the quickest out there. My mattress arrived 6 days after I had placed my order. The reason is that they take a lot of time to dispatch their mattresses, usually 3-5 days. UPS delivered mine and the courier was prompt and polite. The box will be delivered to your doorstep so you will have to carry this to the room of your choice. This is one of the heaviest mattresses I have reviewed so make sure you have help. The box depending on the size you have ordered will weigh anything between 29kg to 55kg. Overall, I was happy with my experience but I think there is room for improvement with delivery times.
Trial Period & Guarantee
The Leesa Luxury Hybrid mattress comes with a 100-night trial period which allows you to test the mattress before you commit to keeping it. If you are not happy with it, you can return it for free and get a full refund. All you have to do is talk to their customer service department and they will arrange everything for you. You don't have to keep the original packaging to be able to return your mattress so feel free to recycle it. The mattress also comes with a 10-year guarantee which will cover you for a long time. Overall, it comes with a complete package and I have no complaints here.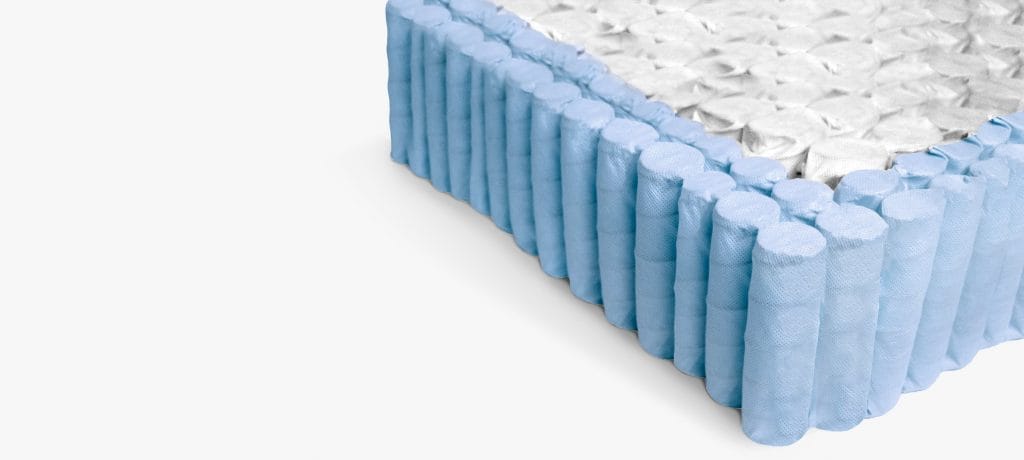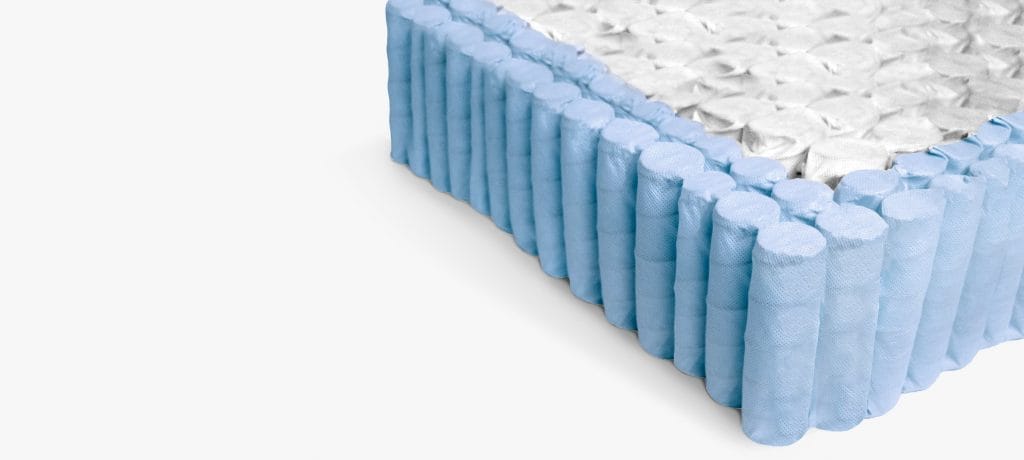 Mattress Pricing
The mattress is available in 4 sizes. This is a bit disappointing as the options are very limited. There are no EU sizes and I think they should change this in the near future. Especially since they do this with the Leesa mattress. The smaller size (UK Single) starts from £850 with the bigger (UK Super King) selling for £1,450. This is not cheap but they run offers very frequently so you will be able to buy it with a discount.
Is the Leesa Luxury Hybrid mattress for me?
Completing this Leesa Luxury Hybrid mattress review, it's hard for me to make my mind about it. I would say this mattress is great for anyone looking for:
A hybrid mattress that it's a good all-rounder and does extremely well in the side position.
A mattress that is suitable for couples.
A mattress that sleeps cool and is made with high-quality materials
This is a great mattress, don't get me wrong! But at that price, I would expect a 2-man delivery, handles on the sides of the cover and even a mattress removal service. This is what other makers offer at this price point. If you can oversee all these then the Leesa Luxury Hybrid mattress worths every penny and it's a very well balanced hybrid mattress.
Leesa Luxury Hybrid Mattress Review
PROS
Very good edge support
Excellent cooling system
CONS
Lack of EU sizes
Not the fastest delivery