Sleeping Duck Lite is not currently available in the UK. But you can check our other mattress reviews out here.
Sleeping Duck is an Australian company that successfully entered the UK market a few years ago. Following the release of their Pro mattress, they recently decided to make another more affordable foam one. In this Sleeping Duck Lite mattress review, I will talk about their latest offering and whether it's worth your attention and money.
The Lite version, unlike the Pro one, is a foam-only mattress so there are no springs used here. This makes it way more affordable but I was really keen to see how it does with support and pressure relief. The Sleeping Duck Lite is a rolled mattress so it comes in a carton box directly to your door. Mine arrived 2 weeks ago, so it's a good time to share my initial thoughts with you.
Materials
The Sleeping Duck Lite mattress is made of a total of 3 layers. These are:
Top Layer: A memory foam layer that is there to provide your body with the needed pressure relief. It is designed to perform well regardless of the temperature of the room and it's quite breathable.
Middle Layer: A transition foam layer that gives the mattress a bit of bounce and helps connect the top with the bottom layer. It adds comfort but also a bit of support.
Bottom Layer: A high-density foam layer that is the base of this mattress. It provides your body with the needed support. It features a 3-zone system that is designed to specifically support your hips and shoulders, the two areas that need the most support.
The image below showcases the design of the Sleeping Duck Lite.


Cover
To make a mattress that is affordable, sometimes you have to cut corners. Sleeping Duck did exactly that with their cover in this Lite version. Unlike the premium bamboo cover of the Pro version, the Lite one has a very simple polyester cover that is there to do the job. It looks strong and it's quite breathable which is what you need from a cover. It features a zip and you can remove it very easily which makes it not that hard to clean. You shouldn't machine wash it and they advise a gentle hand wash. The design of the cover features a boring grey colour and it's definitely the worst I have seen! But again design is not really a problem with mattresses. Overall, I found the cover to be very simple, lacking important features (handles, anti-slip surface) but it's a practical one and does the job.
Firmness & Comfort
The Sleeping Duck Lite mattress is a medium-firm one unlike the Pro that features a modular design that allows you to change the firmness level. If I use my virtual scale, I would say it's a 6.5 with 10 being very firm and 0 being really soft. One of the important differences between the two mattresses is their thickness. The Pro measures 31cm with the Lite measuring 24cm. I would like now to talk about the different sleeping positions and how this mattress performed.
Starting from the back position as always, the mattress reacted relatively quickly. The foam gave me this hugging feeling but it was not intense. It felt comfortable and the support was adequate. In terms of pressure relief, I felt that other foam mattresses do a better job but it was not completely absent which can be the case with some affordable mattresses.
Moving to the side position, the layers adjusted quickly and my hips and shoulders felt comfortable. My spine alignment was quite good but not perfect and I felt that I would prefer the mattress to feel slightly softer in this position. In terms of support, I felt that the mattress did a good job.
Finally, moving to the stomach position, it was quite comfortable and my chest and hips were positioned correctly. Again pressure relief was not enough but the mattress did provide me with good support.
Sharing the mattress with my girlfriend, I realised that it's good for couples. There is minimal movement transfer and the edge support is quite good. Overall, it's a good mattress considering the price but of course, there are other better options out there.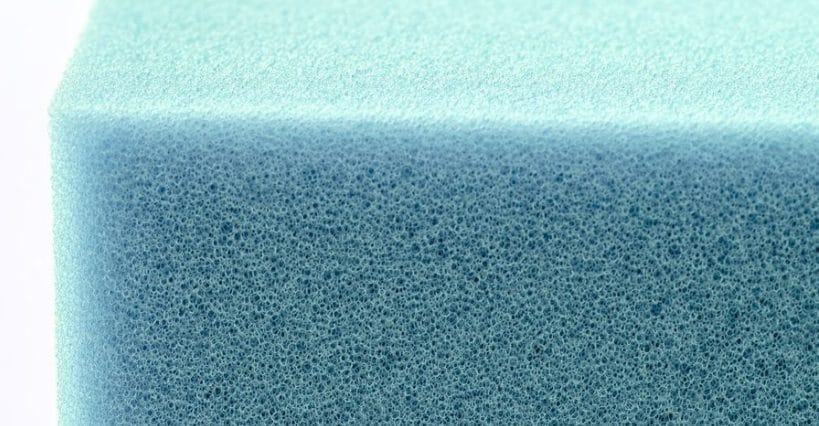 Bed Type Compatibility
You can place the Sleeping Duck Lite in any base but they mainly suggest either a slatted base or a firm flat surface. Your floor is also an option if you like this type of setup. If you use a slatted base, make sure you use a high number of slats with the distance between them being not less than 7cm. The mattress comes in many sizes including the EU ones, so those with an old IKEA bed frame can still use it.
Delivery & Packaging
The Sleeping Duck Lite is a rolled mattress so it comes packed in a carton box. It is delivered directly to your door for free regardless of the size you choose. Deliveries take place between Monday and Friday. If you want a Saturday delivery, you should contact their support and they will help you out. My mattress arrived 3 days after I placed my order. The courier was polite and the service was good overall. Deliveries will usually take between 3-5 days. It would be great if I could choose the Saturday delivery during check out but overall I got a good service by Sleeping Duck.
Trial Period & Guarantee
This mattress comes with a 10-year guarantee which is the norm these days with all the rolled mattresses. I know, we are now used to it but still, it's a great feature to pack. The Sleeping Duck Lite also comes with a 100 night trial period which gives you over 3 months to decide whether you are happy with it. If you are not then you can return it and ask for a full refund. The process is simple and you don't have to keep the original packaging. Overall, they offer a good and straightforward service, just what you expect from a reputable company.
Mattress Pricing
The Sleeping Duck Lite is a "budget" mattress with very competitive pricing. The smaller size starts from £249 with the bigger one selling for £549. This is really affordable for such a mattress and they did well here. There are 6 sizes to choose from which is great.
Is the Sleeping Duck Lite mattress for me?
Wrapping up this Sleeping Duck Lite mattress review, I want to share my final thoughts with you. Is this the best mattress I have reviewed? Definitely not! Is this the best budget one though? Maybe. Sleeping Duck obviously cut few corners to make this so affordable but I think they cut the right ones. In summary, this mattress is good for anyone looking for:
A foam mattress with adequate comfort and support.
A mattress that is built in the UK and comes with great service and support.
A budget-friendly mattress which features some of the latest mattress technology.
Starting at only £249, it can be ideal for students or as a guest room mattress. Overall, it's a quite good mattress and it comes from a reputable maker packed with a 10-year guarantee. If you are on a budget you should definitely consider it! If you can stretch your budget a bit then look for a better one here.
For any questions, drop me a line here.
Sleeping Duck Lite Mattress Review
POSITIVES
Low price
Quality memory foam
Good guarantee and service
NEGATIVES
Cover is too simple
Not the best pressure relief