The Sleeping Duck mattress is not currently available in the UK. You can read our other mattress reviews here.
I was waiting for a long time to finally write this Sleeping Duck mattress review and I must say I am very excited to do so. It's a mattress that I had heard of a lot so when it finally came about a month ago I was super happy to test it out.
I would like to give you now some information about the company behind this mattress. Sleeping duck was created in Australia back in 2014. The two founders are engineers and after looking for a mattress for ages they decided that to get a good night sleep, they had to create their own mattress. This is how Sleeping Duck was created. Since then, they launched in three more territories, including the UK, and they have seen a great success.
The Sleeping duck mattress is a modular mattress. This means that you can change the firmness level of this mattress by changing the foam layers. You can buy this mattress in two default firmness levels (medium or firm) but you can also get a half/half one if you are a couple and you have different needs. If you are not happy with these firmness levels you can ask for a firmness swap! When you do so, two more firmness levels become available to you, soft and extra firm. So in total, there are 4 options available! For this review, I received both medium and firm options so I will talk separately for each one. Sleeping Duck is a rolled mattress, so expect to receive it in a carton box. It is time now to move to the full review below.
Materials
The Sleeping Duck mattress is a very thick one measuring almost 31cm! It is made of a total of 3 layers and the cover.
Top Layer: A combination layer made out of Latex and Memory foam which is there to provide the body with the needed support and pressure relief. It also helps the mattress stay cool during the night.
Middle Layer: A high-density polyfoam layer that helps with both comfort and support. This layer determines the firmness level of this mattress.
Bottom Layer: A layer made of a high number of 5zone pocket springs which offer good body support but also work as the base of this mattress.
In the image below, you can see the position of its layer and their relevant thickness.


Cover
The cover of the Sleeping Duck mattress left me with mixed feelings. The top part (white) is made of bamboo while the side part (grey) is made of polyester. Bamboo is an amazing material, it is very skin-friendly, quite breathable and naturally anti-microbial. It's not a coincidence that high-quality underwear is made of this fantastic material. The side part of the cover features the zip which is needed to change the foam parts and it is made of really strong material. This is needed because the mattress, being modular, needs a solid cover to keep the parts together. I found the side parts quite hard and not so soft in the touch like other covers I have seen.
Moreover, I think that the cover of this mattress is not a pretty one. It doesn't look smooth and looks quite industrial. I know that we don't see the cover too often so I don't think this is a massive weakness here. If you need to clean the cover you can use warm soapy water for the bamboo surface. Make sure you let it dry completely afterwards. So this cover is not machine washable and you need to spot clean it where needed. I need to state here again, that the use of Bamboo is one of the best features of this mattress. But I didn't like the design and the side parts of the cover. Overall though, it's a good high-quality cover.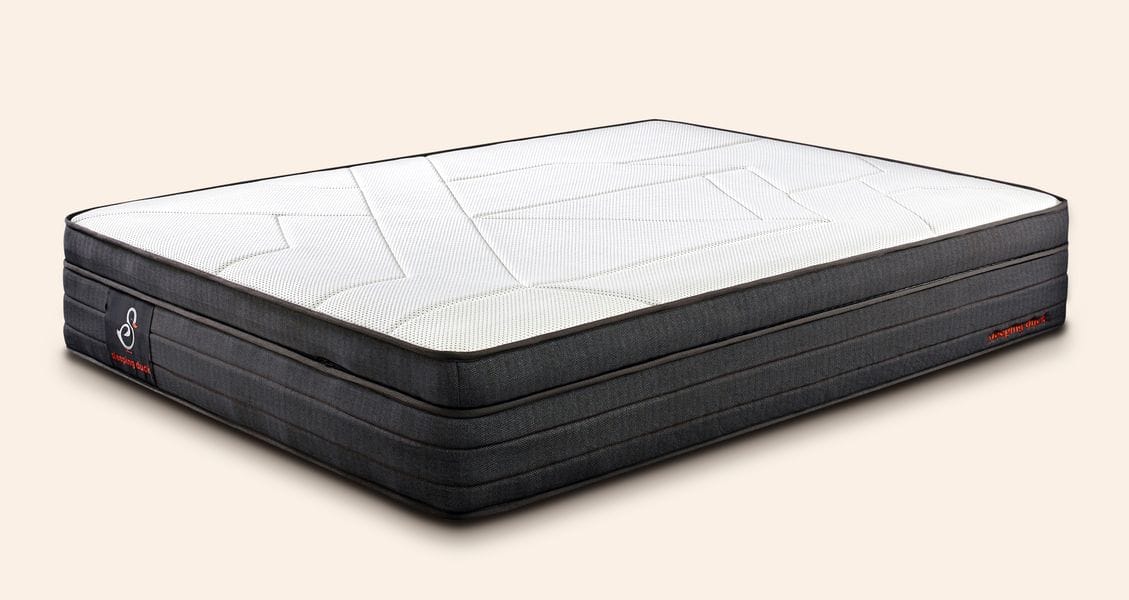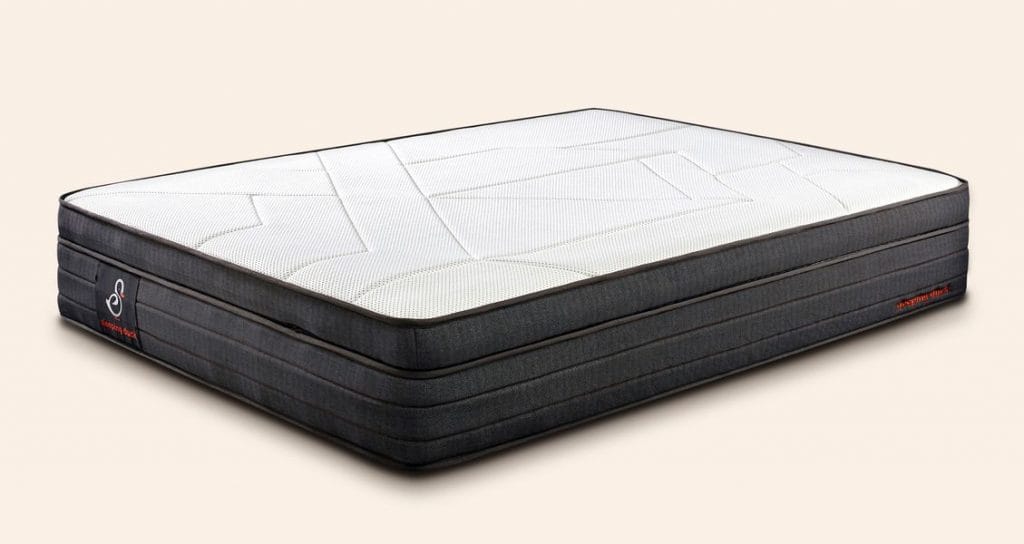 Firmness & Comfort
As I have already mentioned, I have received both foams (medium & hard) so I will talk separately about them. This is to give you a good idea of how they feel. If we put the two setups in the virtual scale we have here, I would say that the medium one is a 6.5 and the hard one is around 8 with 10 being really firm. I spent the first 2 weeks with the medium set-up, followed by 2 weeks with the firm set-up.
MEDIUM CHOICE
I will now talk in detail about the Medium Sleeping Duck setup. I completed the 3 different lying positions test. Starting from the back position, I felt my spine and hips being well supported. The mattress felt very comfortable and the springs adjusted quickly to my body weight. The sinkage wasn't too much but I clearly felt my body being hugged by the memory foam layer. Turning into the side position the mattress responded very quickly and sinkage increased. The surface was still very comfortable and my spine was relatively well supported. For someone with my weight, in this position, I would prefer a mattress that is a bit firmer. Moving to the stomach position the mattress hugged my body again and I felt that my upper body and hips were well positioned. I found the bed very comfortable and I enjoyed sleeping in this position. Finally, testing the edge support of the Medium Sleeping Duck I felt that it did very well. It's something that I expected to be honest as this mattress is very well built!
HARD CHOICE
Now it's time to talk about the hard setup. And I can tell you that this was my absolute favourite mattress. I have mentioned in the past that I am a bit heavy and I have back pain issues. And these two factors make firmer mattresses work better for me. I can officially say that the Hard Sleeping Duck mattress was the best I have tried and I suggest to everyone with a chronic back issue to try this mattress! I will talk now about the different sleeping positions. Lying on my back the mattress supported my body in an excellent way. Sinkage was minimal but it was existent where my body needed that. My spine was very well positioned and the mattress remained comfortable. Turning sideways, the mattress reacted quickly and sinkage increased a bit. My spine remained very well supported and my hips were in a good position. Sleeping Duck did very well here! Finally, moving to the stomach position, my hips were well supported which made my spine rest well and get the relief I was after. Overall, I think that this setup is excellent for chronic back pain sufferers.
Bed Type Compatibility
You can use your Sleeping Duck mattress with any base you have. However, they suggest you either use a slatted base (with no more than 8cm gaps between each slat) or any firm flat surface. The highest the number of slats, the better! Don't use this mattress with ensembles or sprung bases as they cannot provide the mattress with the needed support. If you are a minimalist, use your floor as your base. The mattress comes in many sizes including the IKEA ones so you can definitely use your old one if that is the case. I used my EU double IKEA bed frame and it worked really well, so no need to worry here.
Delivery & Packaging
The Sleeping Duck mattress comes directly to your door in a carton box. All mattresses come with a free delivery service and it takes around 3 business days for the mattress to arrive at your door. Deliveries take place from Monday-Friday so there is no Saturday slot available during check out. However, if you need a Saturday delivery, you should email them and they will help you out. The Sleeping Duck mattress is one of the heaviest I had so you will definitely need help moving the box to your room. So make sure you have someone at home to help you with that. Overall, the service provided by Sleeping Duck is good. I would prefer to be able to book the Saturday slot through the check out stage but in general, I was happy with their service.
Trial Period & Guarantee
This mattress comes with a 10-year guarantee but makes sure you read the terms and conditions carefully so you know all the details. They really focus on the use of the right mattress base so make sure you use one from those that I mentioned above. The mattress also comes with a 100 night trial period which means that you have more than 3 months to decide whether you are happy with your Sleeping Duck mattress. If you decide that you want to return it, they will come and collect it for free and will give you a full refund! Just email their customer services department and they will arrange everything for you. Overall, a really good job here!
Mattress Pricing
The Sleeping Duck mattress is available in 7 sizes, including the EU ones. The mattress starts from £399 for a UK Single one and goes up to £749 for a UK Super King one. They use the direct-to-consumer approach which means that you won't pay more for the middlemen fees and commissions. The prices are really competitive, considering the high quality of this mattress and I can definitely say that it is great value for money.
Is the Sleeping Duck mattress for me?
This is always the money question especially now that I am finishing this Sleeping Duck mattress review. In summary, this mattress is a really great choice and it is ideal for all those who look for:
A modular mattress that gives them flexibility and the choice to adjust quickly the firmness.
A mattress that is excellent for chronic back pain sufferers.
A value for money mattress that is made of really high-quality materials and features the latest technology.
If you look for all the above then the Sleeping Duck mattress should be definitely very high on your list. A really good mattress at a fair price. If you have any questions feel free to contact me through my contact page.
SLEEPING DUCK MATTRESS REVIEW
POSITIVES
Modular construction, easy to change the firmness
Best for chronic back pain
Innovative materials and technology
NEGATIVES
Cover doesn't look nice
No Saturday delivery available at check-out