In this Avenco mattress review, I will talk about this budget-friendly option that is available on Amazon. After doing a bit of research, I realised that there are plenty of boxed mattresses on Amazon so I thought that it was about time I review one. The Avenco mattress ticked all the boxes and had great reviews so I decided to give it a go.
This mattress is a hybrid one and it combines memory foam with pocket springs. They sell their mattresses on Amazon in order to offer their customers great value. My mattress arrived about a month ago so let's move now to the full review below.
What is an Avenco mattress made of?
The Avenco mattress features a total of 5 layers plus the cover. These are:
A gel-infused memory foam layer which is designed to keep the sleeping surface cool during the night. It will also provide your body with the needed pressure relief.
A cool foam layer which helps with airflow. It can also regulate your body's heat so you don't feel too cold or too hot during sleep.
A high-density foam layer which is designed to help high-pressure points like your hips and shoulders. It also adds comfort.
A pocket-spring layer which is there to provide your body with the needed support. It features a 5-zone system which ensures that your body weight is evenly absorbed and distributed.
Another gel-infused memory foam layer which works exactly the same as the top one.
The Avenco mattress measures 22cm in height and the image below showcases the position of each layer. All foams used here are CertiPUR-US® certified so you know they are completely safe for human health.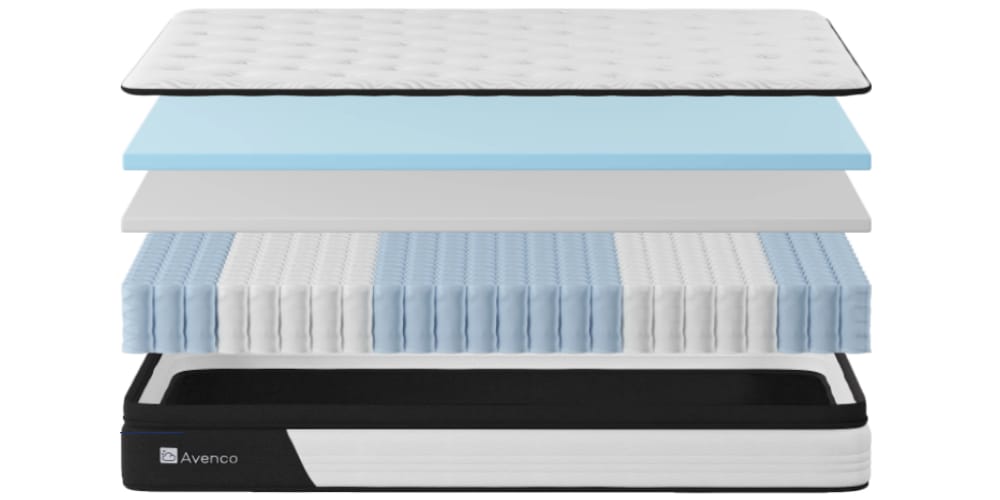 What is the cover made of?
When designing this mattress, they decided to use a knitted fabric that adds a premium touch but also feels quite soft and nice. To enhance it, they implanted it with natural modal fibre yarn which makes it more elastic and skin-friendly. The cover is quite breathable so you won't sleep hot even during the summer. Unfortunately, it's not removable so I advise you to use a mattress protector. The design is a nice one and it features a 2-tone colour scheme. The upper part is white with the sides part featuring a dark navy colour. Overall, this is a high-quality cover that I personally loved.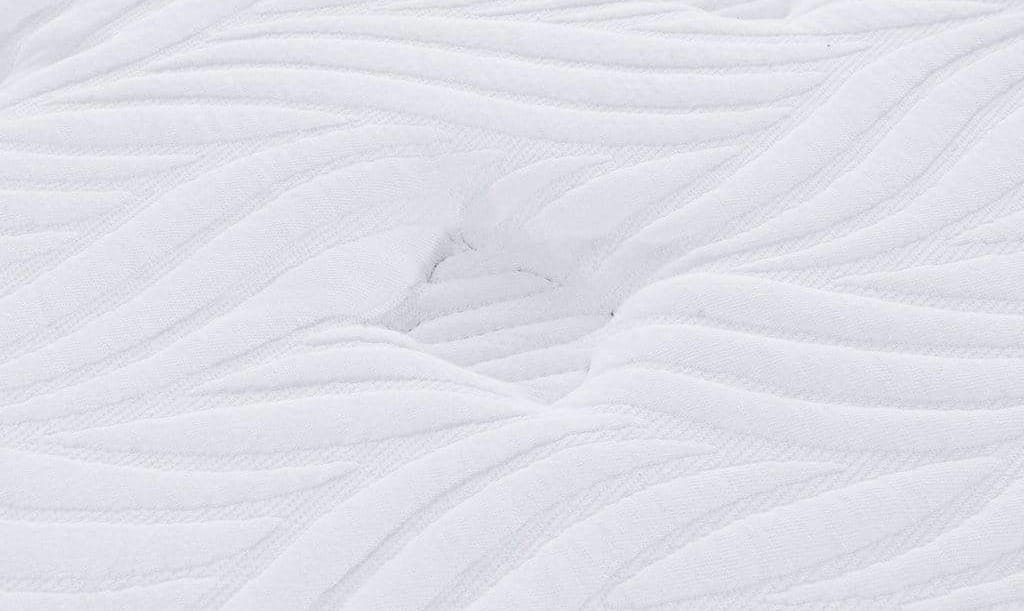 How firm is the Avenco mattress?
This mattress was designed to suit most people so it comes with a medium-firm feel. If I use my virtual scale here, I would say it's a 6.7 with 10 being really firm. Let's see now how this mattress performed in the different sleeping positions.

Starting from the back position, the mattress felt comfortable and the upper foam layers did a good job providing my body with enough pressure relief. The mattress felt supportive and I felt that the zone system did a good job.
Turning to the side position, the springs reacted quickly and sinkage increased. My spine was aligned properly but I felt that the mattress could have done a better job in this position. Pressure relief was adequate and I didn't feel any discomfort in the hips and shoulder area.
Finally moving to the stomach position, the mattress did a great job and it was very comfortable sleeping this way. Support was great and I felt that this mattress is mostly suited to stomach and back sleepers.
If you are a couple, the Avenco mattress has great edge support so you will get the same performance across the 4 corners of the bed. The springs will create some partner disturbance but nothing too bad. Therefore, this is a good option for couples.
What type of bed to use with this mattress?
The Avenco mattress can be placed on any flat surface including your floor. However, the maker suggests using a box spring or a slatted frame. These make a better solution as they are more hygienic compared to your floor but those also help with the airflow.
How will it be delivered?
I have already mentioned above that this mattress is available on Amazon. It will be delivered for free within 3-5 days but if you are a Prime member, you will get it sooner. Delivery was great and it's pretty much what you expect from Amazon. The mattress was well packed and you might need some help to move it around. I was quite surprised that this mattress was so heavy. Overall, they provide a good service so no complaints at all.
Does the Avenco mattress come with a trial period?
All Avenco mattresses come with a 100-night trial period which allows you to try this mattress for more than 3 months before you decide whether you want to keep it or not. If you are not happy with it, you can return it for free and get a full refund. Besides that, you will also get a 10-year guarantee which will cover you for a long time. The package is great for a mattress of this price and Avenco did a great job here.
How much does it cost?
This mattress is an affordable one so you will get great value for your money. The smaller size (Single) goes for £229 with the bigger (Super King) selling for £469. The table below has pricing information for all available sizes.
| | |
| --- | --- |
| SIZE | PRICE |
| Single | £229 |
| Double | £359 |
| King | £399 |
| Super King | £469 |
Is Avenco a good mattress?
This is always a tough question to answer but I will do my best now that I am completing this Avenco mattress review. I think that this would be a good option for those looking for:
An affordable mattress that is made with high-quality materials.
A hybrid mattress that is great for stomach and back sleepers.
A mattress that comes with a 100-night trial period.
If you look for all these, the Avenco mattress should be high on your list. It's a well-balanced mattress that comes with an affordable price tag. It might not be the best I have reviewed but you will be getting excellent value for your money and this is hard to find.
Avenco Mattress Review UK
PROS
Excellent value for money
Great materials
100-night trial period
CONS
Cover is not removable