We have all seen the Eve mattress. They run ads on TV, on the Tube, and pretty much everywhere. What you might not know yet is that they have recently developed a second product. In this Eve Original Hybrid mattress review, I will talk about their new mattress that combines pocket springs with foam.
My mattress arrived four weeks ago in a carton box. Yes, you guessed right, the Eve Original Hybrid is a rolled mattress. I was really keen to try this out so it was taken straight out of the box. This is not a very hard task but you might need some help depending on your physique. Like every rolled mattress, the Eve Original Hybrid had a strong odour initially, which only lasted for a couple of days, so there was no need to worry here. Let's move now to the full review below.
50% OFF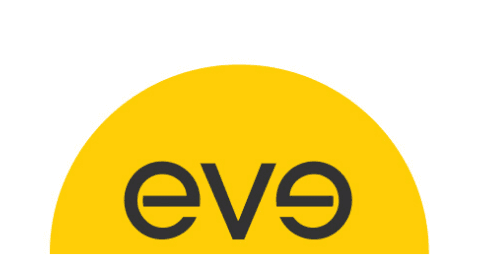 Eve Mattress
50% off premium memory foam mattresses at Eve
50% off premium memory foam mattresses at Eve
Show Less
What is an Eve Original Hybrid mattress made of?
This mattress is made of a total of 5 layers plus the cover.
An evecomfort foam layer that is their signature material. It provides the body with the needed comfort. It is also very breathable and keeps the mattress cool during sleep.
A memory foam layer that has excellent pressure-relieving properties.
A support layer that protects the springs but also adds some side support.
A layer made of 800 individually fabric-wrapped pocket springs. They aim to provide your body with the needed pressure relief and add more bounce to the mattress.
A foam layer that works as the case for the springs. It helps a lot with the edge support and the weight distribution.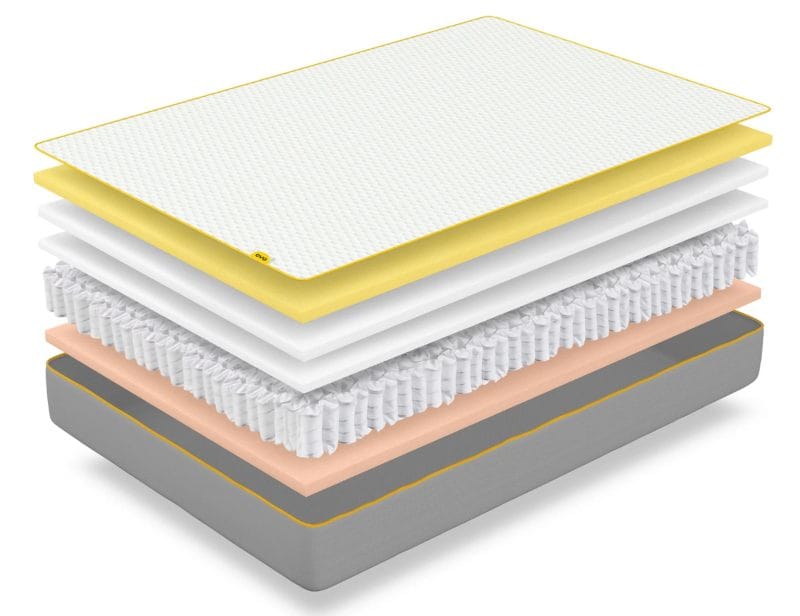 How good is the cover?
The cover of the Original Hybrid mattress is a very beautiful one. It features their signature white colour on the top part but they went for light grey sides which look very nice. The cover is a 4-way stretch knit and is made of 100% polyester. They also claim that the cover is naturally flame-retardant. This is a nice feature to see here.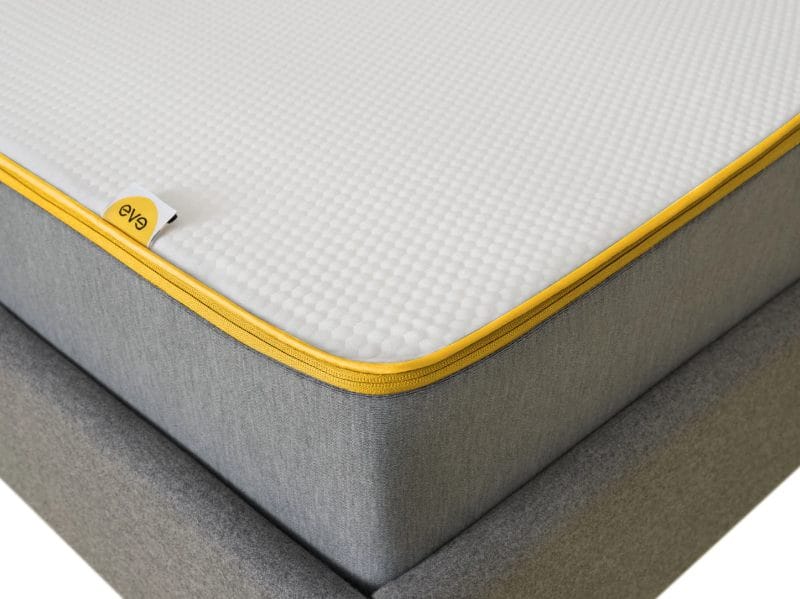 The overall quality of the cover really impressed me. It looks and feels nice. It's quite elastic so it hugs the mattress properly. The cover feels soft but at the same time strong which is very important. I have more good news for you here. The cover is removable and you can machine wash it at low temperatures. This is a feature that I really value as I like to keep the covers fresh and clean. Especially after a long summer here in London. Overall, I think that Eve did a good job here and I didn't have any issues with this cover.
Is the Eve Original Hybrid a firm mattress?
This mattress is a medium-firm mattress just like the Eve Original. They decided to go with similar firmness levels in order to cover most people's needs. If I use my virtual scale here, I would say it's a 6.5 with 10 being very firm. It's time now to talk about the different sleeping positions and what I experienced in each one of them.

I always start from the back position and I felt good but at the same time, I felt that something was missing. Due to the lack of thickness, the mattress doesn't provide enough pressure relief when compared to other top hybrid mattresses like the Emma Hybrid or the Simba Hybrid. I think that an extra foam layer would improve the mattress significantly. The springs felt quite adaptive and did a good job providing me with the needed support.
Turning to my side the springs adapted again very quickly. Sinkage increased and I felt well supported, especially in my hips area. In this position, the mattress worked quite well and I felt I could get some quality sleep. That was important for me as I very frequently sleep on my side.
Finally, moving to the stomach position, the mattress felt comfortable, but I felt that my back and hips didn't get the needed pressure relief. I liked the bounce that the mattress has and in general, after trying all 3 positions I feel that the springs do a really good job.
Regarding the edge support, the Original Hybrid is a solid and sturdy construction and you will get the same performance from every corner of it. This is great especially if you share your bed with your partner.
Do I need a special setup to use this mattress?
This mattress is a very 'easy-going' mattress so you can place it on any flat surface. That means that you can use your old frame or base. Having said that, Eve advises that you use either a slatted base or a platform bed to make the most of your mattress. If you use slats make sure the distance between them is no more than 7cm. Another option is to place your mattress on your floor. It's an excellent flat surface and your Eve Original Hybrid will work perfectly. It's more a matter of taste, to be honest, I personally like bed frames. Unfortunately, this mattress is only currently available in 4 sizes so maybe your old bed won't fit your mattress. This is disappointing in my view and I hope that Eve develops more sizes soon.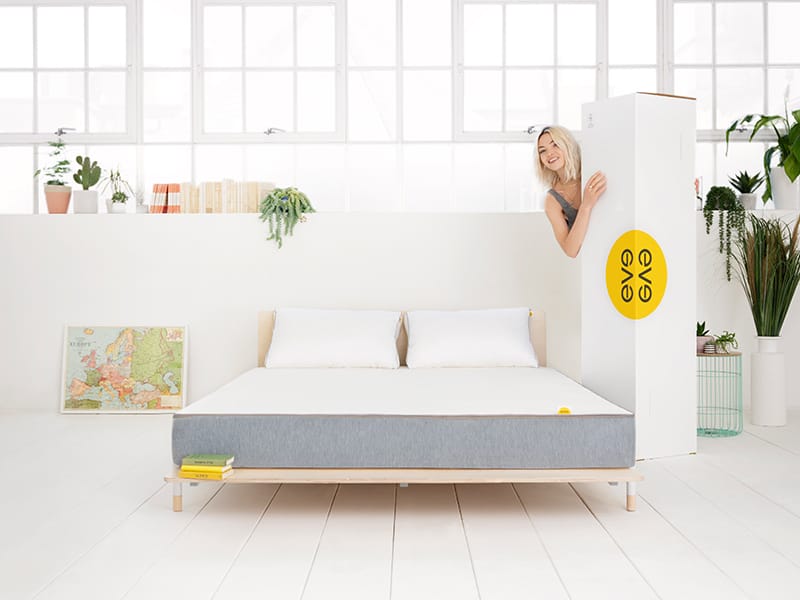 Is this a boxed mattress?
As I have already mentioned in the introduction, this is a rolled mattress. This means you should expect it packed in a carton box (pictured above) when it is delivered directly to your door. The delivery service is completely free for any of the weekdays. Your mattress will come in 3 days after you have placed your order with them. Due to high demand, Eve cannot offer Next Day or Saturday delivery. This can be frustrating for some customers, especially the lack of Saturday delivery. If you want a specific slot, Eve has some options which will cost you between £10-£20 depending on the time you choose. Additionally, if you want to have your old mattress removed, Eve can do this for you for an extra £35. This will take place after your mattress delivery by a separate courier service.
My mattress came on a Thursday morning as expected and the delivery guy was very polite and helpful. He didn't help me place the box in the room but it was not too heavy for me anyway. Overall, I got a really good service from Eve. The lack of Saturday delivery though can be a problem for all working people.
Does this mattress come with a guarantee?
Just like the Eve Original, the Original Hybrid comes with a 10-year guarantee so you will be covered for a long time. Make sure you read all the T&Cs so you know what is the deal. The mattress also comes with a 1-year trial period which means that you have a whole year to decide whether you want to keep it. If you are not happy with your mattress, all you have to do is contact their customer support department and arrange the return. They will pick it up for free at your time of convenience and give you a full refund. The process is quite simple and you don't need to keep the original packaging for them to accept the return. Overall, I think Eve offers excellent service here and personally, I didn't expect anything less from them.
How much will I pay for it?
Eve is a company with the mission to cut all middlemen and sell high-quality sleeping products at affordable prices. And it does exactly that with this mattress. The smaller size (Single) starts from £499 with the bigger one (Super King) selling for £949. Unfortunately, as I have already mentioned, the Eve Original Hybrid is only available in 4 sizes. Detailed pricing follows below. Make sure you always check our voucher code section before you buy for big savings.
| | | |
| --- | --- | --- |
| SIZE | DIMENSIONS | PRICE |
| Single | 90 x 190 x 25cm | £499 |
| Double | 135 x 190 x 25cm | £749 |
| King | 150 x 200 x 25cm | £849 |
| Super King | 180 x 200 x 25cm | £949 |
Is the Eve Original Hybrid mattress for me?
Wrapping up this Eve Original Hybrid mattress review, it's a good time for me to share my final thoughts. I think that this mattress would be ideal for a guest room or for students. Personally and at my age, I would not get this for my primary mattress as I am willing to spend a bit more money and get a better mattress. Having said that, the Eve Original Hybrid is great for everyone looking for:
A quality mattress from a reputable maker that won't break the bank.
A mattress that offers good support and is made of high-quality materials.
A hybrid mattress that comes with excellent customer support and has a 10-year guarantee.
Starting at £299, it definitely has a very appealing price tag but Eve has definitely cut some corners here. It is a great choice for a secondary mattress or for people on a budget but if you are after a really good mattress you should definitely spend a bit more and get the Eve Original mattress.
If you have any questions, feel free to drop me a line here.
50% OFF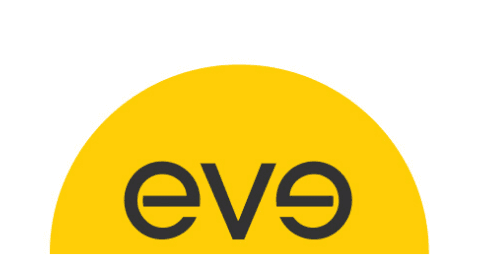 Eve Mattress
50% off premium memory foam mattresses at Eve
50% off premium memory foam mattresses at Eve
Show Less
Eve Original Hybrid Mattress Review
POSITIVES
Very affordable
Good service and trial period
Beautiful cover
NEGATIVES
Not enough pressure relief provided
Lack of Saturday delivery
Limited sizes available