In this Milam Original mattress review, I will talk about this exciting organic option that recently got my attention. Besides being organic it's also an adjustable mattress offering you two firmness options, medium and medium-firm.
Milam is a family-run business based in Epsom, Surrey. After feeling disappointed with the limited latex mattress options, they decided they had to create their own. This is how the Milam brand was born back in 2018. Unlike most mattresses here, this is not a boxed one but more on that later. I got mine about a month ago so it's a good time now to move to the full review below.
What is a Milam mattress made of?
The Milam Original mattress is made of 5 layers plus the cover. In detail, these are:
A 2cm graphite latex foam layer that is there to provide your body with the needed pressure relief. Graphite is added so the mattress has more fire protection.
A 9cm pure latex foam layer that is there to provide comfort and support. This layer is softer compared to the upper one but not too soft.
A 5cm 100% natural coir layer that will provide your body with support. According to the maker, this material works better than springs.
A 4 cm very dense natural latex foam layer that is designed for those who prefer a firmer feel. This foam layer is GOLS certified.
Another 2 cm graphite latex that is identical to the top layer.
The mattress measures 24cm in height and the image below shows us how it looks from inside.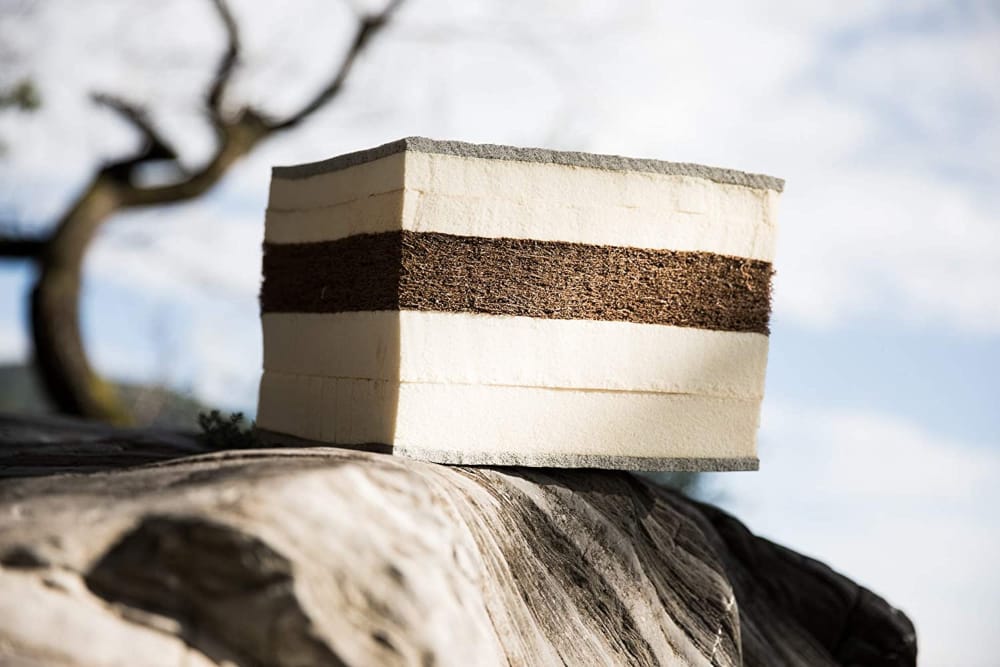 What is the cover made of?
The Milam Original mattress has a double cover. The outer part is made of 100% organic cotton cover quilted using organic merino wool. This blend is breathable but at the same time, merino wool can wick moisture away. That means that you will never sleep hot and Milam promises a comfortable environment. The inner part is made of 100% cotton and it's there to keep the layers all together. Both of them are removable and machine washable at a maximum of 30°C. The design of the cover is a modern one featuring a white colour with turquoise details. On the sides, you will find 4 turning handles which will help you rotate it when needed. Overall, this is a high-quality cover and Milam did a great job here.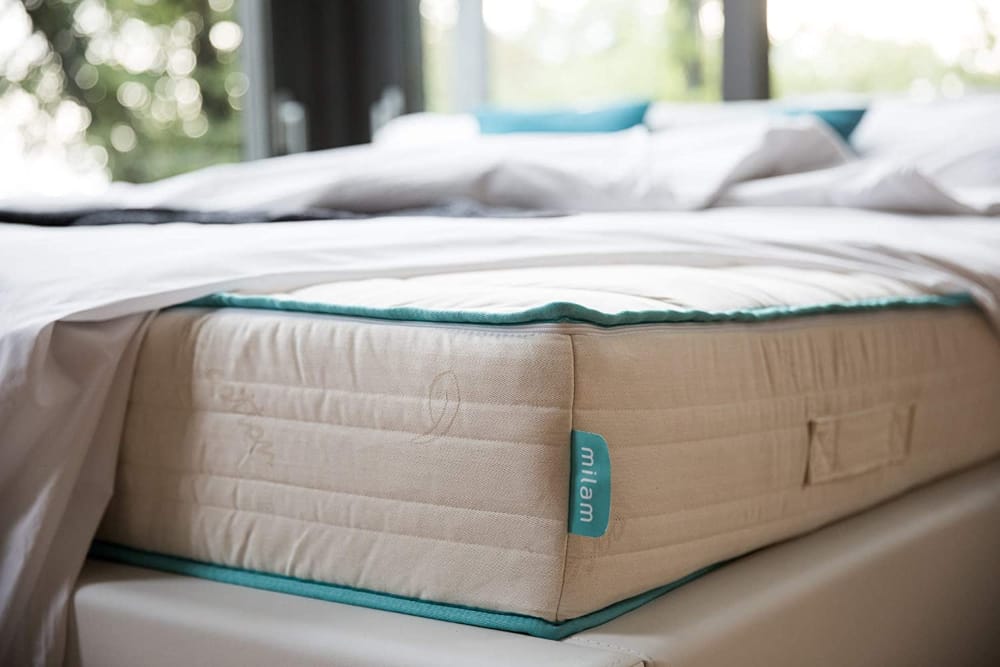 How firm is the Milam mattress?
It's already mentioned above that this is an adjustable mattress and you will be given 2 options. Depending on the side you will choose to sleep on, you can have a medium or a medium-firm mattress. I decided to go with the original set up so I went with the medium option.
Starting from the back position, the mattress reacted quickly and the latex layers 'hugged' my hips and shoulders. It was very comfortable in this position and I was impressed by the pressure relief I got from this mattress.
Turning to the side position, sinkage increased and that helped my spine align properly. Support was good and I felt that this mattress would suit side sleepers of any size.
Finally, moving to the stomach position, I felt that the Milam Original was not as firm as I would prefer but it still did a decent job. Having said that, I think that the original setup is best suited to back and side sleepers. If you are a stomach sleeper you should use the other side of the mattress.
If you are a couple, this mattress can be a great option. The foam-only construction means that there is minimal motion transfer so you can forget the annoying partner disturbance. On the other hand, edge support is not the best but it's quite good for a mattress of this kind.
What type of bed to use with this mattress?
According to the maker, you should use a slatted frame as it helps with airflow. However, you can also use a divan bed or a platform. If you use a slatted frame, make sure that the distance between each slat is no longer than 2- 3 inches.
How will it be delivered?
The Milam Original mattress is not a rolled one so don't expect it to be delivered inside a box. It comes with free white glove delivery so 2 couriers will set up the mattress in the room of your choice. This is great and not many makers offer this without a charge. For a small fee, they can also remove your old mattress. Delivery is quick and it takes 2-5 working days depending on your postcode. Overall, they offer a great service here so no complaints at all.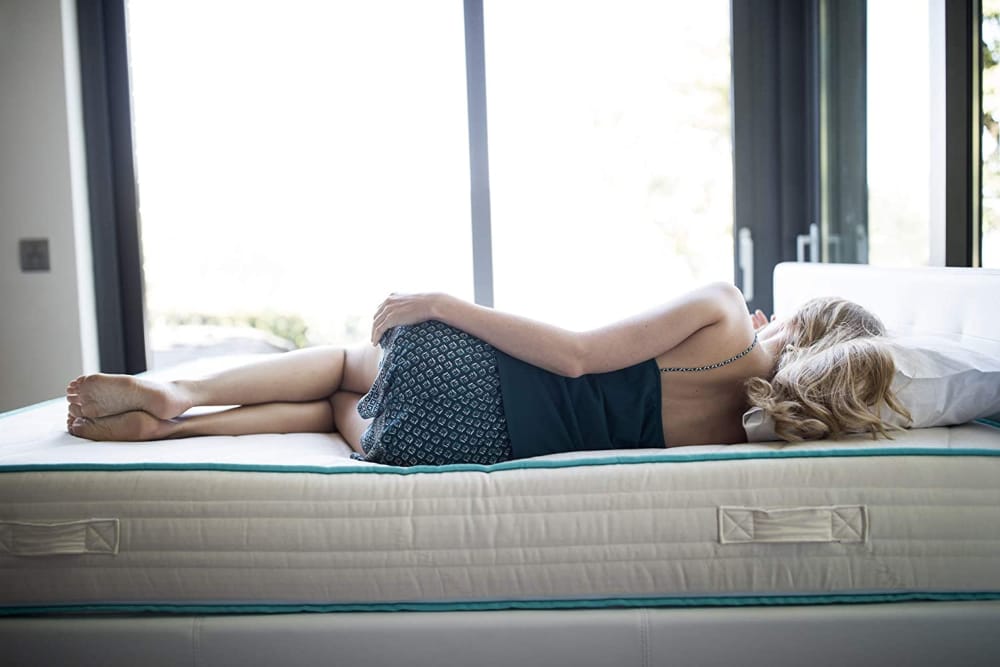 Does the Milam mattress come with a trial period?
If you chose to buy a Milam mattress, you will get a 30-night trial period. That gives you a full month to try this mattress and decide later whether you want to keep it or not. If for any reason you are not happy with it, you can return it and get a full refund. Besides that, you will also get a 5-year guarantee that will cover you for some time. Most makers offer a better package here and hopefully Milam will change this in the near future.
How much does it cost?
This mattress is available in 7 sizes so you will definitely find the one that suits your needs. The smaller (UK Single) goes for £889 while the bigger (Super King) sells for £1,649. This is not the most affordable mattress in the UK but if we consider the materials used here, I would say it's fairly priced. The table below has pricing information for all available sizes.
| | | |
| --- | --- | --- |
| SIZE | DIMENSIONS | PRICE |
| Single | 90 x 190 x 24cm | £889 |
| EU Single | 90 x 200 x 24cm | £899 |
| Double | 135 x 190 x 24cm | £1,289 |
| EU Double | 140 x 200 x 24cm | £1,379 |
| King | 150 x 200 x 24cm | £1,399 |
| EU King | 160 x 200 x 24cm | £1,519 |
| Super King | 180 x 200 x 24cm | £1,649 |
Is the Milam mattress any good?
The time has come now to complete this Milam Original mattress review. Is it an option you should consider? It's a tough question to answer but in my opinion, this mattress would be ideal for those looking for:
An

organic latex

mattress that is built with excellent materials.
An adjustable mattress that will suit all types of sleepers.
A mattress that comes with free 2-man delivery.
If you look for all these, the Milam Original can be a good option. This mattress is designed for those who follow an 'organic' way of life but is not limited to them. The use of high-quality materials raises the cost but this mattress is fairly priced and it's a good all-rounder.
Milam Original Mattress Review
PROS
Excellent materials
Adjustable firmness
Great cover
CONS
30-night trial period is too short