A few months ago, I reviewed the Silentnight Studio mattress and I was really keen to try their Studio pillow. I received my pillow a few weeks ago and I was very excited to try it. They have developed a really smart system that uses 3 different pads that have 3 different firmness levels. You can interchange the pads to create your own combination and in total there are 7 possible setups! In the image below you can see how this works and how they propose each combination based on your sleeping habits.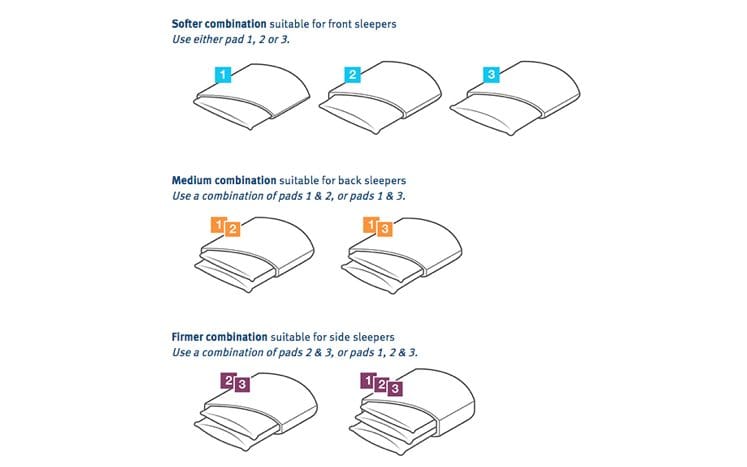 It's a very versatile pillow and I personally like when companies innovate and they put a lot of thinking behind a product. And Silentnight definitely did that with their pillow. It's time now to move to the full Studio pillow review.
Construction
The Studio Pillow by Silentnight, as I already mentioned earlier has 3 different pads. They use an anti-allergy hollow-fibre filling for every pad so don't expect fancy materials like memory foam or latex here. Silentnight decided to go with a more traditional approach here. Personally, I would like to see some memory foam being used here as I think it's the way to go. Overall, the pillow looks and feel of good quality so no complaint here.
Cover
The cover of the Studio pillow is made of polyester and it is a knitted one. It features a nice pattern and it comes in a nice and clean white colour with some grey details on the edges. It doesn't feel as soft as other pillows and I personally found it a bit hard. It's also relatively thick which makes it less breathable. In general, I think that the cover of the Studio pillow needs a lot of improvement and personally I was not happy with it. You can remove the cover and machine wash it at a low temperature so it's easy to maintain and clean.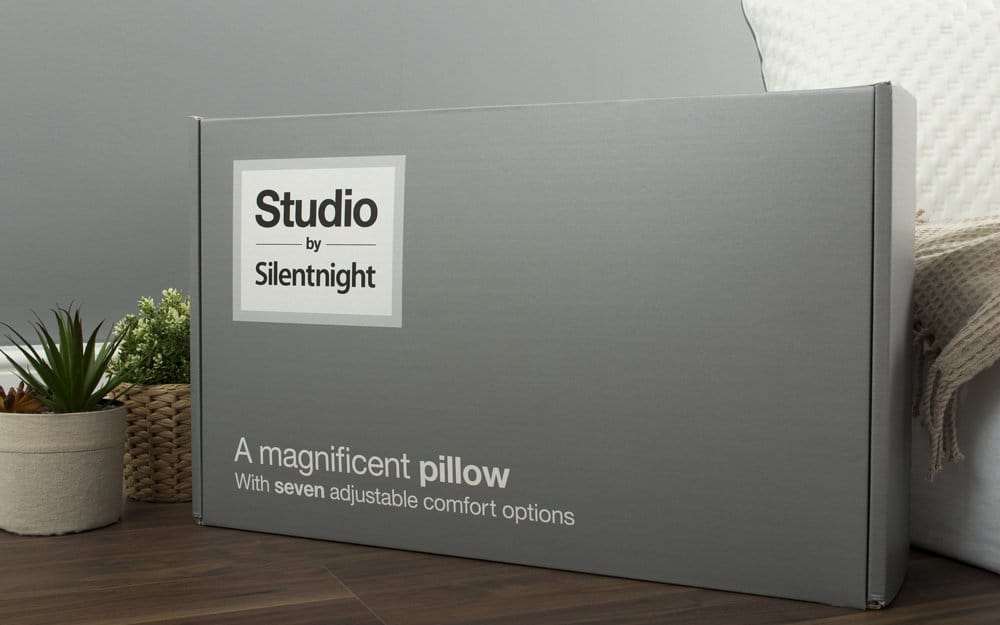 Support
The main benefit of this pillow is the fact that you can adjust the height. This is very important as different sleeping positions require different heights. For example, a really thick pillow would not work for me as I am a stomach sleeper. Using pad 3 (see image above) I found the ideal set-up for my Silentnight Studio pillow and I must admit it worked very well with my neck. Unfortunately, the sleeping surface is a bit hard and this took away some comfort. It's really a shame to have a good idea but then design a cover that is not helping it. Overall, I think the pads work well and you will definitely find the ideal combination. If you use another cover then you probably have a great pillow!
Is the Silentnight Studio for me?
Finishing this Studio pillow review I am left with mixed feelings. I personally find the modular concept an excellent idea. However, the cover of this pillow is disappointing. Moreover, the lack of memory foam would not suit people who like this huggy feeling. Having said that, I think that the Studio pillow is great for people who look for:
A pillow that is modular and firmness and height can be adjusted.
A pillow that comes in a fair price.
If you can get used to the hard cover, maybe this pillow would be a good idea. Personally, I would probably look at another pillow as I cannot get past the disappointing cover.
Check all the pillow reviews here.
SILENTNIGHT STUDIO PILLOW REVIEW
POSITIVES
Clever modular system
Good delivery & service
NEGATIVES
Cover is dissappointing
Lack of memory foam