On this site, I talk mainly about adult mattresses but the truth is that everyone deserves a quality mattress! In this Simba Hybrid cot mattress review, I will talk about this new baby mattress and whether it's an option you should consider.
A few months ago, my nephew was born and just as I did with my niece I thought of buying him a cot mattress. After all, I am the 'mattress guy' in the family! This time, I decided to go with the Simba one which gave me the opportunity to write this review.
Materials
Just like their Simba Hybrid mattress, the cot one also features pocket springs. It is made of a total of 2 layers and the cover.
External layer: A 2cm soft foam layer that is essentially the pocket for the springs. It exists both on top and at the bottom so in total you get 4cm of foam. The foam is very breathable to allow airflow.
Internal layer: A 6cm pocket springs layer that is there to provide your baby with the needed support and comfort.
The cover of this mattress is made of 99% Polyester and 1% Elastane. It is removable and you can machine wash it at 40 degrees. Unfortunately, there is no waterproof layer in this cot mattress which in my view is a big drawback. If you are looking for this feature then the Eve Baby mattress is a great option. Overall, the cot mattress is well-built with a nice design.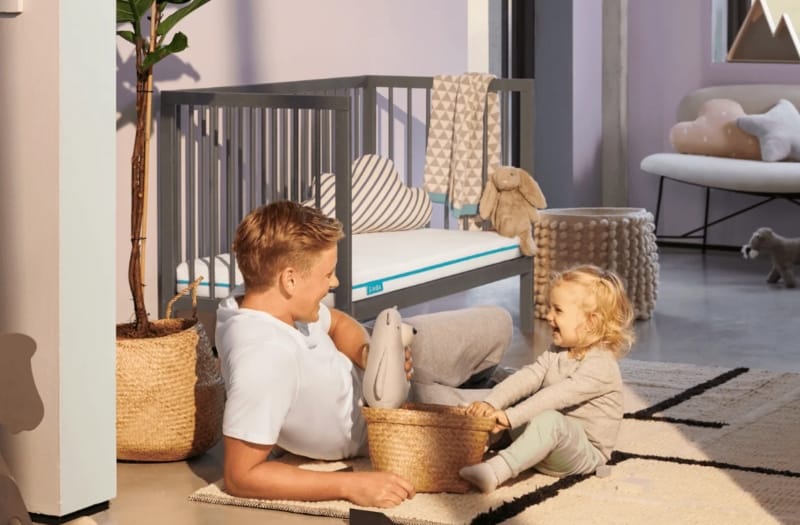 Safety
This is a very important aspect of any baby product and Simba made sure they used the best materials. The fabrics are all OEKO-TEX 100 Certified and they are hypo-allergenic. They also made some clever design changes. The zip faces inwards to eliminate any risk of catching as you can see in the image above. Simba made sure that the mattress is good for your baby but if you have any further questions, you should contact them directly and they will happily come back to you.
Service & Support
The Simba cot mattress comes with a standard free delivery service for any size you choose. Unfortunately, there is no trial period here but you get the full 10-year Simba guarantee. This is great to see and I was very happy that Simba offers the same support for both adult and baby mattresses.
Pricing
The mattress is available in 2 sizes (cot & cot bed). The price is quite high with the cot size going for £145 and the cot bed one going for £175.
Verdict
It's really great seeing big makers like Simba innovating and creating new products. Their cot mattress is made of high-quality materials with a design that has safety as its priority. The lack of a waterproof layer can be a problem but it's easily solved with a protector. The price may be a bit high for some but you will get a cot mattress with great technology that can be used by all your children.
For any questions you may have, please drop me a line.
Simba Hybrid Cot Mattress Review
POSITIVES
1-year guarantee
Excellent materials
NEGATIVES
No waterproof layer
A bit pricey