If it's time to get a bigger bed for your little one, you should read this Simba Kids mattress review. Time flies and everyone who has experienced parenthood knows this very well. Kids grow really fast and that means that their needs also change.
After seeing great success with their adult mattresses, the people at Simba decided to release a kids mattress that is suitable for children aged three and older. The Simba Kids mattress can be used with any type of bed (including bunk beds) so it's a versatile one. Without any further ado, let's move below for the full review.
Materials
The Simba Kids mattress features 4 layers plus the cover. These are:
An open-cell foam layer that has excellent cooling properties. This type of foam can provide your kid's body with the needed pressure relief.
A layer made of Aerocoil springs. They are made of titanium so they will last for a really long time. This type of spring is designed for comfort.
A high-density foam layer that is supportive and it can distribute weight evenly.
A foam base layer that is the foundation of this mattress.
This mattress measures 16cm in height so it will suit any type of bed. The image below showcases the position of each layer.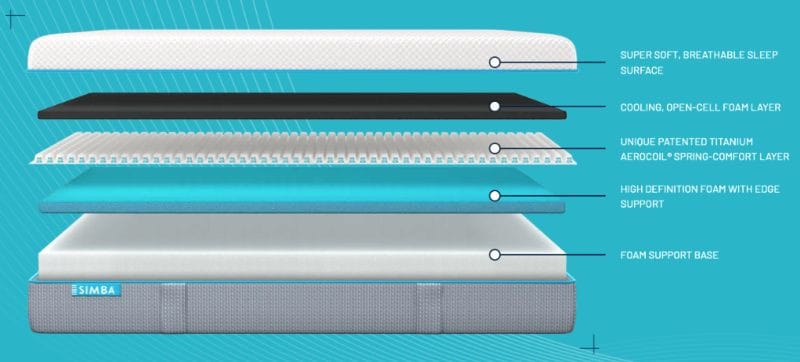 Cover
The cover of the Simba Kids mattress is made of a knitted fabric that allows airflow. This ensures that the mattress will breathe properly. It's known that many kids get hot during the night so you should make sure that you choose a mattress that can regulate heat efficiently. Simba does a great job on this end as it features open-pore foam materials and a breathable cover. The design is almost identical to the one found in the adult range and it's a beautiful one. On the sides, they have added side handles that will allow you to move it with ease. After all, this is not a heavy mattress.
Unfortunately, the cover is not removable; in my opinion, this is the biggest downside. At this price, I was definitely expecting that so you will have to use a mattress protector. I would suggest a waterproof one like the Terry Cotton protector. Overall, this is a nice cover but it's not tailored for kids so there is definitely room for improvement here.
Delivery & Service
One of the great things about this mattress is that it comes with great service and support. If you order one, you will get a 200-night trial period that allows you to try this mattress for a really long time. If you are not happy with this purchase, you have the right to return it and get a full refund. In this case, the people at Simba will give your money back and will collect the mattress for free. Moreover, the Simba Kids mattress comes with a 10-year guarantee so you shouldn't worry about any defects. Finally, all Simba mattresses come with free delivery which usually takes 2-5 working days. I remind you that this is a boxed mattress so it will come packed inside a carton box. Overall, this is a fantastic service package that is hard to find elsewhere.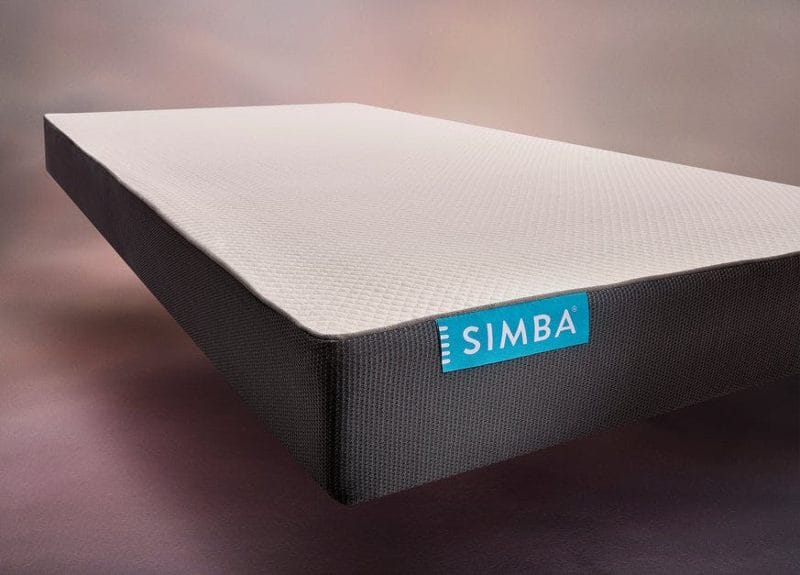 Safety
Before you buy a mattress for your child, you should always pay attention to the materials used and look for any other safety issues. All foams used to make the Simba Kids mattress are CertiPUR certified. That means that they are free from dyes and heavy metals. Moreover, the engineers at Simba have developed a clever edge support system so your child won't roll off the bed. Finally, this mattress is suitable for mid-sleeper beds and bunk beds as it has a medium profile. All the above reasons make it a great choice for children aged three and older.
Verdict
I would like now to complete this Simba Kids mattress review and share my final thoughts about it. This is definitely one of the best options out there. It features great technology and brilliant service and that is hard to ignore. Having said that, the cost can be too high for some people but if you find it at a discount, this is an option that you should consider.
Simba Kids Mattress Review
PROS
Fantastic materials
Great technology
200-night trial period
CONS
Cover is not removable
Quite expensive