Casper is one of the biggest mattress companies in the world. They were among the first ones to dominate the US with their rolled mattresses. In this Casper Hybrid mattress review, I will explore their latest make which features springs!
After releasing the Casper Original with great success here in the UK, they decided to expand their range. This is how the Essential and the Hybrid were developed. I like hybrid mattresses so I was excited to hear that Casper decided to do their own version. Mine arrived around 3 weeks ago so it's a good time now to write this review.
What is a Casper Hybrid mattress made of?
The Casper Hybrid has a 5-layer construction. These are:
A comfort foam layer that is quite soft. It's there to provide your body with comfort but also to keep the sleeping surface cool during sleep.
A memory foam layer that is there to provide your body with the needed pressure relief.
A transition foam layer that helps with even weight distribution.
A layer made of springs that are there to provide your body with the needed support.
A firm perimeter that ensures that the mattress has good edge support. This is a clever design that works very well.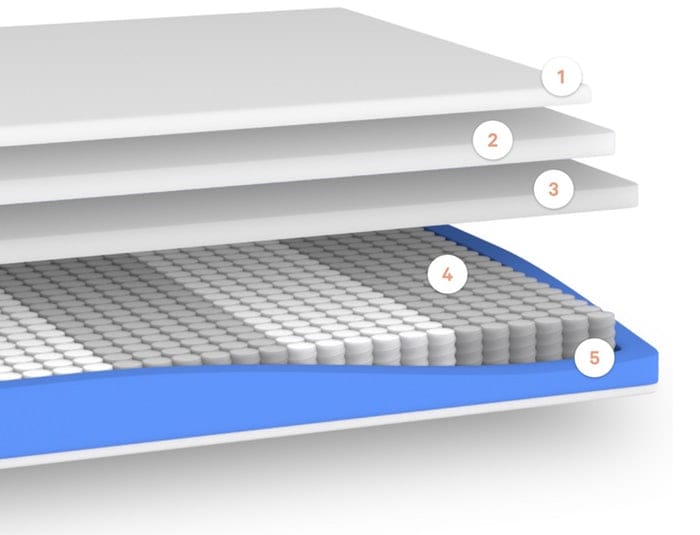 How good is the cover?
The cover of the Casper Hybrid is made of 99% polyester and 1% elastane. This makes it quite breathable which is very important. The elastane helps the cover stay in place and improves the fit. It's very similar to the Casper Original cover. The design follows a two-tone scheme with the top part being white and with the sides featuring a beautiful jeans-like fabric. They have also placed 4 handles that will help you when you want to transfer the mattress.
The sleeping surface feels nice and relatively soft. The whole cover seems well constructed and I think it will last for long. If you want to clean it then you can remove it and machine-wash it at 40 degrees. Overall, I loved the cover as it's both practical and beautiful.
How firm is the Casper Hybrid?
Most 'mattresses in a box' these days have a medium-firm feel. The same happens with the Casper Hybrid. If I use my virtual scale here, I would say it's a 6 with 10 being very firm. This makes it slightly softer compared to the Casper Original. It's time now to talk about the different sleeping positions and how the Casper Hybrid performed.

Starting from the back position, I felt the memory foam layer hugging my hips and shoulders. I also felt well supported by the springs and the pressure relief was adequate. I was quite comfortable in this position.
Moving to the side position, the springs adjusted quickly to my weight and sinkage increased. My spine was aligned properly and I felt well supported. I think that the Casper Hybrid handled my weight (14 stones) well so if you are a big guy like me this mattress can be a good fit.
Finally, moving to the stomach position, the mattress reacted quickly enough but I felt that it was slightly softer than I would like this to be for this position. The memory foam made me feel comfortable but I felt that in the hips area I could be better supported.
Regarding the edge support, I would say that it's among the best I have seen. The firm perimeter they have used here definitely does a great job. Finally, the motion transfer is not that noticeable and I must say for a hybrid mattress this is quite impressive.
Do I need a special bed to use this mattress?
The Casper Hybrid can be used with any flat surface that can offer a lot of direct support to the mattress. This means that you can even place it on your floor. However, I would personally advise you to use a bed frame which will help with airflow as well. If you use slats, make sure the distance between them is not bigger than 7cm. The Casper Hybrid can also work with other types of beds like platform beds or adjustable bases.
Is this a boxed mattress?
I have already mentioned that this mattress is a rolled one. This means that it will come packed in a carton box and it will be delivered directly to your door. The mattress comes with free delivery for all sizes which is great news. However, this is only for the weekdays. If you want a Saturday delivery, you will need to pay an extra £20. For the same money, you can also get next day delivery. Besides that, they also offer other services. For example, you can have your old mattress removed for £15. This means that with a total of £35 you can have an amazing service. This is not a bad deal at all!
The companies they use for their deliveries are UPS and Arrow XL. My mattress arrived 5 days after I had placed my order and I received good communication from them. The couriers were on time and the whole process was smooth.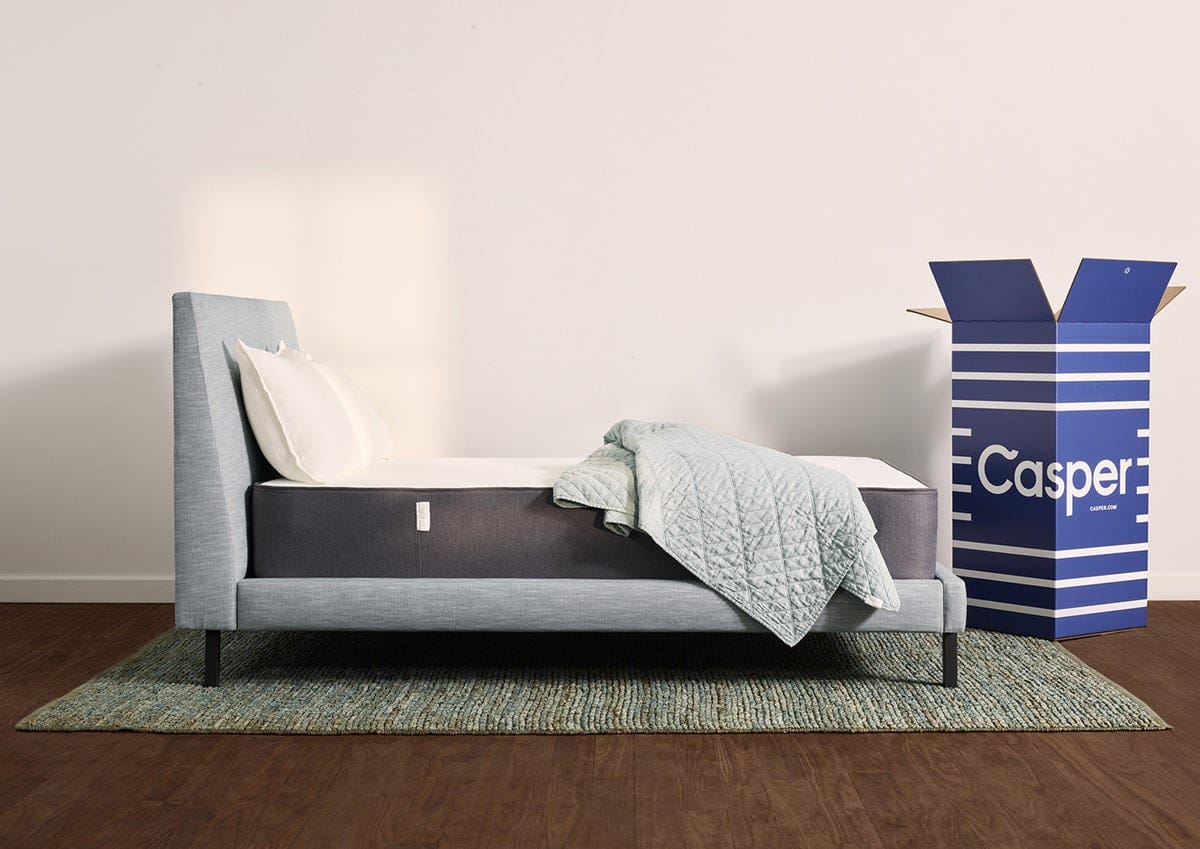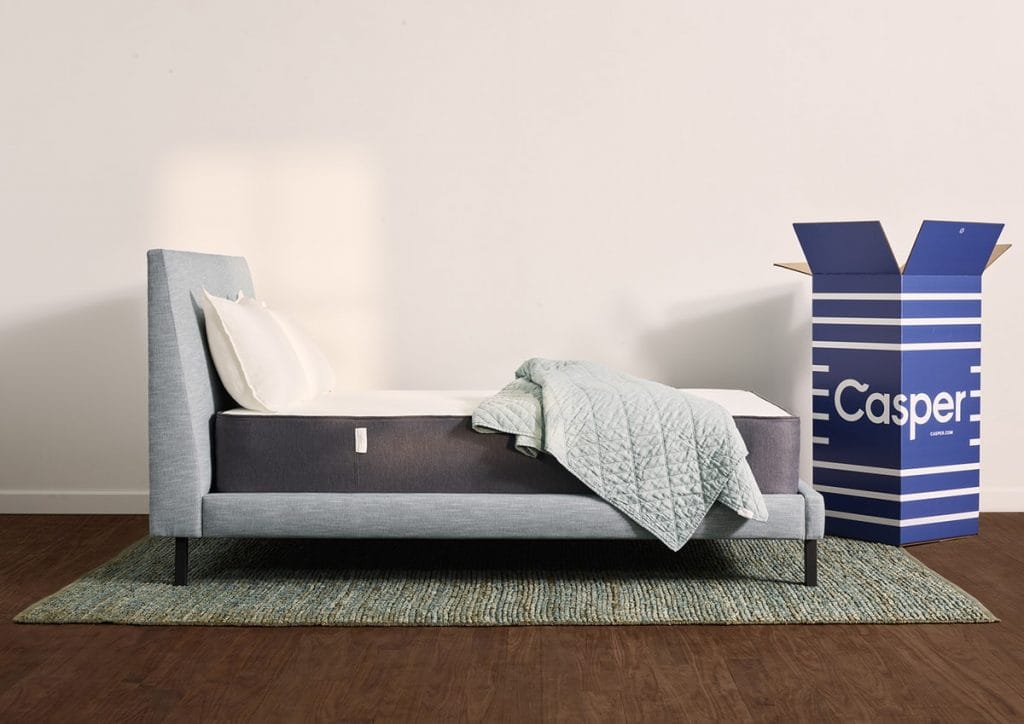 Does it come with a guarantee?
Just like the other Casper mattresses, the Hybrid one also comes with a 60-night trial period. This is exactly 2 months for you to decide whether you want to keep this mattress or not. If you are not happy with it, you can return it for free and get a full refund. The whole process is not complicated and all you have to do is contact their customer service department and they will arrange everything for you. I have to let you know here that you don't need to keep the original packaging to be able to return this mattress. Besides that, you will also get a 10-year guarantee which covers you against defects in materials and/or workmanship. If you want to know the full details of the guarantee you can check their page here. Overall, they offer a complete package here so no complaints at all.
How much does it cost?
The Casper Hybrid is available in 8 sizes which is great! They understand that customers have different needs so they released this mattress in both UK and EU sizes. The Single starts from £625 with the Super King selling for £1,250. The table below has pricing information about all available sizes.
| | | |
| --- | --- | --- |
| SIZE | DIMENSIONS | PRICE |
| Single | 90 x 190 x 24cm | £625 |
| EU Single | 90 x 200 x 24cm | £675 |
| Small Double | 120 x 190 x 24cm | £800 |
| Double | 135 x 190 x 24cm | £900 |
| EU Double | 140 x 200 x 24cm | £950 |
| King | 150 x 200 x 24cm | £1,000 |
| EU King | 160 x 200 x 24cm | £1,100 |
| Super King | 180 x 200 x 24cm | £1,250 |
Is the Casper hybrid mattress for me?
The time has come now to complete this Casper Hybrid mattress review. Casper is a brand that has already dominated the market with their foam mattresses and now they have released a hybrid one. I would say that this would be ideal for anyone looking for:
A mattress that has excellent edge support.
A hybrid mattress that is aimed mainly towards back and side sleepers.
A rolled mattress that is manufactured here in the UK and comes with excellent service and support.
I think that the Hybrid is a better overall mattress compared to the Original one but it comes with a higher price. If you are fine with it and you look for the above characteristics, then this can be a great choice for you.
Casper Hybrid Mattress Review
PROS
Excellent edge support
Great cooling system
Fantastic service & support
CONS
Not ideal for stomach sleepers