Casper is one of the most popular mattress brands in the world. They changed the game with their offering and recently they released a new product. In this Casper Essential mattress review, I will talk about this all-foam version that is aimed towards people who want a quality mattress but don't want to break the bank.
The Essential mattress just like the Casper one is an all-foam mattress. However, it has a way simpler construction but I will talk about this later. It is a rolled mattress and it comes directly to your door, all packed in a carton box. The mattress is manufactured here in the UK and you need to give it a day to decompress after taking it out of the box. My Casper Essential arrived 3 weeks ago so it's a good time now to write the full review.
Below you can find the video review that my colleague Panos created:
What is a Casper Essential mattress made of?
The Essential mattress measures 18cm in height and has a very straightforward construction. In total it's made of 2 layers plus the cover. These are:
Top Layer: An open-cell foam layer that is there to provide the body with the needed comfort. It's a very breathable material that helps the mattress stay cool during the night.
Bottom Layer: A firmer support foam layer that provides the body with the needed support. This layer has contour cuts in the shoulder and hip areas which help the spine to align properly. This is very important and Casper did eat very cleverly. This foam layer is also the base of the mattress.
In the image below, you can see the inside of the Essential mattress.


What is the cover made of?
The cover of the Essential mattress is made of 100% polyester. They chose this material because it has some important advantages. It's very breathable which is the first thing you want from a good cover. Moreover, it's quite strong and it's easy to maintain. The downside is that it doesn't feel very soft but I think that the pros are more than the cons. In general, the cover fits well around the mattress and it won't bung up during sleep. The design of this cover is a very beautiful one. I love the colour they chose, the texture seems like a jean fabric but it's not, and I genuinely enjoyed the minimal design with the dark tone. Personally, I am a bit bored of all these bright colour covers and I am happy Casper changed that.
The Essential mattress is a budget one which means that you won't find the extra features like handles or anti-slip elements in this cover. This is expected considering the price it sells. Overall, Casper made a good looking cover that does the job and has the important features of a good cover.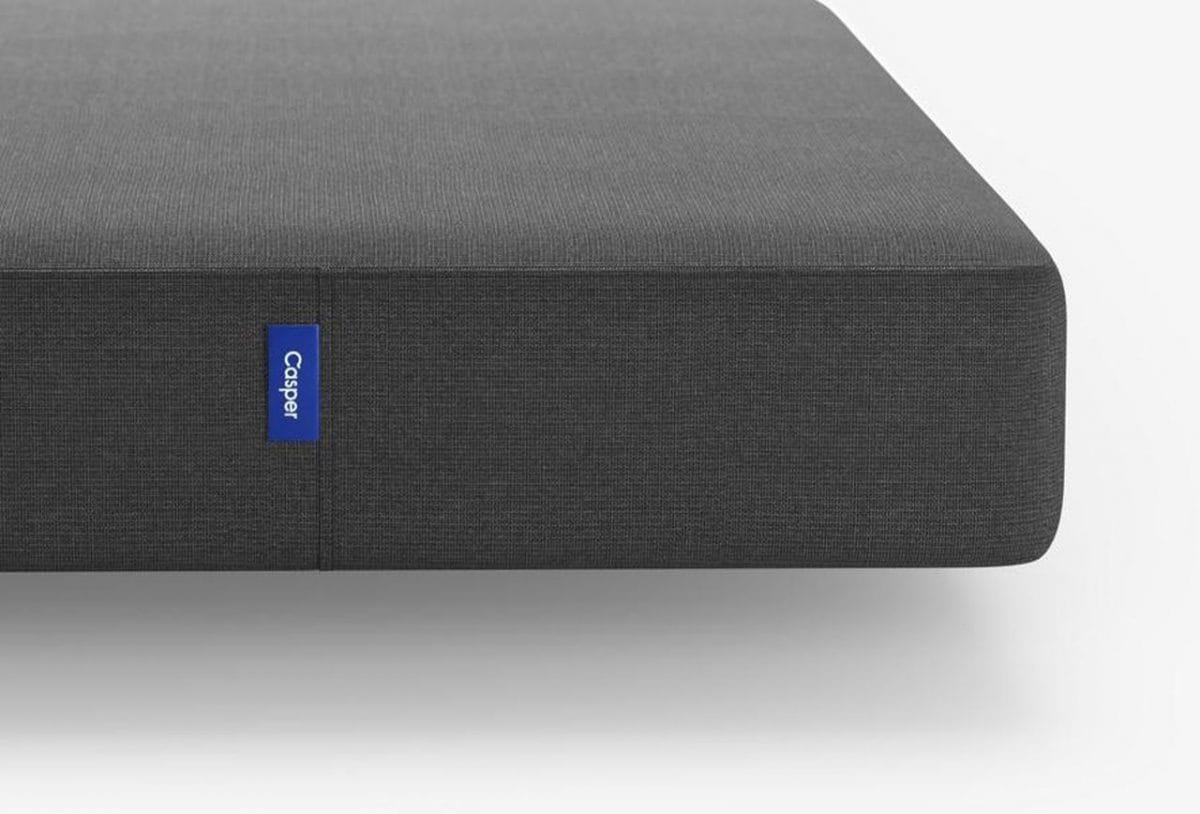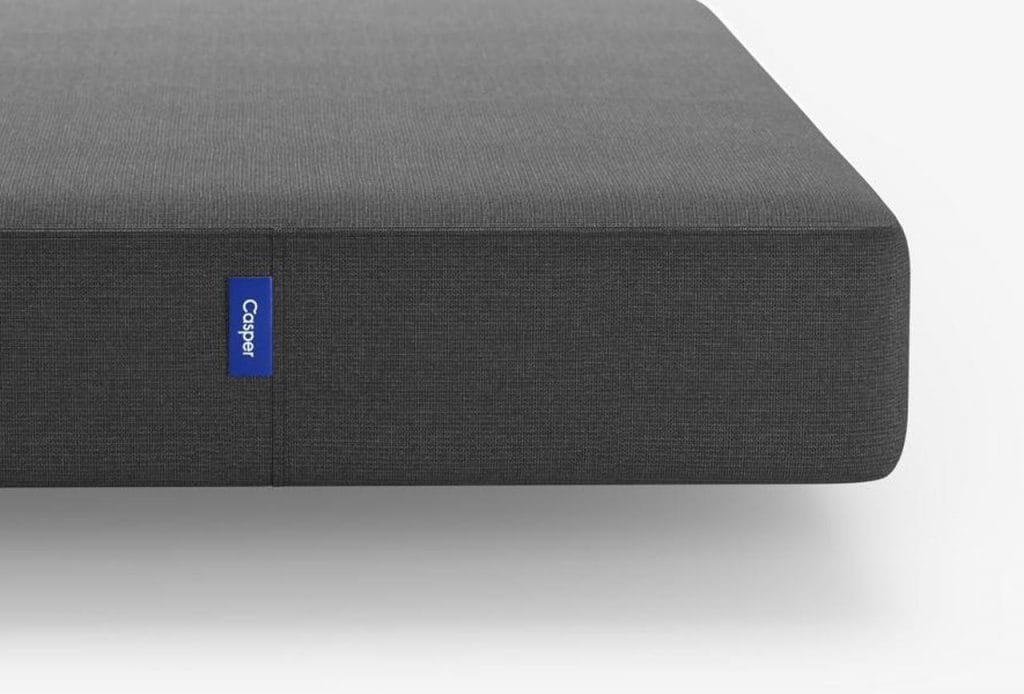 How firm is this mattress?
The Essential mattress was designed to suit most people's needs. It has a medium-firm feel like most rolled mattresses these days. If I use my virtual scale, I would say it's a 6.6 with 10 being really firm. When it comes to firmness, it's very similar to the Casper mattress. I would like now to talk about the different sleeping positions and how the Essential mattress performed.

Starting from the back position, the mattress reacted quickly and I felt supported. The mattress did a good job with my hips and shoulders and it was quite comfortable in this position. The lack of memory foam meant that pressure relief was not enough but this is something I did expect from a budget mattress.
Moving to the side position, sinkage increased but I felt that the mattress was not thick enough to ensure my spine was aligned properly. I think this is one limitation when you use a 2 layer construction. It wasn't uncomfortable but I felt something was missing here. In general, the side position is the most demanding one and even more expensive mattresses can struggle with it. The foam is soft enough though not to feel any pain in the hips area which is something I liked.
Finally, moving to the stomach position I felt that the mattress did a good job. I believe the contour cuts are very well placed and they did a great job with my hips. I was comfortable in this position and I didn't find a major flaw here.
The mattress is well built but the edge support is not ideal which again is expected from a budget mattress. Overall, I think that the Essential did very well if we consider the price. It's definitely the best budget mattress I have seen.
What type of bed should I use with this mattress?
According to the maker, the Casper Essential mattress can work with any flat surface providing it can offer plenty of direct support. If you use a frame with slats make sure the distance between each slat is not greater than 4 inches. The mattress can also work with a platform bed or an adjustable base. In general, there are no special requirements but do make sure your mattress is getting enough direct support to perform properly.
Is this a boxed mattress?
As I have already mentioned above, the Essential mattress comes packed in a box that measures 40 x 40 x 110cm. They offer free delivery for every size and mattresses are delivered from Monday to Friday. If you want a scheduled delivery or next day delivery this will cost you an extra £20. At this price, the couriers will also set up the mattress for you and remove the packaging. On top, they can also remove your old mattress for an extra £15. This is a good deal as with £35 in total you can have superb service.
Casper use UPS and Arrow XL to ship their mattresses in the UK. Mine arrived 6 days after I placed my order and the courier was polite and friendly. I went for the free delivery so the box was delivered to my doorstep and I had to carry it to my room. However, this is not a heavy mattress so I was fine. Overall, the experience was good but I would like to have the option for a Saturday delivery.
Does this mattress come with a trial period?
The Essential mattress comes with a 60-night trial period which means you have 2 months to decide whether you want to keep it or not. If you are not happy with it, you can return it and get a full refund. All you have to do is talk to their customer service department and arrange the collection. You don't have to keep the original packaging to be able to return your mattress. The Essential mattress also comes with a 10-year guarantee which is great! Make sure you read all the T&Cs so you know exactly what the cover is. Overall, you are getting a complete package here.
How much will I pay for it?
The Essential mattress is available in 7 sizes. This is something that Casper does very well as they understand that customers have different needs. This means that no matter what your old base is, you will definitely find the size that suits it. This mattress is a 'budget' one so pricing is very competitive. The UK Single sells for as little as £325 with the UK Super King one going for £700. In the table below, you can find the prices for all sizes.
| | | |
| --- | --- | --- |
| SIZE | DIMENSIONS | PRICE |
| Single | 90 x 190 x 18cm | £325 |
| EU Single | 90 x 200 x 18cm | £375 |
| Small Double | 120 x 190 x 18cm | £475 |
| Double | 135 x 190 x 18cm | £500 |
| King | 150 x 200 x 18cm | £550 |
| EU King | 160 x 200 x 18cm | £600 |
| Super King | 180 x 200 x 18cm | £700 |
Is the Casper Essential mattress for me?
It's time now to complete this Casper Essential mattress review. After sleeping on it for 3 weeks now, I can definitely say that this mattress is not the best overall but it's definitely the best budget one. I would say this mattress is great for anyone looking for:
A foam mattress from a reputable maker that comes at an affordable price.
A mattress that performs well in the back and stomach position.
A rolled mattress that comes with excellent service and support.
Starting at only £325, the Essential mattress is ideal as a guest bed or for people on a budget. Casper cut some corners here to reduce the price but overall is a decent mattress. Of course, if you can stretch your budget a bit then you should go for the Casper mattress. If not, then the Essential is a good choice for the money you will spend.
Casper Essential Mattress Review
POSITIVES
Very affordable
Quite comfortable
Excellent service and support
NEGATIVES
Not enough pressure relief