In this REM-Fit Bamboo Charcoal Memory Foam mattress review, I will talk about this new release from the popular American brand. After seeing great success with their REM-Fit 500 mattress, they decided it was time to develop an affordable option that is designed for those on a budget.
Unlike their other 3 mattresses, this is not a hybrid one and by doing so they managed to cut costs. This is a memory foam mattress that is built here in the UK and it will come packed in a box. I got mine about 2 weeks ago so it's time now to move to the full review below.
What is a REM-Fit Bamboo Charcoal Memory Foam mattress made of?
This mattress has a straightforward design and it features a total of 2 layers plus the cover. In detail, these are:
A 3cm bamboo infused memory foam layer that is designed to stay cool during the night. It has pressure relieving properties but it also adds comfort. This type of foam provides natural temperature regulation without the use of cooling chemicals.
A 17cm high-density foam layer which is essentially the base of this mattress. It comes with zoned support areas that can provide added cushioning for demanding areas like your hips and shoulders.
The mattress measures 20cm in height and it's a relatively thin one. The image below showcases the position of each layer.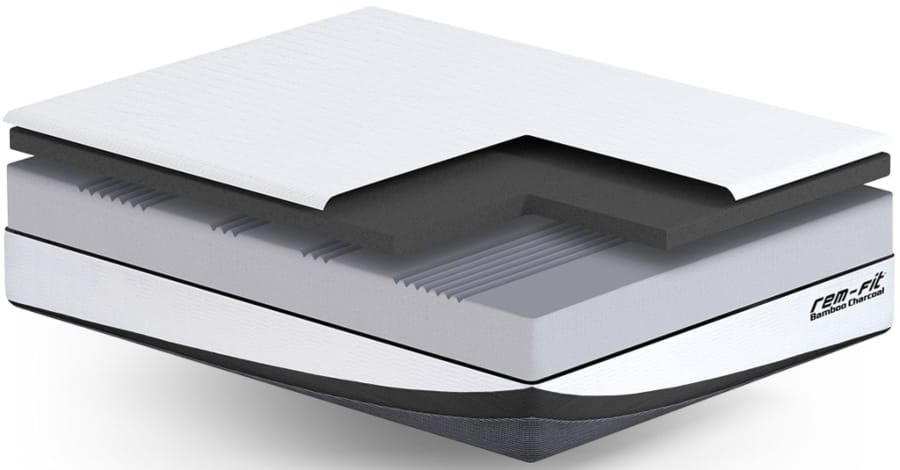 What is the cover made of?
The cover of the REM-Fit Bamboo mattress is made of Re-Ax knitted fibres. This is the same material that they use to make their other mattresses and it has a number of impressive characteristics. The main advantage is its ability to regulate the body's heat in an efficient way. It achieves that by transferring moisture and heat when needed. Besides that, it's a breathable material but at the same time a very durable one. The cover has a nice feel and it's removable. If you want to clean it you can remove it and use your washing machine at 40 degrees. The design is a modern one featuring a dual-tone cover. The upper part is white with the bottom part being black. Overall, it's a high-quality cover and I am glad REM-Fit used this material at this price point.
How firm is the REM-Fit Bamboo Charcoal Memory Foam mattress?
This mattress was designed to suit the average sleeper so it comes with a medium-firm feel. If I use my virtual scale here, I would say it's a 6.7 with 10 being really firm. Let's see now how this mattress performed in the different sleeping positions.

Starting from the back position, the memory foam layer hugged my body and pressure relief was great. The zoned system supported my body and it was comfortable in this position.
Turning to my side, the mattress reacted quickly and sinkage increased. Support was good and I felt that my spine had a good alignment.
Finally, turning to the stomach position, the mattress was firm enough to support my hips and shoulders. My spine was aligned properly and overall it was comfortable sleeping this way.
If you are a couple, the REM-Fit Bamboo Charcoal mattress has minimal motion transfer. That makes it a good option for you and your partner. On the other hand, edge support is average but this is expected from a mattress of this kind.
What type of bed to use with this mattress?
This mattress doesn't need a special setup so you can use your old bed frame. However, I would advise you to use a slatted frame or a box spring. These types of beds offer great support for your mattress so it will perform better. If you use a slatted frame, make sure the distance between them is no longer than 7cm.
How will it be delivered?
I have already mentioned above that this is a boxed mattress. It will come packed in a carton box and it will be delivered to your doorstep. REM-Fit offer one of the best services in the market and you will get free next day or day of choice delivery if you live in the UK. I have to point out here that this is something that not many makers offer. In my case, the whole process was smooth and I got good communication. The courier was prompt and polite and overall I had a good experience with them.
Does the REM-Fit Bamboo Charcoal Memory Foam come with a trial period?
All REM-Fit mattresses come with a 100-night trial period that gives you plenty of time to try and decide later whether you want to keep it or not. If you are not happy with your mattress, you can return it and get a full refund. The process is a simple one and all you have to do is contact them and they will arrange everything for you. When a mattress is returned, it's donated to the British Heart Foundation. This is a great gesture by REM-Fit and it's something more people should do.
In addition, you will get a 15-year guarantee which is one of the longest in the market. That shows how confident they are about their products and how much they value their customers. Overall, this is a complete package here so no complaints at all.
How much does it cost?
The REM-fit Bamboo mattress is the most affordable mattress they make. The smaller (Single) size sells for £319 with the bigger (Super King) size going for £649. However, you won't have to pay the full price as they run promotions very frequently. The table below has pricing information for all available sizes.
| | | |
| --- | --- | --- |
| SIZE | DIMENSIONS | PRICE |
| Single | 90 x 190 x 20cm | £319 |
| Double | 135 x 190 x 20cm | £469 |
| King | 150 x 200 x 20cm | £519 |
| Super King | 180 x 200 x 20cm | £649 |
Is the REM-Fit Bamboo Charcoal Memory Foam mattress any good?
It's time now to complete this REM-Fit Bamboo Charcoal Memory Foam mattress review and share my final thoughts with you. I think that this mattress would be ideal for those looking for:
A memory foam mattress that is good for all sleeping positions.
An affordable mattress that is designed to sleep cool.
A mattress that comes with excellent service and support.
If you look for all these, the REM-Fit Bamboo mattress should be high on your consideration list. It's one of the best value for money mattresses I have reviewed and REM-Fit really impressed me. If you have a limited budget and you want a great mattress, this is a good option for sure.
REM-Fit Bamboo Charcoal Memory Foam Mattress Review
PROS
Good for all sleeping positions
Great cooling system
15-year guarantee