If you have an old mattress, you should probably read this Emma Flip topper review. This new product from the German maker promises to rejuvenate your old mattress and make you sleep better.
This topper comes with two sides, one soft and one firm. That means that you can choose the one that best suits your needs. As I have already mentioned before, a topper can only help you if your old mattress is supportive. If not, then the time has come for you to get a new one. My Emma Flip topper was delivered almost two weeks ago so let's move now to the full review below.
Materials
This topper features 2 foam layers that have different firmness profiles. The first one is an HRX ZeroGravity foam layer that is supportive and can provide your back with pressure relief. You should have this side up if you prefer a firmer feel. The second one is an Airgocell® foam layer that is very breathable and has excellent cooling properties. Moreover, this type of foam is the softer of the two and will create a cloud-like experience for you. Around the foam layers, there is an UltraDry cover that can absorb any excess humidity and create a pleasant sleeping environment. This cover is removable and machine washable so it's very easy to clean. Overall, the Flip topper is a well-made one and Emma did a great job here.

Support & Comfort
As I have already mentioned above, this topper has two sides so you can choose between a firm or a softer feel. I tried both and I must admit that the two sides don't differ much. Having said that, I felt that the softer side is more comfortable but the firmer is more supportive. The good news is that pressure relief is great, regardless of the side. This topper is designed to minimise motion transfer so if you sleep with your partner, this can be a good option. Overall, the Flip topper is both supportive and comfortable and it's one I personally liked.
Trial Period & Warranty
If you don't feel comfortable buying a topper online, there is some good news for you. The Emma Flip topper comes with a 100-night trial period that allows you to try this topper and decide later if this works for you or not. In case you are not happy with it, you can return it and get a full refund. The return process is free and the people at Emma will arrange everything for you. Besides that, this topper comes with a 10-year warranty that will cover you for a really long time. This is very impressive and it's something that it's usually offered only for mattresses. The package is probably the best you will find so no complaints here.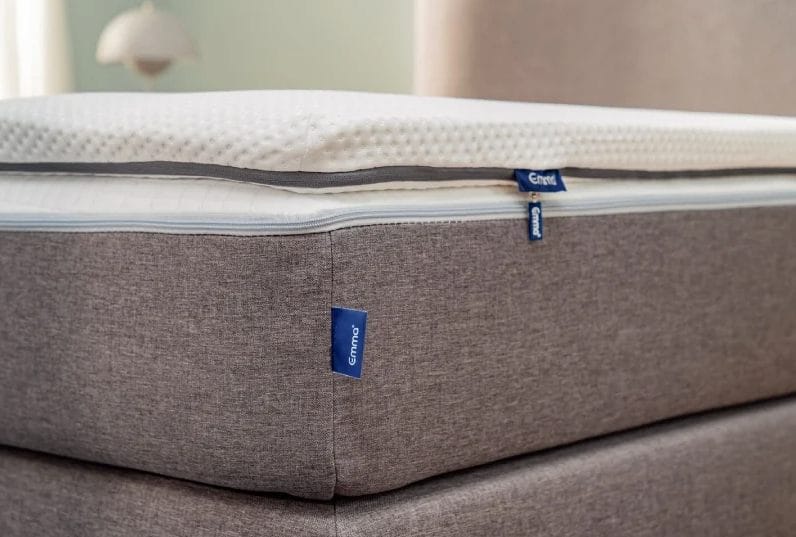 Pricing
The Emma Flip topper is available in 3 sizes so they are limited options for you to choose from. The smaller size (Double) will cost you £315, while the bigger one (Super King) goes for £375. However, Emma is a brand that frequently runs promotions so you will probably pay less than that. For instance, at the moment of writing this review, there was a 45% off promotion. That means that a King topper would cost you only £190. The table below has pricing information for all available sizes.
| | | |
| --- | --- | --- |
| SIZE | DIMENSIONS | PRICE |
| Double | 135 x 190 x 5cm | £315 |
| King | 150 x 200 x 5cm | £345 |
| Super King | 180 x 200 x 5cm | £375 |
Should I buy the Emma Flip topper?
You will find out soon since I am ready to complete this Emma Flip topper review. In my opinion, this is a versatile option that can solve a series of problems. If you look for more comfort and support this is an excellent solution that will rejuvenate your old mattress.
PROS
Two firmness profiles
Great cooling system
10-year warranty
CONS
Design is not very attractive