Many people look for a way to rejuvenate their old mattresses. If you fall into this category, you should read this Hypnia mattress topper review. For those who have never heard of this maker, Hypnia recently launched in the UK after seeing great success in Europe. They have developed an extensive range of products that includes the Hypnia Supreme Hybrid mattress.
A topper can be a lifesaver as it has the ability to transform an old mattress and extend its life. Having said that, you should only consider getting one if your old mattress is still supportive but you need more comfort and pressure relief. In any other case, you should just accept that it's time to get a new mattress. The Hypnia topper is an affordable choice but more on that later. Without any further ado, let's move to the full review below.
Materials
This topper has a straightforward design and it's made entirely of a single piece of memory foam. This is a 'generous' layer that measures 8cm in height and this is quite impressive. Around it, there is a breathable cover that is made of 100% polyester. It's a removable one and if you want to clean it you can pop it inside your washing machine. The cover features a zipper so it's really easy to remove. At the bottom of the topper, the Hypnia designers have added an anti-slip layer that will keep this topper in place. However, I would prefer some elastic straps as they do a better job of keeping it in place. Overall, this is a well-made topper that won't disappoint.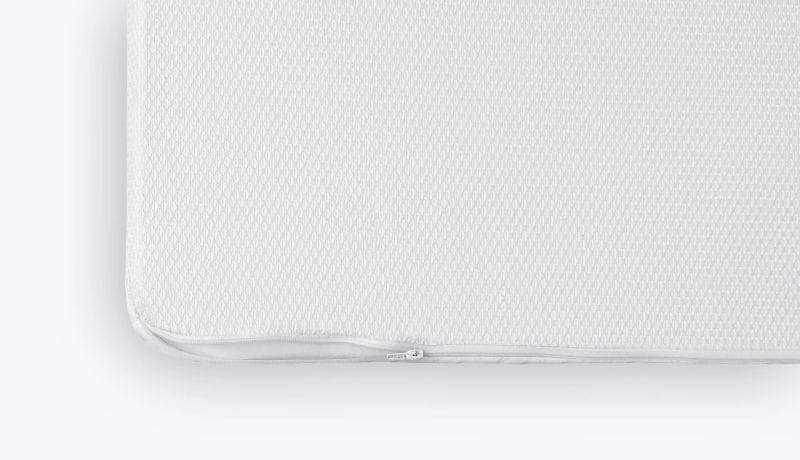 Support & Comfort
One of the main questions about this topper is whether it can help with comfort or pressure relief. To find out, I placed it on my old IKEA mattress and I must say, I saw a big improvement. Firstly, the mattress became more comfortable and from a firm feel, it turned into a medium-firm one. Secondly, the memory foam added pressure-relieving properties and I felt that my joints were better rested. For these two reasons, I believe this is worth the money but you need to make sure that your old mattress is structurally good. The topper stayed in place and overall, I felt that it delivered what it promised.
Trial Period & Guarantee
One of the areas in which Hypnia excels is the level of service they provide to their customers. When you buy a topper, you will get a 200-night trial period that gives you more than 6 months to try it. Depending on whether you like it or not, you have the right to either keep it or return it and get your money back. Additionally, the topper comes with a 15-year guarantee which is definitely the longest in the market. This is very impressive and I must say I was positively surprised by this package. Hypnia does a great job here so there is no reason for me to have the slightest complaint.

Pricing
The Hypnia topper is available in 5 sizes so you will definitely find one to match your mattress size. The smaller one (Single) goes for £255 while the bigger one (Super King) sells for £385. However, Hypnia is a brand that runs promotions very frequently so you should expect to pay less than the retail price. For example, I paid only £219 for a double topper. For more information about the available sizes, you should look at the table below.
| | | |
| --- | --- | --- |
| SIZE | DIMENSIONS | PRICE |
| Single | 90 x 190 x 8cm | £255 |
| Small Double | 120 x 190 x 8cm | £297 |
| Double | 135 x 190 x 8cm | £315 |
| King | 150 x 200 x 8cm | £343 |
| Super King | 180 x 200 x 8cm | £385 |
Is this a good buy?
This is the question I have to answer now that I am ready to complete this Hypnia mattress topper review. I think that this is a well-made topper that will add comfort and help you take the pressure off your spine and joints. It's fairly priced and it comes with an excellent service package. For all these reasons, this is a topper that I can recommend.
Hypnia Mattress Topper Review
PROS
Adds comfort and pressure relief
Washable cover
200-night trial period
CONS
Lack of elastic straps