If your old mattress has become too uncomfortable, it might be time for a new one. Or maybe not? In this Simba Hybrid Essential topper review, I talk about this easy way to rejuvenate your old mattress.
Toppers can be really useful, especially for mattresses that have a good structure and ability to support. If your mattress lacks comfort, then you should consider getting a topper instead of replacing your old mattress. I decided to order mine almost two weeks ago so let's move now to the full review below.
Materials
Despite the fact that this topper measures only 7cm in height, it still features 3 different layers. At the top, there is a Simbatex foam layer that is there to provide extra comfort. This is an open-cell type of foam that is infused with graphite. This allows it to draw heat away from the body and create a more comfortable sleeping environment. Underneath that, there is a layer made of Aerocoil springs. These measure 2cm in height and they can add extra support. Their design allows airflow so this topper can breathe well. This type of spring doesn't transfer motion which is great news for couples. Finally, at the bottom, there is a high-density foam layer which is the base of this topper. All foams used here are CertiPUR-certified so they are free from any harmful substances.
The cover of this topper is made of polyester and it's a breathable one. Moreover, it's durable and if you want to clean it, you can remove it and pop it inside your washing machine. Make sure you use a reduced spin cycle at 40 degrees. Overall, this is an extremely well-made topper and its quality really impressed me.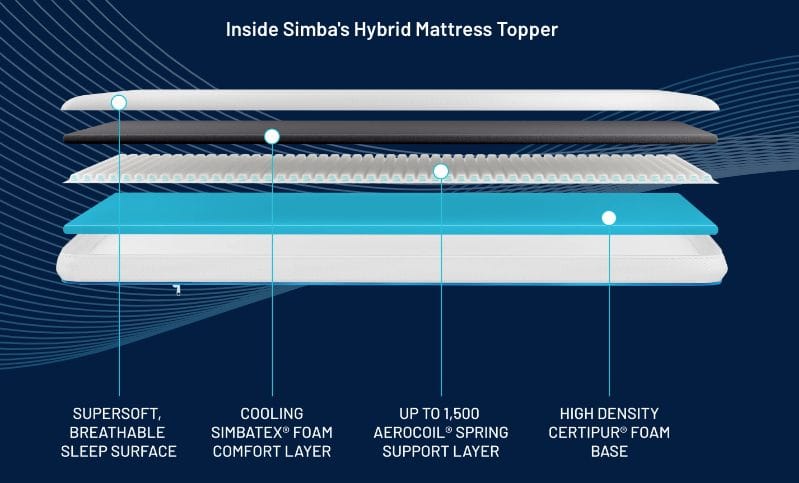 Support & Comfort
For this review, I used the Simba topper with my old IKEA mattress which feels too firm these days. The Hybrid Essential topper instantly made it feel more comfortable and I felt there was a big improvement. Besides that, pressure relief was noticeable and that really impressed me. In my opinion, the Simba topper could prolong the lifespan of my old mattress so mission accomplished. The straps did a great job keeping the topper in place and overall, I was very happy with its performance.
Trial Period & Warranty
One of the best parts about this topper is that it comes with a 200-night trial period. That gives you plenty of time to try it and decide later whether you want to keep it. If you are unhappy with its performance, you have the right to return it and get your money back. Returns are free and once you have contacted them, they will arrange everything for you. Besides that, the Hybrid Essential topper comes with a 10-year guarantee. This will cover you for a really long time and it's impressive they offer this for a bedding product. Add a free delivery service and you have one of the best support packages out there. Simba does a fantastic job here so I would be mad to complain!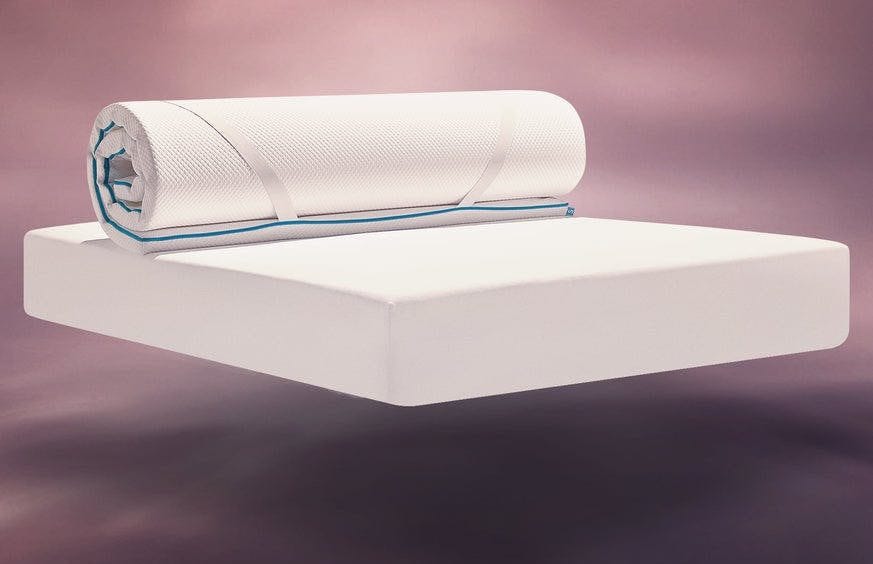 Pricing
This topper is a relatively expensive one but this is normal if we consider the specs here. The smaller size (Single) sells for £229 with the bigger size (Super King) going for £399. The good news here is that Simba runs frequent promotions so you will probably pay less than the retail price. For instance, at the moment of writing this review, there was a 35% off promotion. For more information about the available sizes and their prices, look at the table below.
| | | |
| --- | --- | --- |
| SIZE | DIMENSIONS | PRICE |
| Single | 90 x 190 x 7cm | £229 |
| Small Double | 120 x 190 x 7cm | £279 |
| Double | 135 x 190 x 7cm | £279 |
| King | 150 x 200 x 7cm | £299 |
| Super King | 180 x 200 x 7cm | £399 |
Should I buy this topper?
It's time to complete this Simba Hybrid Essential topper review and share my final thoughts with you. Just like the Simba Hybrid topper, this is another great release from the British maker. The main downside here is the price but if you look for something of that quality, there aren't many other alternatives out there. If replacing your old mattress is not an option, this is a topper you should consider.
Simba Hybrid Essential Topper Review
PROS
Excellent materials
Very comfortable
200-night trial period