After the recent release of this collection, I was really keen to write this Emma Select mattress reviews post. Emma decided to partner with Furniture Village to create an exclusive collection that consists of 6 different mattresses. This is exciting news from the German maker as it now offers British sleepers more choices. All Select mattresses are hybrid ones and they combine foam layers with pocket springs. As you expect, these are rolled mattresses so they come packed in a carton box. Let's move now to the more detailed reviews below.
Is the Emma Select collection any good?
Emma wouldn't partner with Furniture Village if they were not confident that they can offer sleepers high-quality mattresses combined with great service. All mattresses in this collection are made with high-quality materials and come with excellent finishing.
Many of you will wonder about the differences between this collection and what Emma sells on their site but the answer is not an easy one. Emma used very similar technology when designing the Select collection but of course, there are still a few differences. Having said that, I think that the main principle remains the same here so you will get excellent value for your money which is something that Emma does great! Keep reading below to find out more about the 3 different types of mattresses available.
Emma Select Helix Mattresses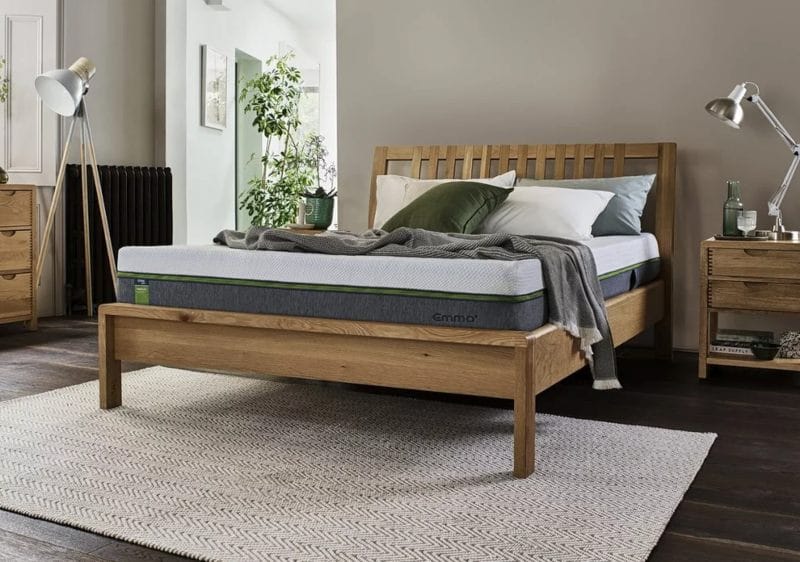 The Emma Select Helix collection seats at the middle of their range and it features two mattresses. They have an identical design but they come with different firmness profiles. The Helix Hybrid is the softest of the two (medium feel) while the Helix Firm comes with a medium-firm feel. The design of this mattress features a 4 layer construction and combines memory foam with pocket springs. These layers are:
An HRX foam layer.
A memory foam layer.
A Helix foam layer.
A layer made of pocket springs.
Who is it for? The Helix collection is designed for restless sleepers that look for a mattress with temperature regulating properties. Depending on your preferred sleeping position and taste, you can choose between the hybrid or the firm option. Both mattresses are well balanced and they are available in 5 sizes.
Emma Select Smart Mattresses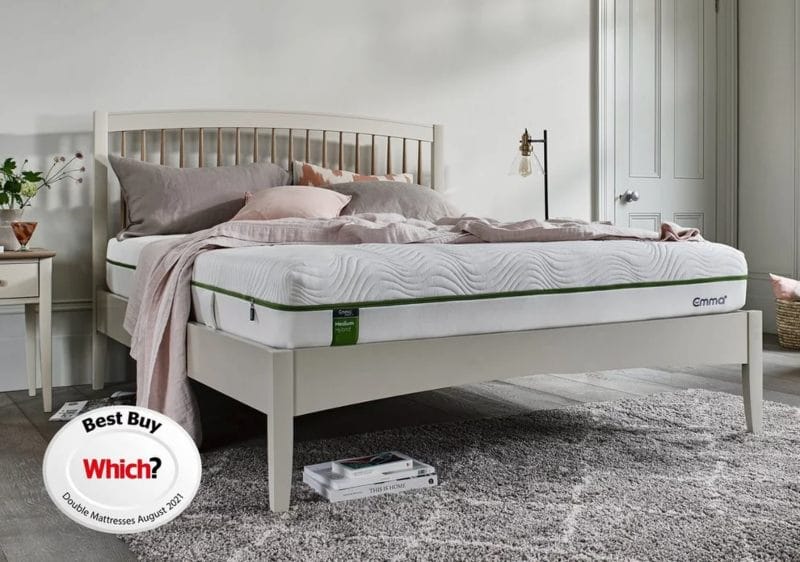 The Emma Select Smart collection is the cheapest of the three and features two mattresses. Again, you have two options here, a medium one (Hybrid) and a medium-firm one (Firm). Both options come with an identical mattress design that features 4 layers. In detail, these are:
An HRX foam layer.
An adaprive comfort foam layer.
An AquaGEL foam layer.
A layer made of pocket springs.
Who is it for? The Smart collection would suit sleepers that look for a mattress with minimal motion transfer and high levels of pressure relief. These two elements make this collection ideal for couples but also for people who suffer from back pain. The Emma Smart mattress is available in 5 sizes and as I mentioned before, it's sold exclusively from Furniture Village.
Emma Select Diamond Mattresses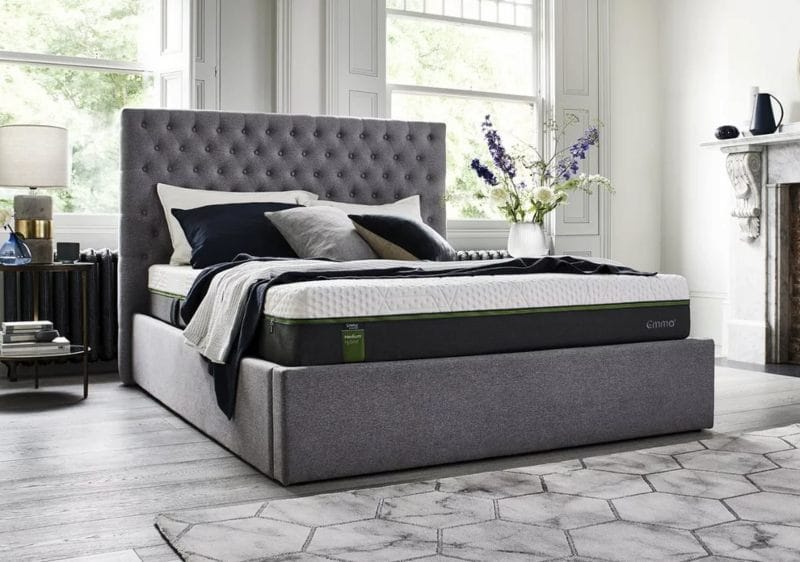 The Emma Select Diamond collection sits at the top of this range and it's probably the best of the three. It features 2 options, one medium and one medium-firm. This mattress measures 25cm in height and it's the thickest of the three. It features 4 layers that include:
A Diamond degree graphite foam layer.
An HRX foam layer.
An adaprive comfort foam layer.
A layer made of pocket springs.
Who is it for? This mattress is a great all-rounder and it promises a deep sleep. In addition, it has excellent temperature regulating properties due to the use of graphite foam. Finally, the spring core adds comfort and plenty of support. All these features make it ideal for hot sleepers and couples. If you want to buy it, there are 5 sizes available so you have a number of choices to choose from.
Delivery & Service
If you decide to buy one of the above mattresses, you should know that they are packed with great service and support. For starters, all mattresses come with a 20-year guarantee which is amazing. In addition, you will get a 100-night trial period that will give you more than 3 months to try your mattress and decide later whether you want to keep it or not. If for your reasons you want to return it, they will pick it up for free and give you a full refund. You should know that you don't need to keep the original packaging to be able to return your mattress. Unfortunately, delivery is not free and it will cost you £40. However, they offer great service and your mattress will be delivered to the room of your choice. Overall, this is a good package and Furniture Village did a good job here.
It's time now to complete this Emma Select mattress reviews piece and share my final thoughts with you. I think that this is a great addition that gives Britons plenty of new options to choose from. The Diamond collection comes with great cooling technology and in my opinion, is the best of the three. However, the other two present great value for money and are excellent choices for couples and restless sleepers. If you can't decide which mattress suits you better, feel free to contact us and we will do our best to help you out.
Emma Select Mattress Reviews
PROS
Many options to choose from
20-year guarantee
100-night trial period