If you have ever spent a night in a Premier Inn hotel, you will have noticed that they have amazing mattresses. Have you ever wondered who makes them? In this Premier Inn mattress review, you will find all the answers you need!
According to Wikipedia, the Premie Inn chain operates more than 800 hotels in the UK and has a total of 72,000 rooms. That means you will find equal amounts of King size mattresses that accommodate thousands of sleepers every year. But who makes the Premier Inn mattresses? This is not a big secret but all their mattresses are made by Hypnos Beds.
Who is the Hypnos brand?
Founded back in 1904, Hypnos is one of Britain's oldest mattress makers. It's not a coincidence after all that this is a brand that has won the Queen's Award for Enterprise in 2017. All their mattresses are built in their factory at Princes Risborough using traditional techniques. Experienced craftspeople use high-quality materials and the result is a great one. They have developed a huge range of mattresses and there is a mattress for every type of sleeper. They specialise in making pocket sprung mattresses that are combined with natural materials like wool, cotton and silk.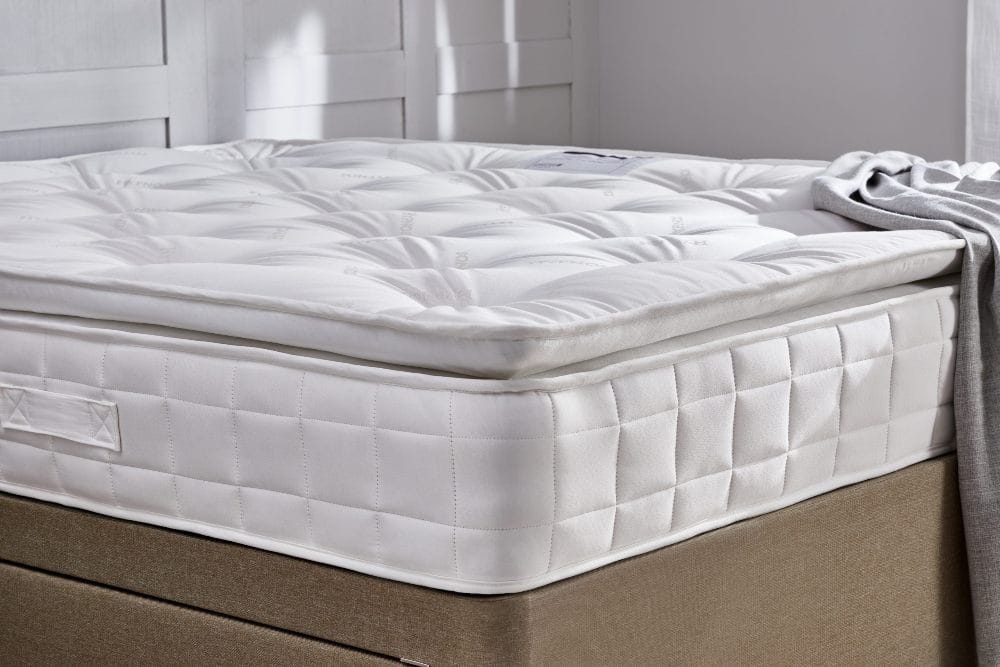 What about the Premier Inn Hypnos mattress?
Premier Inn beds are exclusively made for the hotel chain and they feature a straightforward design. Depending on the size of each mattress, you will find between 1,000 and 2,000 pocket springs. These are designed to provide your body with the needed support but also comfort. On top of the springs sits a wool pillow top layer that is very breathable and is designed to provide your body with pressure relief and comfort. Wool is naturally hypoallergenic and that makes it a great choice if you have sensitive skin. Finally, around the two layers, there is a hand-tufted cover that looks premium and allows airflow. Overall, this is a well-made mattress that is designed to be durable.
Can I buy a Premier Inn mattress?
If you want to experience the Premier Inn comfort at home, we have good news for you. This mattress can be directly purchased from their website. It's available in 4 sizes and you can buy it on its own or combine it with their divan bed. Once you complete your choices, the cost will be calculated and you will be ready to check out.
Premier Inn mattress alternatives
If you like the Premier Inn mattress, you should probably have a look at some other options from Hypnos as they come with similar features and designs. Below, we have gathered 3 options that we think you should consider.
Hypnos Stellar Mattress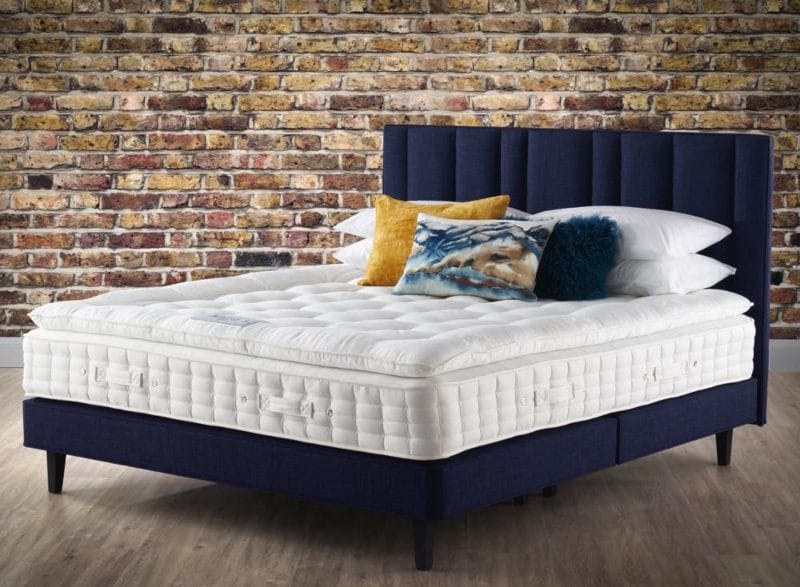 The Stellar mattress is one of the best pillow top options out there. It features 1600 pocket springs that are designed to minimise motion transfer. On top of the springs, there is a natural latex foam layer that has excellent pressure relieving properties. That makes it a great option for those with a bad back. Finally, the Stellar mattress features a cotton and wool filling, two excellent natural materials that can regulate your body's heat and wick moisture away.
This mattress comes with a medium-firm feel so it will suit the average sleeper. It features a high profile (32cm) and it's manufactured here in the UK. The cover is hand-tufted and on the sides, you will find 4 handles that will help you move it. Additionally, the engineers at Hypnos have added small ventilators that increase airflow so the sleeping surface stays cool during the night. It's available in 6 sizes and you can buy it on its own or with a divan bed. Overall, this is a high-quality pillow top mattress from a brand that you can trust.
Hypnos Astral Mattress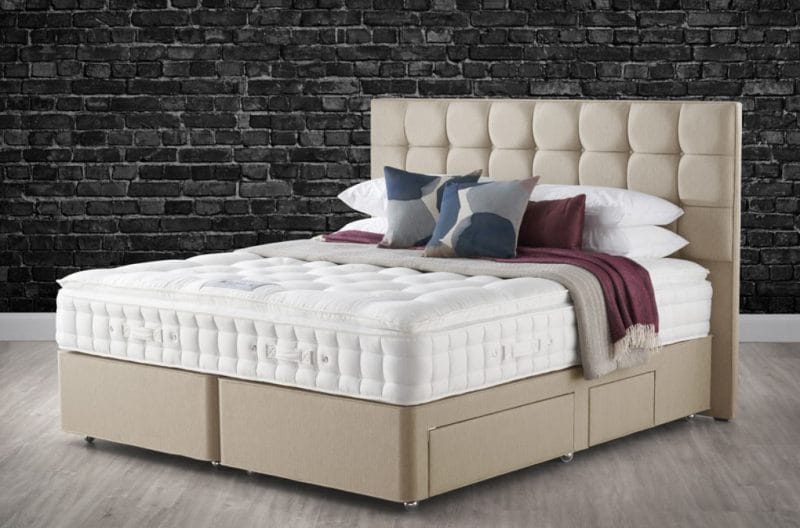 The Astral mattress is another great option from Hypnos. It features 1400 pocket springs that are combined with natural materials like cotton and lamb wool. The pocket springs used here are designed to support your back for better spinal alignment. Moreover, they work individually so you can forget about the annoying partner disturbance. This makes this mattress ideal for couples. The natural filling has the ability to regulate the body's heat which is quite important, especially during the summer.
This mattress is designed to suit most sleepers so it comes with a medium-firm feel. As expected from a mattress with a pillow top, the profile is quite high (31cm) so you should be aware of that. The cover includes a chemical-free, plant-based treatment that gives a natural finish to this mattress. On each side, you will find moving handles that allow you to rotate this mattress and next to them, there are small ventilators that allow airflow. This will allow the mattress to stay cool during the night. The Astral mattress is available in 6 sizes so you will definitely find the one that suits your needs. Overall, this is a well-made Hypnos mattress that is fairly priced.
Hypnos Premier Luxury Mattress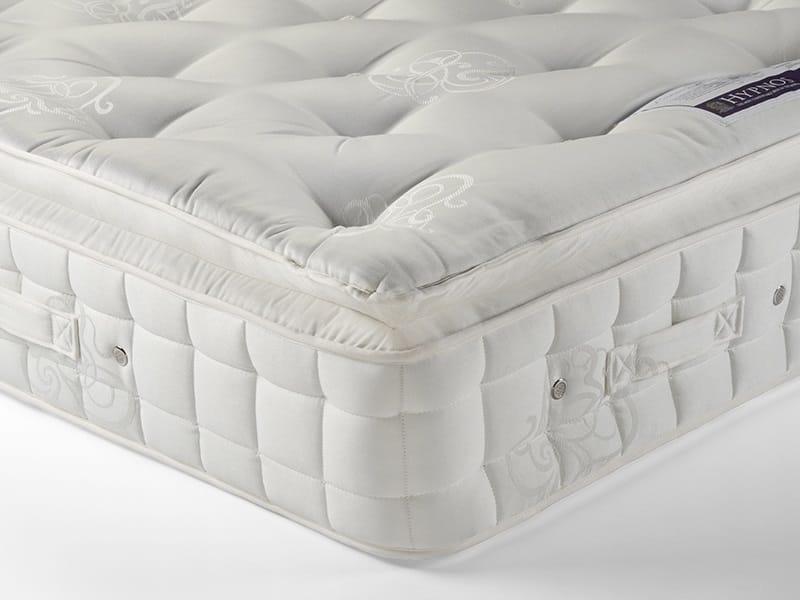 The Premier Luxury mattress is the third option on this list. What is different here though is the fact this mattress comes with a softer feel. That means that it's only good for side sleepers or those with lighter statures. This mattress features 1400 springs that are combined with natural materials like wool and silk. It's designed to provide a cloud-like feel and according to various reviews, it does a pretty good job on this end. However, it doesn't lack support and that is quite hard to achieve.
This is a one-sided mattress that measures 29cm in height. That means it will easily fit your old sheets so no need to buy new bedding. The cover is a hand-tufted one and it features ventilators but also handles. The Premier Luxury mattress comes with a 10-year guarantee which is quite impressive. Overall, this is a well-made option and if you look for a softer mattress, this is one to consider for sure.
It's time now to complete this Premier Inn mattress review post and hopefully, this guide will help you purchase your next mattress. However, if you feel you need more help, don't hesitate to contact us and we will try to help you out.