Last Updated on
It's not always easy to buy a new mattress. Sometimes, we have to keep our old one for longer than we want. In this Panda topper review, I will talk about this great product that allows you to improve your old mattress without spending a fortune.
In the past 6 months, I have received quite a few emails from readers asking me about toppers. As you know, I do own quite a few mattresses but I became keen to see if toppers work. So I decided to get the Panda topper which was suggested by a reader. The topper arrived in an eco-friendly carton box a few weeks ago so it's a good time I write this review.
MATERIALS
The Panda topper features a bamboo cover which is an excellent material. It is very breathable which helps the topper stay cool during sleep. On top, it is naturally antibacterial which helps to protect against skin irritation and allergies. Finally, it's easy to maintain and you can machine wash it. These three elements make this cover a really great one. But there is more to it. The bottom of the cover features anti-slip elements which help the topper stay in place and also elastic straps in every corner. It's obvious that Panda put a lot of thought during the design process.
Inside the cover, you will find a 5cm Hydro Foam layer. They made it by infusing minute capsules of cooling gel into memory foam. This helps the topper stay cool during sleep. Traditional memory foam is not good with heat so the cooling gel is there to change that. And it does a pretty good job.
SUPPORT & COMFORT
The Panda topper is a medium-firm one to cover most people's needs. The memory foam feels like a 6.8 on my virtual scale. I remind you that 1 is really soft and 10 really firm. It's quite hard to talk about the different sleeping positions because the whole experience will be different depending on the mattress you will place it on. It would probably work better with a firmer mattress. The memory foam is quite thick (5cm) so you will definitely get the needed pressure relief. On top, I felt that it has some bounce which is rare for such type of foams. Regarding the support, it's more down to the thicker layers of the mattress so getting a topper is more about pressure relief and comfort. And the Panda topper does well with both these things. I found that the thickness of the memory foam helps with all sleeping positions and in general the topper did very well.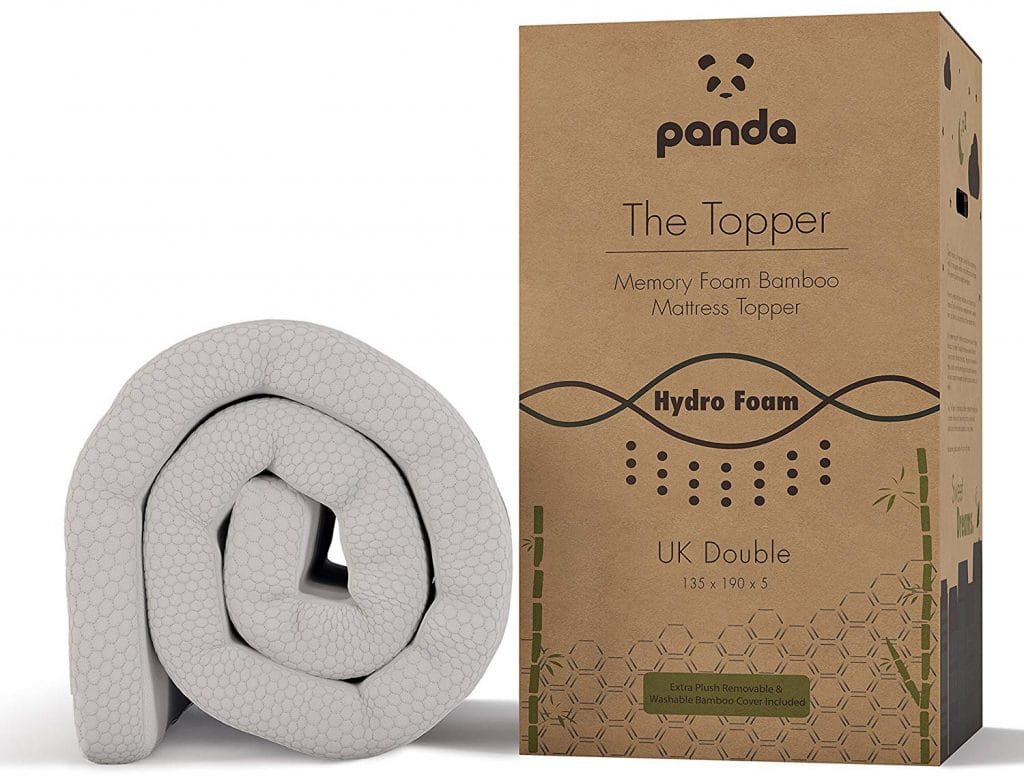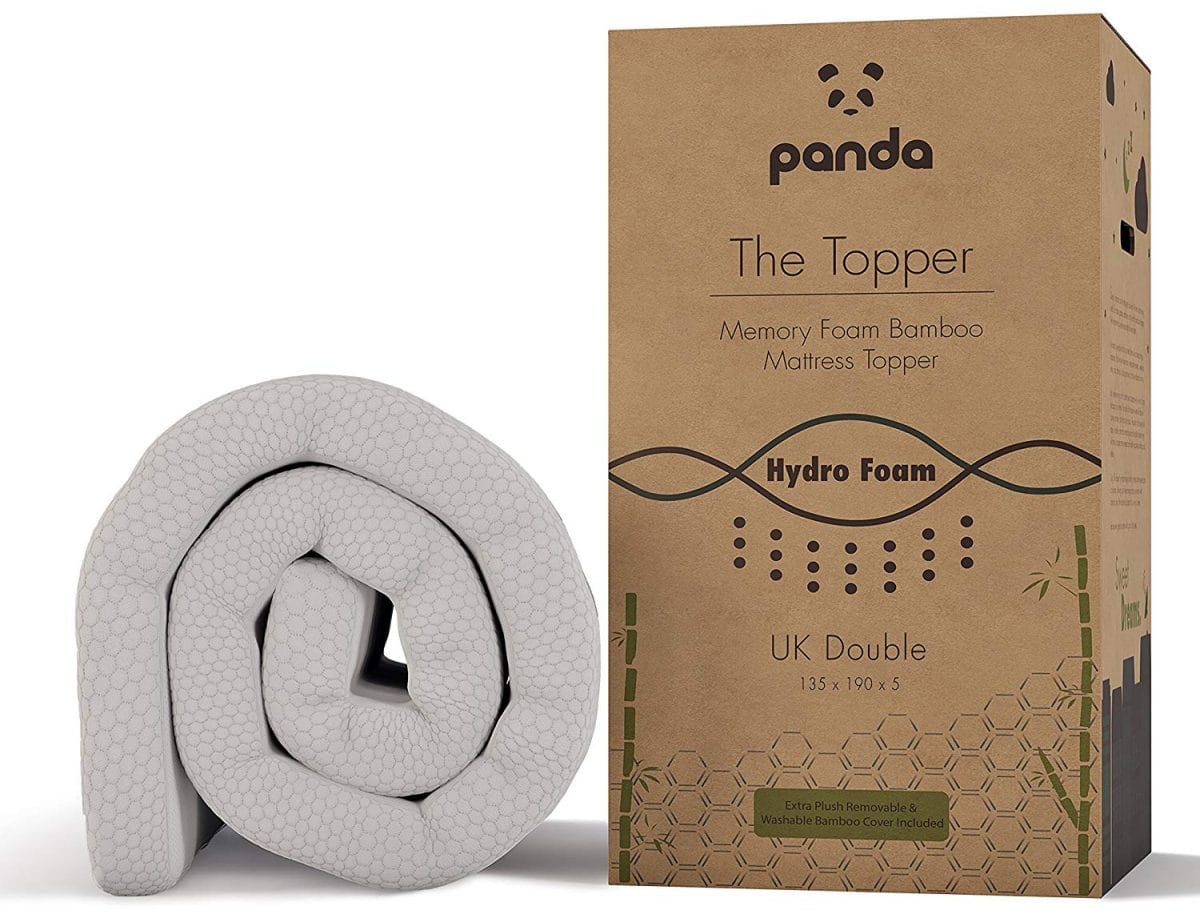 TRIAL PERIOD & GUARANTEE
The Panda topper comes with a 10-year guarantee which is great to see. It shows how much they trust their product. Besides that, you will also get a 30-night trial period which allows you to test the topper and decide if you want to keep it or not. In the case that you are not happy with it, you can return it and get a full refund. Returns are free and you don't have to keep the original packaging to be able to complete one. Overall, Panda do great on this end and I have no complaints.
TOPPER PRICING
The topper is available in 8 sizes so you will definitely find the one that suits your needs. They offer Free Delivery for all sizes which is great. In the table below you will find pricing information about all the sizes.
| SIZE | PRICE |
| --- | --- |
| Single | £99.95 |
| EU Single | £99.95 |
| UK Double | £139.95 |
| EU Double | £149.95 |
| King | £159.95 |
| EU King | £169.95 |
| Super King | £174.95 |
| EU Emperor | £189.95 |
IS THE PANDA TOPPER FOR ME?
Completing this Panda topper review, it's time I share my final thoughts with you. Panda managed to build a great topper which would suit everyone looking for added comfort and pressure relief. It's made of high-quality memory foam packed in a practical bamboo cover that is hypoallergenic. The topper also comes with a great guarantee and trial period. If your mattress is still supportive then this can be an excellent addition to it. And the best part is you won't break the bank.
If you have any questions about this review, please drop me a line here.
POSITIVES
Excellent cover
Good pressure relief
NEGATIVES
Trial period could be longer