Buying a new mattress can be a tough decision. It's one of the reasons this site was created after all. However, there might be other ways to get better sleep. In this Eve topper review, I will talk about this easy way to improve your old mattress.
After reviewing the Eve Original and the Eve Hybrid, I was really curious to see what their topper is about. I ordered mine about a month ago and it arrived packed in a beautiful carton box a few days later. It's time now to move to the full review below.
Materials
The cover of the Eve topper is made of two materials. The top part and the border is made of 100% polyester which is very breathable and allows airflow. The base panel, on the other hand, is made of 100% polypropylene. You can machine wash the cover at 40℃ which is great. I always like to have this option as it's super easy to maintain.
Inside the topper, you will find two layers. The top one is made of Evecomfort foam which is their trademark material. It's 2 cm thick and it's made of open-cell foam. The bottom layer is made of ultra-resilient reflex base foam. It's 3 cm thick and works essentially as the base of this topper. If you are an allergy sufferer you should know that all of the foam materials they use are CertiPur certified and the cover is Oeko-Tex certified. This is great and I love the fact that Eve is so thoughtful as a company. Overall, the materials they have used are very high quality, and I also liked the very beautiful design.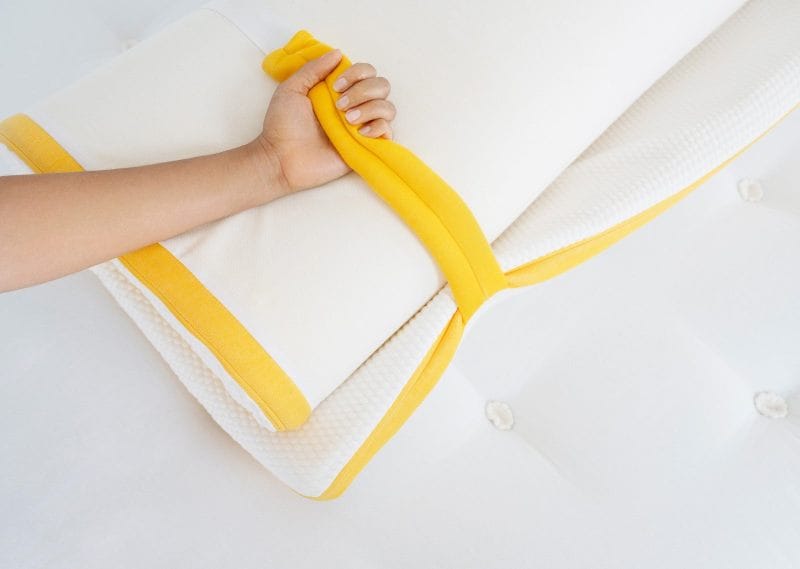 Support & Comfort
As it happens with most toppers, the Eve one is designed to suit most people. It has a medium-firm feel and if I use my virtual scale here, I would say it's a 6.5 with 10 being really firm. It's really difficult to talk about my experience with this topper as I used it with a certain mattress whereas you might use it with a completely different one. However, I can say that it will work well with a firm pocket spring mattress.
I felt that the 5cm Eve topper did a good job in providing my body with pressure relief and comfort. You should not expect an improvement in terms of support as this topper doesn't have this purpose. Finally, if you share your bed with a partner, you will notice that there is less motion transfer when you use it which might be a good reason for someone to buy this. Overall, I think this is a good topper and it's made with a lot of thought behind it.
Trial Period & Guarantee
The Eve topper comes with a 30-night trial period which means that you have a full month to try it and decide whether you want to keep it or not. If you are not very happy with it, you can return it and get a full refund. The process is fairly simple and all you have to do is call their customer service department and they will arrange everything for you. I have to remind you here that you don't have to keep the original packaging to be able to return this topper.
You will also get a 3-year guarantee which is great! If your topper has any fault then they will replace it with a brand new one. Overall, I think that they do a great job on this end.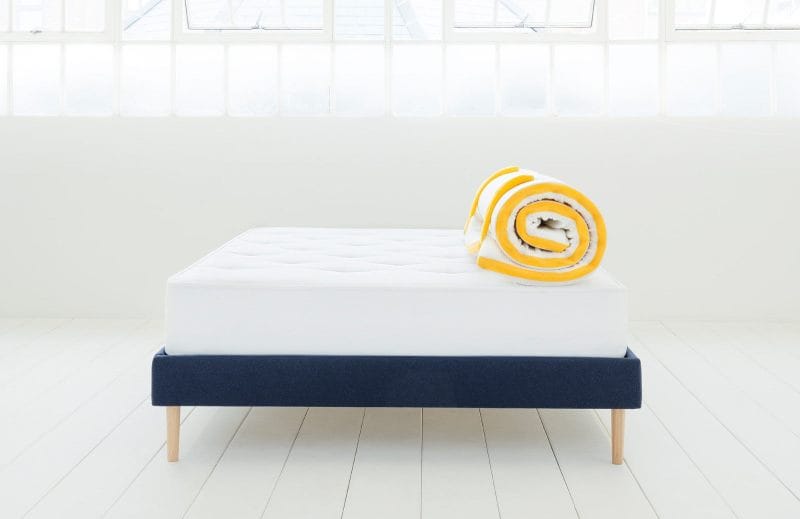 Topper Pricing
The Eve topper is available in 5 sizes which means that you will definitely find the one that best suits your needs. This topper is not a cheap one, with prices ranging from £199 to £309 for a Super King one. The table below has pricing information for all available sizes.
| | | |
| --- | --- | --- |
| SIZE | DIMENSIONS | PRICE |
| Single | 90 x 190 x 5cm | £199 |
| Small Double | 120 x 190 x 5cm | £239 |
| Double | 135 x 190 x 5cm | £249 |
| King | 150 x 200 x 5cm | £279 |
| Super King | 180 x 200 x 5cm | £309 |
Is the Eve topper for me?
After finishing this Eve topper review, I would like now to share my final thoughts with you. I think that this is a great topper that is well-designed with high-quality materials. Unfortunately, the price is quite high and might be too much for some people. With a bit more money you can get a brand-new mattress. So although I did like this topper a lot, I think that you should only buy it when on sale.
If you have any questions about this, don't hesitate to drop me a line.
POSITIVES
Excellent design
Great materials