Winter is coming soon which means it's a good time to look for a good duvet. There are many options in the market so it can be hard to choose the one that suits you better. In this Panda duvet review, I will talk about this interesting option and whether is a choice you should consider.
If you read my reviews, you should have noticed that I really like the Panda brand. Their approach is great and I am a huge fan of bamboo. Their 10.5 tog duvet is great for all seasons which is exactly what we need with the British weather. Most of us use a duvet even during the summer months so this is essential for a good sleep. Mine was delivered around 3 weeks ago so let's move now to the full review below.
Construction
When designing the Panda duvet, their goal was to create the 'down feather feeling' but without using real feathers. For this reason, they came with a more sustainable solution and they used 50% Bamboo Fibres & 50% Nano Microfibres. This combination works really well and the duvet feels indeed very light but warm at the same time. Bamboo is naturally antibacterial which makes this duvet ideal for anyone suffering from eczema, sensitive skin or hay fever caused by dust mite (Oeko-Tex Standard 100). The Panda duvet is also very breathable which is very important especially during the summer months. Finally, they used a sewn-through (Bavarian) pocket pattern which guarantees even distribution across the duvet. Overall, it's a very well made duvet and I personally really liked what they did here.
Design & Fit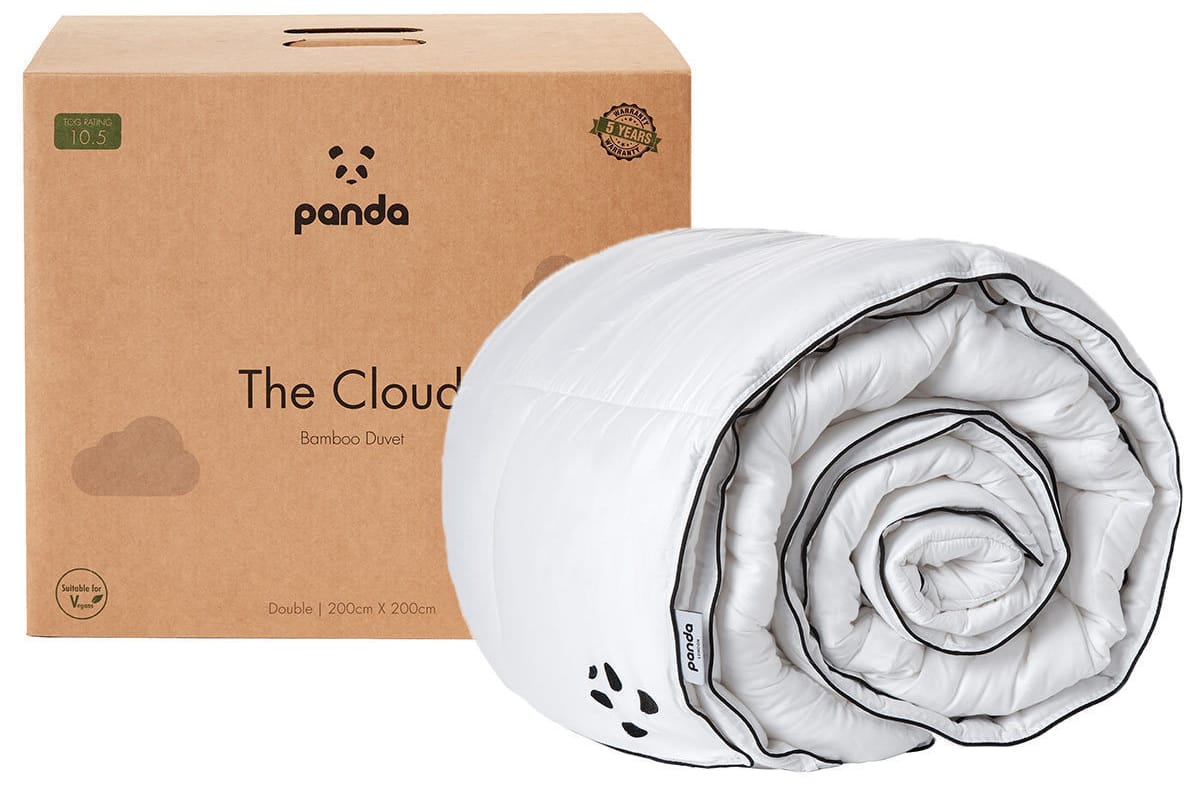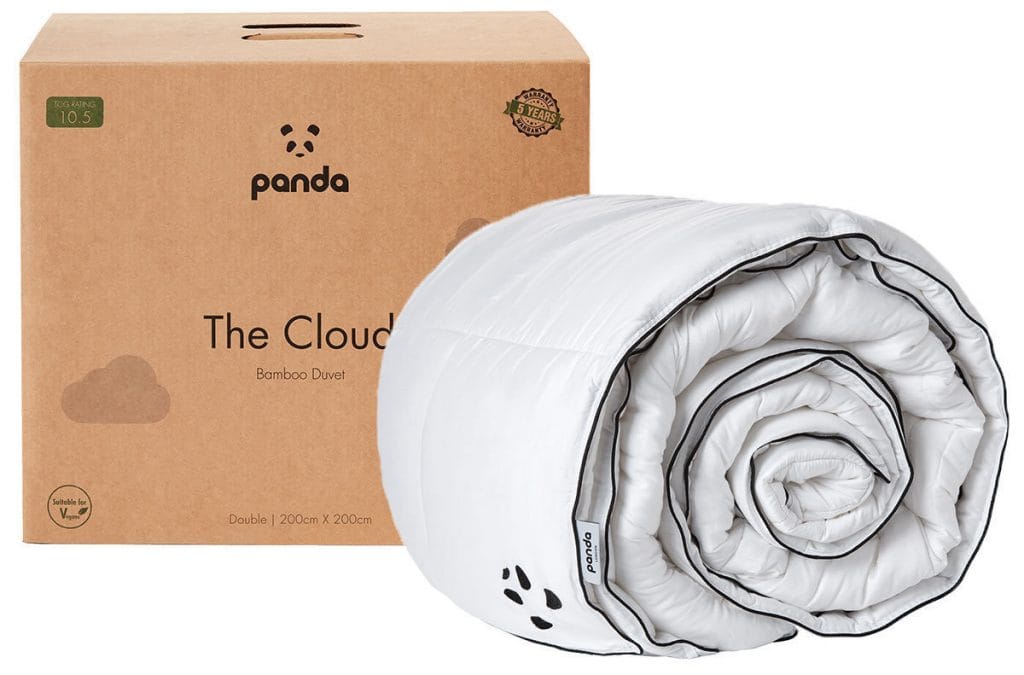 Just like all the Panda products, the duvet has also a great design. They went for the minimalistic white colour with the black details. The Panda head logo is found in one of the corners. Finally, the pockets add something to the whole design which as I have mentioned already is a very beautiful one. The duvet also features four fasteners located on each corner which ensure a good fit. This is very practical thinking by Panda and I really liked it. I used my old King duvet cover and it fitted very well so you should have no problem using your old bedding. Overall, I think that they did a pretty good job here which is what I expected from a company like Panda.

Pricing
The Panda duvet is available in 4 sizes so you will definitely find the one that suits you better. It's not the cheapest in the market with the Single selling for £99.95 and the bigger Super King one going for £159.95. The table below has pricing information for all available sizes.
| | | |
| --- | --- | --- |
| SIZE | DIMENSIONS | PRICE |
| Single | 135 x 200 cm | £99.95 |
| Double | 200 x 200 cm | £129.95 |
| King | 225 x 220 cm | £144.95 |
| Super King | 260 x 220 cm | £159.95 |
Delivery & Service
All sizes come with standard free delivery that usually takes between 3-5 days. In my case, it was 3 days and I remind you that I live in London. I received good communication from them and the whole process was smooth. The duvet came in a beautiful box (picture above) and the courier was very polite.
Besides that, you will also get a 5-year guarantee which is something that is not common for bedding products. This is great to see and I personally loved it. Of course, don't expect a trial period which is normal, to be honest. Overall, I think they offer great service here so no complaints at all.
Verdict
It's time now to finish this Panda duvet review and share my final thoughts with you. Panda is a company that never disappoints. They managed to make a duvet that has this light feeling but it can keep you warm during the winter and cool during the summer. The fact it only comes in one tog can be an issue for those living in the colder parts of Britain but for most people it will do the job. If you look for a hypoallergenic duvet that comes at a fair price then this should be high on your list.
PROS
Excellent materials
Great service and guarantee
Good for all year long
CONS
Not the cheapest out there