If you are looking for a cheap way to feel more comfortable during sleep, you should read this Silentnight Airmax topper review. The famous British maker decided to create this affordable topper that is a true bestseller. But is it a good buy? We will find out soon.
If you read this blog, you must already know that a topper should only be used to increase comfort or pressure relief. A topper cannot add support so if your old mattress is structurally good but you need a bit more comfort, a topper can be a good idea. After hearing about it from a friend, I decided to order an Airmax topper. Mine was delivered almost ten days ago so it's time now to move to the full review below.
Materials
The Silentnight Airmax topper is available in 2 versions that have different heights. For this review, I tested the 500 one which has a 5cm height. However, both the 500 and 800 (8cm) versions feature identical designs. The inside of the topper is full of hollowfibres that are positioned in 2 layers. Hollowfibres allow airflow and are hypoallergenic. This makes this topper an ideal choice for people with allergies or respiratory ailments. The cover is made of polyester and features side mesh panels that further increase airflow. This is a clever design that works great. Moreover, the topper has 4 elasticated straps that are there to keep it in place. They look durable and hopefully, they will last for a long time. The topper is machine washable and if you want to clean it, you can use mild detergent and a gentle cycle. Overall, this topper is well-made, especially for its price.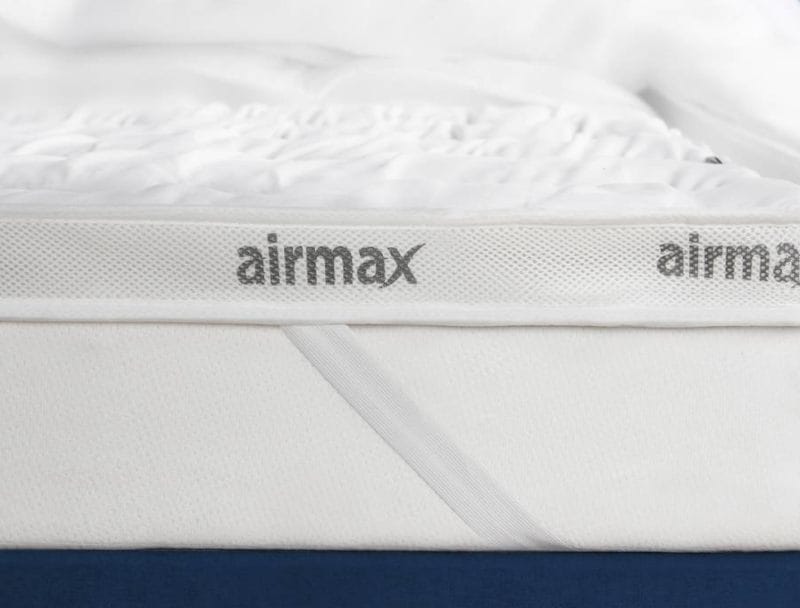 Support & Comfort
If you are looking to add some extra comfort, the Silentnigh Airmax topper can be a good choice. The hollowfibres add a springy feel and they have the ability to hold their shape. This was the case even after a wash and that is something that impressed me. Of course, make sure you shake it frequently as the fibres can get squashed down after a while. I used it on my old IKEA mattress (I do the same for all topper reviews) and I saw a big difference when it comes to comfort. However, I felt that the Airmax topper lacks pressure-relieving properties and if you need that, the Panda topper can be a better choice. Overall, I felt that the Airmax topper is ideal for firm old mattresses and it can significantly increase comfort.
Trial Period & Warranty
If you decide to buy this topper, you should expect a 2-year warranty that will cover you for some time. If you want more information on this, you should visit Silentnight's warranty page. Unfortunately, there is no trial period for the Airmax topper but this is something I personally expected at this price. The good news is that this product comes with free delivery that usually takes 2-5 working days. Overall, this is a decent package here and the people at Silentnight did a good job.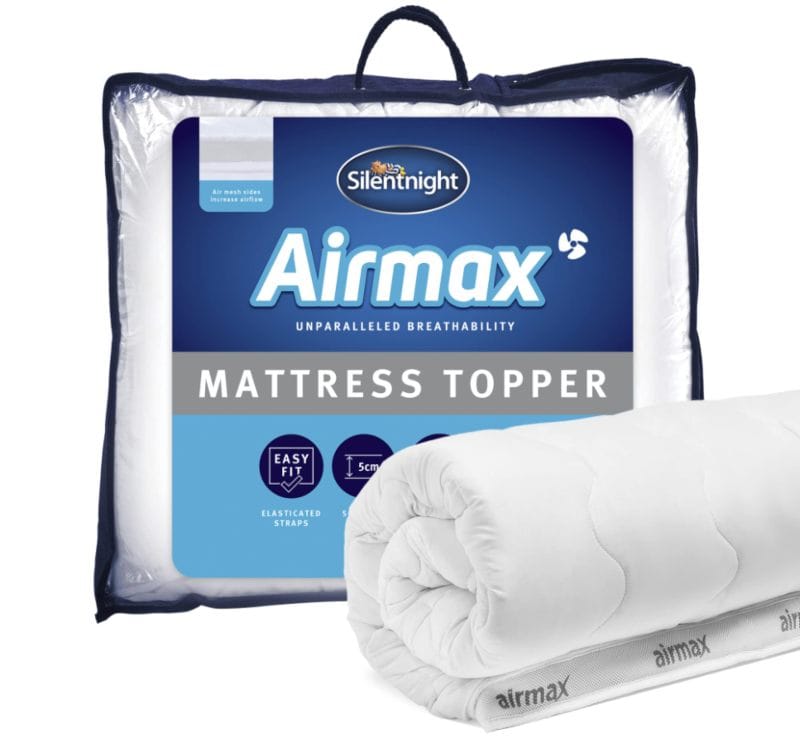 Pricing
As I have mentioned earlier, this topper is a very affordable one. Both versions have similar pricing and depending on the size you will get, you will pay between £30-£60. For example, I only paid £30 for a Double size but Amazon had it on sale (It usually goes for £45). In any case, this is a cheap topper and most sleepers will be able to afford one.
Is this a good topper?
The answer is not a simple one but I will do my best now that I am ready to complete this Silentnight Airmax topper review. This is not the best topper that I have reviewed but at this price, it's really hard to expect much. Having said that, Silentnight managed to build a well-made topper that is an affordable way to upgrade your old mattress. It might lack pressure-relieving properties but it's still a great way to add some much-needed comfort.
Silentnight Airmax Topper Review
PROS
Very affordable
Can add comfort
Machine-washable
CONS
No pressure relieving-properties