Leesa is no longer available in the UK. Visit

our bedding review page

to find an alternative.
Getting older allows you to start enjoying some things that you didn't appreciate when younger. High-quality bedding is one of these things. In this Leesa sheets review, I will talk about my latest bedding purchase and whether it's worth your money.
Leesa is a very popular company. I have already reviewed their mattress so I was really curious to try their bedding. Instead of creating their own, Leesa decided to partner with luxury linen brand Third and together they developed the Leesa x THIRD range. The two companies are very similar in a way and they share the same two values:
Deliver high-quality products at fair prices.
Give back to the community.
A portion of each sale goes to 42nd Street which is a charity that helps young people with their mental health and emotional wellbeing. This is great to hear and once more Leesa shows how much they care about the community.
They developed a sheet set that includes everything you need, 1 duvet cover, 1 fitted sheet, and 2 standard pillowcases (UK Super King size comes with 4 pillowcases).
Construction
The Leesa sheet set is made of 100% Cotton. They use a sateen weave which is a special weaving method that makes the sheets really soft and smooth. This process also makes the fabric wrinkle-resistant and friendly to sensitive skin. The sheets are really strong and well built which is what you would expect from high quality 500 thread count cotton. Leesa claim that the bedding gets softer with every wash. I have washed them twice and I didn't notice any improvement but I definitely noticed that their softness didn't change. That's really good as they felt really nice from the beginning. Overall, I felt that this set is very well built.
Design & Fit
As I have already mentioned this is a collaboration between Leesa and THIRD which is a company known for its clean and minimalistic designs. They went for the same approach here, developing some super clean white sheets. I personally like the white colour for the sheets and pillowcases but not for the duvet cover. I would prefer if this was of a different colour just to mix things up. But this is a matter of taste I guess. However, I think that white is a more difficult colour to maintain so that's the second reason I am not a huge fan of this choice. In general, it would be great to see some colour options here.
The Leesa sheets have a strong elastic applied to the perimeter which ensures that they will stay in place. It's quite early to know if the elasticity will be there for a long time but the first impression is good so far. The sheets will fit nicely to all mattresses that are between 25-30cm in thickness.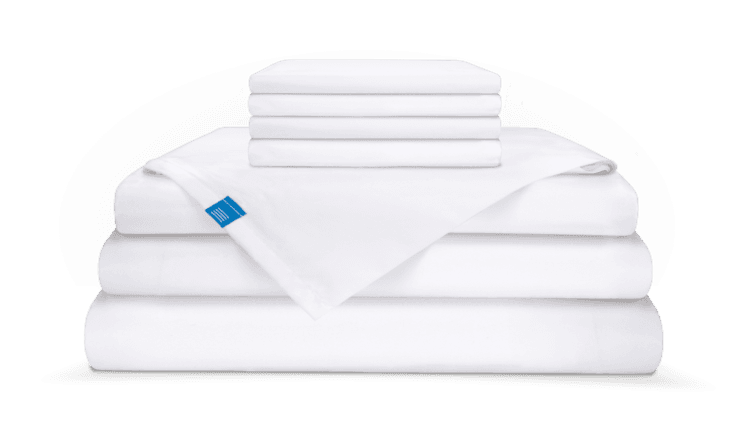 Pricing
You can buy the Leesa x THIRD set in 4 different sizes. The UK Single one starts from £120 with the UK Super King one selling for £200.
Delivery & Service
The Leesa sheets set comes with free standard delivery for any size. The sheets will be delivered directly to your door in 2-5 working days from the moment you place your order. There is also a 75 night trial period for you to decide whether you like the set or not. If you are not happy with your purchase, you can return them and get a full refund. To do so you should contact their customer service department.
Verdict
Wrapping up this Leesa sheets review, it's time for me to share my final thoughts with you. The Leesa sheet set is arguably a great one! It's made in collaboration with a luxury linen brand, it features 500 thread count cotton and it feels really soft and strong. It also comes with excellent service and with a trial period. Of course, the price is a bit high but I guess you get what you pay for. My only problem here is the lack of more colour options. Other than that, I think that the Leesa sheet set is a great option for anyone looking for quality bedding.
POSITIVES
High quality materials
Great trial period
Very good fit
NEGATIVES
No other colour options