Many people suffer from stress and anxiety these days and they look for help. In this Emma Hug weighted blanket review, I will talk about this bedding piece that promises stress relief and relaxation.
Weighted blankets have become more and more popular in the last couple of years and although I was quite sceptical at the beginning, I now feel that they can help. By creating an artificial hug, they can help people to relax but I will talk about it later. Emma released their own version about a month ago so I was really keen to try this out. Mine arrived almost ten days ago so it's a good time now to move to the full review below.
What is an Emma Hug weighted blanket made of?
When designing this weighted blanket, the people at Emma wanted to create a high-quality piece of bedding. For this reason, they combined a number of layers that work together for a great end result. At the core of this blanket, there is a large number of Silica glass beads that are completely safe and help with equal weight distribution. Around that, they have placed two layers of microfibre and polyester pads. These are there to keep the glass beads safely into 10x10cm pockets. Finally, the outer blanket is covered by a 100% cotton fabric that allows airflow and can help you to sleep cool.
The blanket is also offered with a bamboo cover that adds a more premium character to it. Bamboo has thermoregulating properties that can further enhance this weighted blanket. If you want one, it will cost you an extra £39. Overall, this is a well-made blanket that won't disappoint you.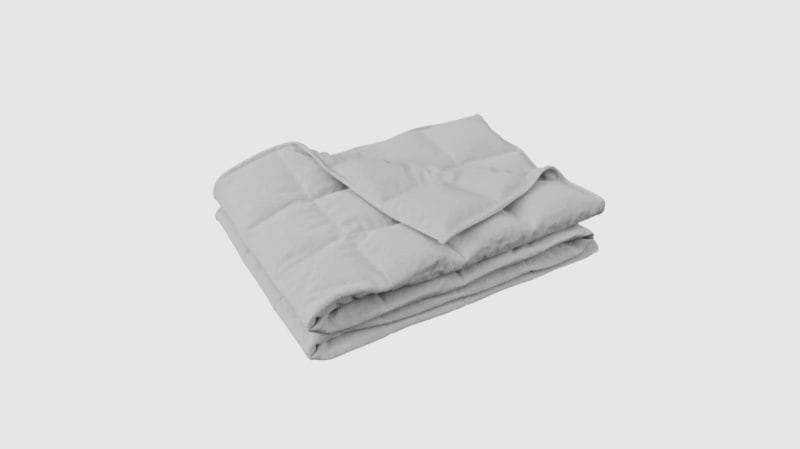 Do weighted blankets work?
Research has shown that weighted blankets can help with a number of conditions including anxiety, autism and insomnia. They mimic a method called deep pressure stimulation that can relax the nervous system. This in turn can lessen anxiety, relieve pain or even improve your mood. Of course, that can help you sleep better so if you suffer from insomnia this is a good place to start. However, not all sleepers will react the same but research has shown that the majority of people has found using a weighted blanket helpful. Having said that, you should always ask for professional advice if you feel that your condition doesn't improve.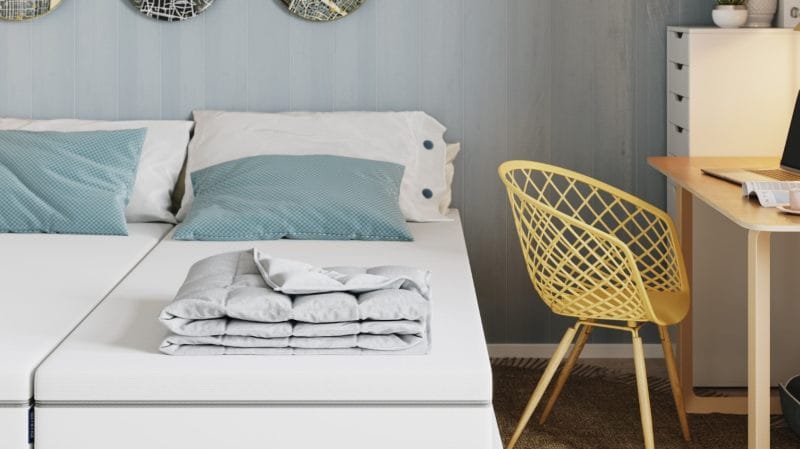 How much will it cost me?
This weighted blanket is available in one size and it will cost you £168. It weighs 7kg so if you are on the heavier side (85kg+), this won't suit you. I remind you that a weighted blanket should weigh around 10% of your weight. This is disappointing and hopefully, Emma will add more options in the near future. If you look for more options, you can look at the Simba Orbit weighted blanket.
| | |
| --- | --- |
| Blanket Weight | Price |
| 7kg | £129 |
Does it come with free delivery?
If you decide to order one, you will get free delivery for all UK postcodes. In addition, you will get a 200-night trial period that allows you to try this blanket and decide later whether you want to keep it or not. This is uncommon when we talk about bedding products and Emma does a great job here. Overall, this is one of the best packages in the market.
Is this a good buy?
This is always a tough question to answer but I will do my best now that I am about to complete this Emma Hug Weighted blanket review. This is a great option from a well-known maker that comes with a great cover and a nice design. Unfortunately, there is only one available weight but if you are under 85kg you should definitely consider this weighted blanket.
Emma Hug Weighted Blanket Review
PROS
Fantastic bamboo cover
200-night trial period
Beautiful design
CONS
Not suitable for heavier people