In this Emma Diamond topper review, I will talk about this fantastic new accessory from Emma that is designed to improve the quality of your sleep. Of course, before you consider getting one, you should set your expectations right.
Many readers ask me whether they should get a mattress topper or a new mattress. The answer is not a simple one but in general, you should only buy a topper if your old mattress is still supportive. If that is the case then a good topper can improve support, pressure relief and temperature regulation. I decided to order the Emma Diamond topper almost two weeks ago so it's time now to move to the full review below.
Materials
This topper features two foam layers that work together and the result is impressive. At the top, there is a Diamond Degree® foam layer that has the ability to optimise temperature regulation. This allows you to sleep cool which can extend the deep sleep phase. Underneath that, there is an HRX foam layer that has great pressure-relieving properties. This type of foam also adds comfort. The two layers sit inside a breathable and elastic cover that is made of 76% polyester, 23% lyocell and 1% elastane. This is very similar to the one they use for their Emma Premium mattress so you should expect an excellent performance. Overall, this is a very well-made topper so no complaints from my side.

Support & Comfort
The Emma Diamond topper is built to suit most sleepers so it comes with a medium-firm feel. This makes it ideal to use with an older firm mattress. I have an old IKEA mattress so I used it to see whether it would make a difference or not. The main improvement I saw was that the mattress became way more comfortable. Additionally, the Diamond topper added pressure relieving properties so I felt that my back and joints were better rested in the morning. Finally, the sleeping surface remained cool during the night and overall, it was a pleasant sleeping environment.
Trial Period & Warranty
All Emma toppers come with a 100-night trial period that allows you to try this one for more than 3 months before you decide whether you want to keep it or not. If this topper doesn't make you happy, you can return it and get a full refund. There is no charge for returns and they will arrange everything for you. Besides that, the topper also comes with a 2-year warranty which is not bad but could be longer. This is the only thing that I felt that should be improved. Regardless, this is still a nice support package and Emma did a good job here.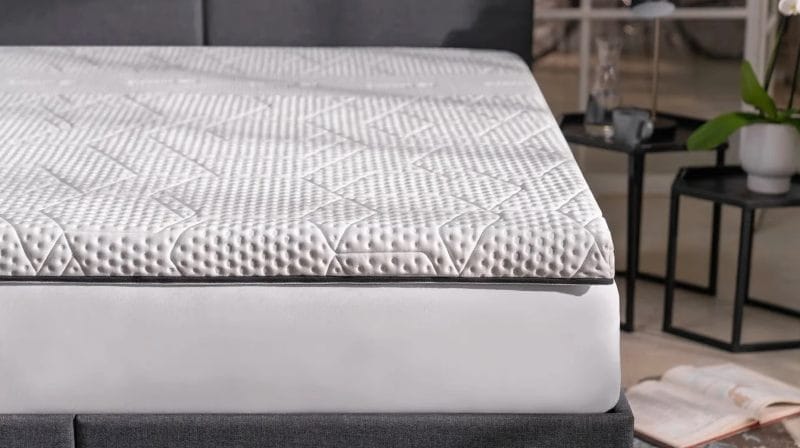 Pricing
The Emma Diamond is a premium topper and that obviously comes with a cost. It's available in 5 sizes with the smaller size (Single) selling for £400 and the bigger (Super King) going for £620. Having said that, these are the retail prices but Emma is a brand that runs frequent promotions. For example, at the moment of writing this review, there was a 55% off promotion. That means that a double topper would cost you £243. Given the quality here, this is not a bad deal. The table below has pricing information for all available sizes.
| | | |
| --- | --- | --- |
| SIZE | DIMENSIONS | PRICE |
| Single | 90 x 190 x 9cm | £400 |
| Small Double | 120 x 190 x 9cm | £440 |
| Double | 135 x 190 x 9cm | £540 |
| King | 150 x 200 x 9cm | £580 |
| Super King | 180 x 200 x 9cm | £620 |
Is this a topper I should buy?
It's time to answer this question since I am about to complete this Emma Diamond topper review. In my view, this is the best topper I have tried, hands down. However, all this technology comes with a price so I would only consider it if it was on sale. Emma has built a fantastic product here that can rejuvenate your old mattress. If this is what you look for, the Emma Diamond should be high on your list.
Emma Diamond Topper Review
PROS
Excellet materials
Great cooling properties
100-night trial period
CONS
Can be expensive for some