Getting a new mattress is not always an option but there are other ways to get better sleep. In this Simba topper review, I will talk about this hybrid option which is truly unique. After all, I don't think I have ever seen springs inside a topper!
As you know, the Simba Hybrid is one of my favourite mattresses so I was really curious to see what they have done here. They decided to create a really premium topper that features some unique technology. Mine arrived about a month ago so I think it's about time to move to the full review below.
Materials
The cover of the Simba topper is made of 100% polyester. This makes it very breathable but at the same time, it's a material that is quite strong. Moreover, you can machine wash it at 40 degrees which makes it very easy to maintain. In addition, they have very cleverly added a non-slip base and four elastic straps which will help you to secure it nicely and tight to your mattress. Finally, the design of the cover is a very beautiful one with a mixture of white, grey and light blue colours.
Inside the topper, there are 3 layers. The top one is a Simbatex cooling layer which is there to keep the sleeping surface cool during sleep. Below this, there is a layer of specially-shaped pocket springs that will provide your body with added comfort. Finally, at the bottom, there is a high-density foam base that helps with support. The total height of this topper is 7cm which makes it a quite thick one. Overall, it's very well built and Simba used very high-quality materials to make it.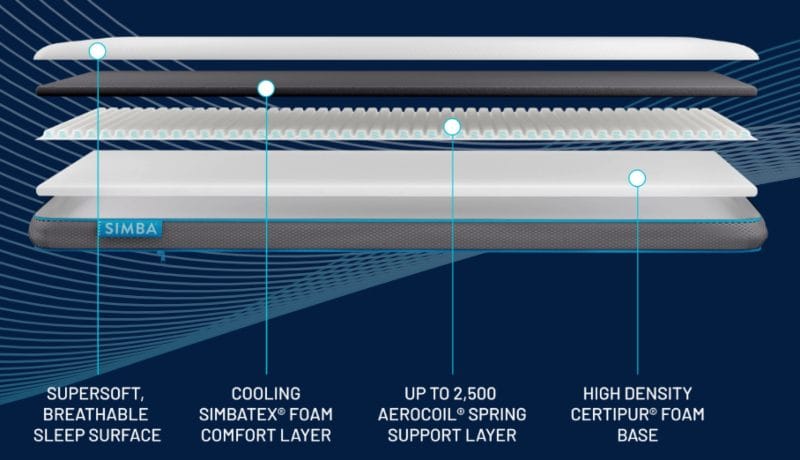 Support & Comfort
The Simba topper is designed to suit most people's needs so it has a medium-firm feel. Like always, if I use my virtual scale here, I would say it's a 6.7 with 10 being really firm. I used this topper with a firm pocket spring mattress and I must say I saw a significant difference. To be more specific, the mattress became more comfortable and I felt that pressure relief increased. In terms of support, the difference was minimal as this usually comes from the lower layers of the mattress. The straps and the non-slip base kept the topper in place and overall I was happy with how the Simba topper performed. Again, I have to mention here that each sleeper will get different experiences that are heavily based on the mattress this topper will be used with so you should have this in mind.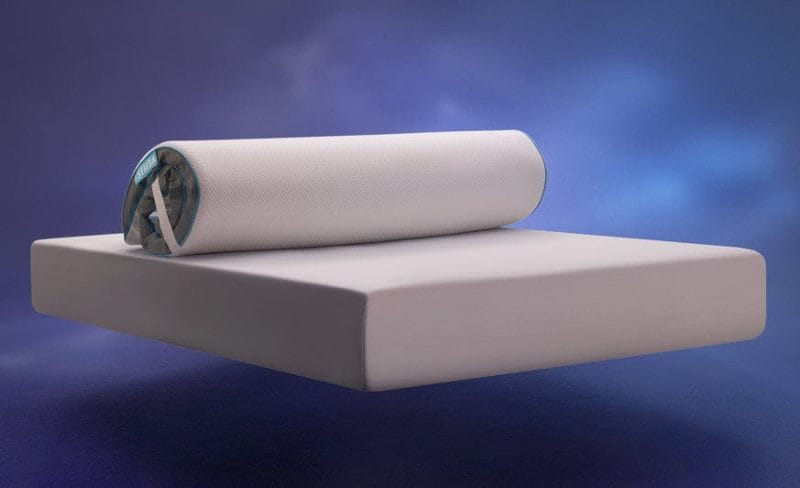 Trial Period & Guarantee
If you decide to buy this topper, you will get a 200-night trial period that gives you plenty of time to decide if this is for you or not. If you are not happy with it, you have the right to return it and get a full refund. Moreover, you will get a 10-year guarantee that shows how much they trust their products. This is a fantastic package and Simba did a great job here.
Topper Pricing
The Simba topper is available in 5 sizes but there are no EU ones available. This is disappointing so if you have an IKEA mattress maybe you won't be able to find the topper that suits you. And the bad news continues. The price of this topper is very high ranging from £249-£499! This money can definitely buy you a new mattress so I am not sure if getting this topper is a wise option. The table below has pricing information for all available sizes.
| | | |
| --- | --- | --- |
| SIZE | DIMENSIONS | PRICE |
| Single | 90 x 190 x 7cm | £249 |
| Small Double | 120 x 190 x 7cm | £349 |
| Double | 135 x 190 x 7cm | £349 |
| King | 150 x 200 x 7cm | £399 |
| Super King | 180 x 200 x 7cm | £499 |
Is the Simba topper for me?
It's time now to finish this Simba topper review. I think that this is a really good topper and I personally loved the fact they put so much thinking to design it. Unfortunately, all this technology makes it too expensive and only a few people would be able to afford it. The product is great but the price matters so I would only recommend it to anyone who desperately wants to keep their old mattress.
POSITIVES
Unique technology
Great comfort